Honda invests $2.75B in GM's self-driving car division
Honda on Wednesday said that it would invest $2.75 billion over the next 12 years in Cruise, General Motors' self-driving car operations.
2019 Toyota Corolla hatchback does well in latest crash tests
The redesigned hatchback version of Toyota's compact car has earned a Top Safety Pick award from the Insurance Institute for Highway Safety (IIHS). 
Luxe-lite: 2019 Acura ILX costs $26,895 to start
Fact: The redesigned 2019 Acura ILX will be the least-costly luxury sedan when it goes on sale later this fall. How far it pushes the definition of "luxury" is up for debate, however.
Rennsport Reunion VI, Weathertech Laguna Seca, September 2018
From Motor Authority:
Rennsport Reunion VI: A living, driving, racing museum
In the movie "Night at the Museum," Ben Stiller plays a night watchman who gets caught up in all kinds of hijinks when the museum's exhibits come alive. Stiller's Larry Daley character interacts with heroes like Teddy Roosevelt, Sacagawea, and Christopher Columbus. That's just fantasy, though; far-fetched fiction of Hollywood script writers brought to life on the silver screen by actors and special effects.
2019 Audi Q3 bows with sporty look, high-tech cabin
Sales of compact crossover SUVs are booming and Audi is set to have one of the strongest offerings next year in the form of a redesigned Q3.
2019 Porsche Macan brings new look to 2018 Paris auto show
Like the Cayenne before it, the Macan has been a huge hit for Porsche. It's the marque's most popular model, with more than 97,000 delivered in 2017 alone.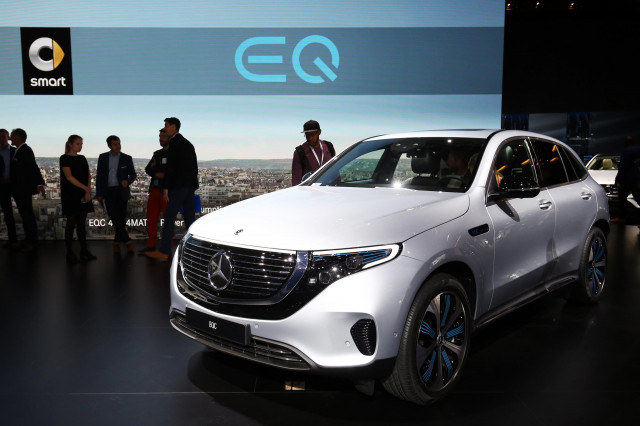 2020 Mercedes-Benz EQC
From Green Car Reports:
2020 Mercedes-Benz EQC 400 makes public debut at Paris auto show
After hosting a private introduction for the car last month in Stockholm, Mercedes-Benz formally introduced its EQC electric crossover to the public at the Paris auto show on Tuesday.
Tesla Model 3 is fifth bestselling car in U.S., production still short of profitability goal
Tesla announced Tuesday that it delivered 55,843 Model 3s between July and September, confirming reports that the company's mass-market electric is the fifth bestselling car model in the United States.
Chinese automaker Borgward built gasoline vehicles in order to sell EVs in America
Borgward is unorthodox even among the rapidly evolving cast of 21st-century automakers. It's a Chinese company, with German heritage, that now wants to bring electric cars to the U.S.