Countdown to zero: Automakers dial back 0 percent interest loans after almost two decades
If you've been counting on a zero percent interest rate to help finance your next new car, it may be time to lock in the deal before it's too late. According to a report by Automotive News, rising benchmark rates from the Federal Reserve and a drop in customer adoption may cause interest-free financing deals to fall by the wayside sooner rather than later.
Apple's self-driving car rear-ended
A Lexus RX 450h fitted with Apple's experimental self-driving car technology was hit by a driver in a 2016 Nissan Leaf last month, a police report said.
Apple files patents for haptic car seats, trick sunroof
It's still unlikely that Apple, the world's largest technology company, will come out with a full-fledged car, but recent patent-filing history has some scratching their heads regardless. iDrop News reported last week that Apple was awarded two car-related patents from the U.S. Patent and Trademark Office.

2020 Mercedes-Benz EQC
From Motor Authority:
2020 Mercedes-Benz EQC: 200-mile luxury electric SUV debuts
The luxury brands have been late to the electric revolution but that's about to change as a flood of new models arrive in the coming years, particularly from the German brands. Mercedes-Benz alone will launch 10 electric cars by 2025, one of which is the EQC small SUV that made its debut Tuesday in Stockholm, Sweden.
2020 Lamborghini Huracán Spyder spy shots
It's hard to believe it's been more than four years since Lamborghini first graced us with the Huracán, especially since the design remains as intoxicating as ever and, in Performante trim, you'll be hard pressed to find a faster car around a racetrack.
World's best 1977 Lotus Esprit visits Jay Leno's Garage
It's rare to find one-owner classic cars. Time marches on and aging automobiles have to make way for more modern machines. That's the case most of the time, but not so for Detlef Claudius. He's owned his bright yellow Lotus Esprit since he bought it new back in 1977.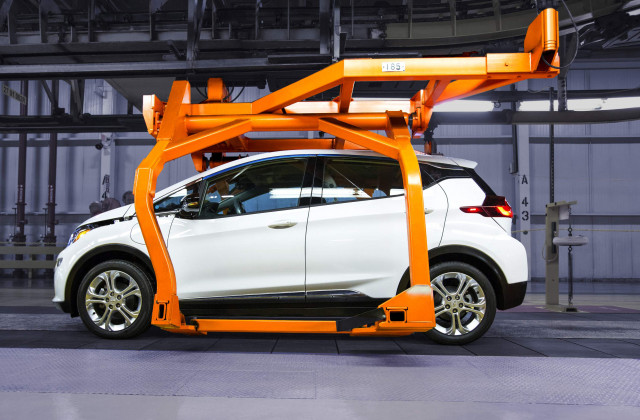 2017 Chevrolet Bolt EV pre-production
From Green Car Reports:
GM working on ultra fast charging system for electric cars like the Chevy Bolt EV (Updated)
Automakers are in a new race, not for miles per hour on a track or the street, but in miles per hour regained while an electric car is sitting at a charger.
2020 Mercedes-Benz EQC specs revealed
Mercedes-Benz released initial specs of its newest electric car, the EQC crossover SUV, Tuesday in Stockholm.
Will electric cars eliminate conventional hybrids from the market? Take our Twitter poll
A new report from California shows electric cars are replacing hybrids—not conventional, gas-only cars—on the roads.