If you're in New York and you hail an Uber or Lyft, chances are you'll be picked up in a black Toyota Camry. In California, your driver will likely arrive in a Prius (or at leastsome sort of hybrid). While there are certainly some vehicles that make for more popular choices among Uber and Lyft drivers across the country, are the really the best possible option?
We've picked our 10 favorite rides for every vehicle category based on efficiency, rear seat comfort and convenience, luxury features, and outright value.
2019 Kia Soul
Kia Soul
Fun, funky, and not quite a crossover, the 2019 Kia Soul represents great value, excellent interior space for its size, and decent fuel economy, making it a great option for ride-hailing drivers looking for a small, safe, city-friendly ride. A five-year, 60,000 mile basic warranty and 10-year 100,000 mile powertrain warranty don't hurt, either.
The one to get: The base Soul with the $1,200 convenience package represents the best value, and includes Apple CarPlay, Android Auto, and automatic climate control for a total MSRP of $20,330 after a mandatory $940 destination charge.
2019 Honda Insight
Honda Insight
The Toyota Corolla, Honda Civic, and Nissan Sentra are extremely popular small car options for ride-sharing drivers, but the best combination of style, features, value, and fuel economy comes in the form of the reborn 2019 Honda Insight hybrid.
With more rear leg room than a Toyota Prius and a Top Safety Pick+ designation from the IIHS, the Insight is an excellent all-around car that happens to earn 52 mpg combined according to the EPA.
The one to get: Opt for the mid-tier EX trim with standard Apple CarPlay and Android Auto, Honda Sensing active safety technology, dual USB ports, and a palatable price of $24,955 (including $895 destination charge).
2018 Honda Accord Hybrid
Honda Accord Hybrid
If a midsize sedan checks all your needs to drive for Uber or Lyft, the Honda Accord is our absolute favorite, and the Accord Hybrid represents the best of the bunch for ride-share use. We like the Accord so much that we named it our Best Car to Buy 2018.
The one to get: The excellently-equipped Hybrid model packs the same features as the mid-tier LX, which includes active safety features, dual-zone automatic climate control, LED headlights, and even remote start for cold mornings. You can add USB connectivity in the rear and a wireless charging pad for $420, bringing the total price of the Accord Hybrid to $26,415.
2018 Kia Cadenza
Kia Cadenza
Large livery cars typically have a Chevrolet, Ford, or Toyota badge, but the most stylish and budget-conscious big sedan is the 2018 Kia Cadenza, one of our favorites in the segment. It's comfortable, spacious, and often overlooked—which could mean big discounts.
The one to get: The base Premium trim features Apple CarPlay and Android Auto, Bluetooth, dual-zone automatic climate control, and a 290-horsepower V-6 for $33,190 including $900 for destination, and the $4,000 luxury package adds more luxury features than you'll find in almost any sedan for just over $37,000 total. How's that for value and style?
2018 Kia Niro Plug-In Hybrid
Kia Niro
Kia's ride-sharing roll continues with the mini-but-mighty 2018 Niro, a city-friendly SUV alternative with a frugal hybrid powertrain and lots of great standard and available features.
The one to get: Sitting above the base FE and LX models, the EX trim represents great value, with a 7.0-inch touchscreen for infotainment, a rear USB port for your passengers, some passive safety features like blind spot monitoring and rear cross-traffic alert, and a 49 mpg combined rating, all for a total price of $27,090.
2016 Toyota RAV4 Hybrid
Toyota RAV4 Hybrid
You've likely already noticed this list is packed with hybrid options for their combination of fuel economy and standard features, and nobody makes more hybrids (or at least more popular ones) than Toyota. The 2018 RAV4 Hybrid is getting long in the tooth and due to be replaced, but is a popular livery choice for a reason—and it might be discounted since a new one is on the way.
The one to get: The base LE Hybrid comes with standard all-wheel drive, Toyota Safety Sense P active safety features, dual-zone automatic climate control, a power-activated liftgate, and 32 mpg combined for an all-in price of $28,430 including a hefty $1,045 destination charge.
2018 Toyota Highlander
Toyota Highlander Hybrid
The 2018 Toyota Highlander Hybrid can be all things to all ride-sharing drivers for a palatable price. With seating for up to seven passengers, eight total cupholders, five USB ports, standard all-wheel drive and active safety features including automatic emergency braking, active lane control, and more, the Highlander Hybrid represents a rare combination of space, features, value, and passenger capacity.
The one to get: Pick up a base Highlander LE Hybrid for $37,915—it's perfectly well-equipped for ride-share duty, even if it isn't available with Apple CarPlay or Android Auto.
2018 Chrysler Pacifica Hybrid
Chrysler Pacifica Hybrid
When it comes to hauling people and stuff, no vehicle is better suited than a van. Sorry, crossover SUV drivers. And when it comes to vans, no minivan manages better fuel economy and packs more passenger-friendly features than the 2018 Chrysler Pacifica Plug-in Hybrid, which manages 33 miles of electric-only range on a full charge to boot.
The one to get: The base Touring Plus model carries a somewhat hefty base price of $41,390 including an outrageous $1,395 destination charge, but manages 32 mpg combined, seats 6 additional passengers comfortably in all rows, includes standard Apple CarPlay and Bluetooth on its 8.4-inch touchscreen, and features power-operated sliding doors for easy access. Oh, and it's eligible for a $7,500 federal tax credit and various state incentives for owners who qualify, putting an ease on the sticker shock and reducing the price of a Pacifica Hybrid up to $10,000 in some cases.
2018 Lincoln Continental
Lincoln Continental
For those looking to shoot for the stars with Uber Black or Lyft Lux, only certain vehicles fit the criteria, but one of the most stylish and affordable among them is the delightfully old-school cool 2018 Lincoln Continental. With 41.3 inches of rear leg room and 54.8 inches of rear hip room, passengers in the back seat of the Continental will have acres of space, and plenty of appealing luxury standard features, including leather upholstery, wood trim, active noise canceling, and ambient lighting. The driver will appreciate Lincoln's excellent infotainment, including an 8.0-inch touchscreen with Apple CarPlay, Android Auto, and Waze connectivity. 
The one to get: Continental buyers can opt for the Premiere trim for $46,155, which packs a powerful V-6 engine and 18-inch alloy wheels.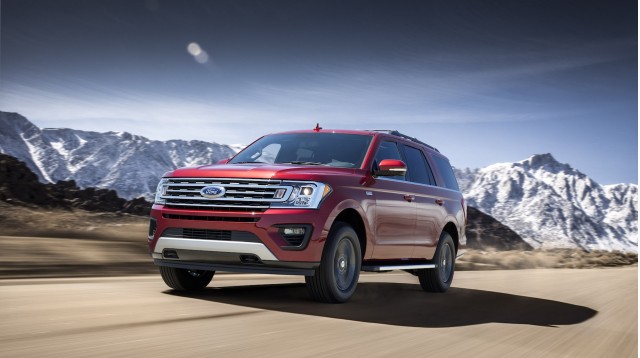 2018 Ford Expedition FX4
Ford Expedition
While the Chevrolet Suburban and GMC Yukon XL are popular options, no large SUV offers better space, comfort, and features (not to mention qualifying for Uber Black and Lyft Lux) than the 2019 Ford Expedition. One of its biggest assets is its independent rear suspension, which provides for a comfortable on-road ride and more cargo and passenger space than the Chevy and GMC. Like the Continental, the Ford's available infotainment system has Waze built in, a must-have for a busy driver.
The one to get: The Expedition XLT equipped with the 202A package, which includes everything from USB ports in the third row to ambient lighting, active safety features, power-folding second and third row seats, a wireless charging pad, heated and ventilated front seats, can be had for a total price of $58,690, representing a big discount over luxury brand SUVs and packing many of the same features and room for up to seven additional passengers.