2019 GMC Sierra 1500 first drive review: A few steps forward, a few steps back
Big pickup trucks such as the 2019 GMC Sierra have been locked in an arms race for more than a decade. Payload, tow capacity, total output, even fuel economy, they're all battles waged to win over millions of new pickup buyers each year.
Uber to prioritize bikes, scooters over cars for short journeys
Uber's chief executive officer said Thursday that he wants urban users of the ride-share service to pedal or scoot short distances rather than to ride in the back seat of a car.
2019 Hyundai Santa Fe first drive: Name a better deal
That the 2019 Hyundai Santa Fe name now applies to a spacious, five-seat family crossover SUV is no surprise.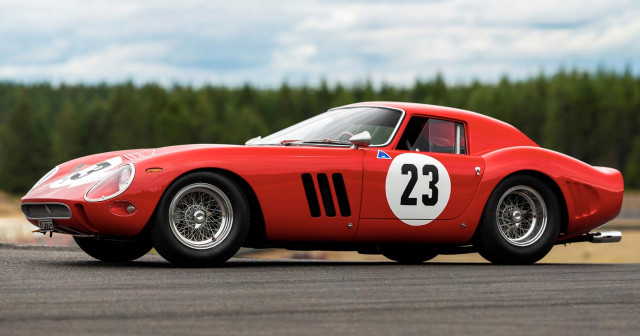 1962 Ferrari 250 GTO bearing chassis No. 3413 - Image via RM Sotheby's
From Motor Authority:
Ex-Phil Hill Ferrari 250 GTO sets record for highest price paid for car at auction
The Ferrari GTO stands as one of the most beautiful and exclusive cars of all time, and it boasts a racing record to back up its unparalleled collectibility. This, however, has seen prices soar to insane levels in recent times, and things don't appear to be cooling down one bit.
Ferrari 488 Pista drops its top at Pebble Beach Concours
Ferrari surprised visitors to Sunday's Pebble Beach Concours d'Elegance with the unveiling of the 488 Pista Spider. The car is the 50th convertible from the Prancing Horse, and one of the most powerful on the market today.
This Duesenberg is the most expensive American car ever sold at auction
Classic cars from European marques selling in the tens of millions will barely get an eyelid to bat these days, and soon that may be true of American cars, too, judging by the auction activity in Monterey, California over the weekend.
Mercedes-Benz EQC prototype testing in Black Forest
From Green Car Reports:
Mercedes EQC electric crossover SUV teased in new videos
A production prototype of the upcoming Mercedes-Benz EQC electric crossover SUV has taken a peek from under its veil ahead of its official reveal Sept. 4.
Audi reveals PB18 e-tron concept in Monterey–with moveable cockpit and solid-state batteries
With the annual classic car weekend going on in California, automakers are all working to outdo each other—and this year that means with electric cars.
2019 Chevy Volt gets higher prices with more equipment
In June, we heard that the 2019 Chevrolet Volt will come with a faster charger and more luxury features.