2019 Subaru Impreza: the all-weather compact car gets safer
The 2019 Subaru Impreza makes collision-avoidance technology easier than ever to equip.
Hot crossover: 2019 Ford Edge ST to cost $43,350
Ford is going all-out on its commitment to crossover SUVs and trucks instead of sedans, and it is doing it with a little bit of speed. When it goes on sale later this year at a starting price of $43,350, the 2019 Ford Edge ST will be the first high-rider to wear the sporty ST badge.
Honda, Ford lead list of 10 most affordable vehicles to insure for 2018
Before you think about buying a new car, it's important to consider all of the related costs: how much you'll be paying for fuel every year, what your insurance rates will be, and more. To help take some of the guesswork out of choosing a new vehicle, Mercury Insurance on Monday named their top 10 most affordable vehicles to insure for 2018 , with Honda and Ford each claiming multiple spots.
2019 Ford Edge ST, 2018 Detroit auto show
From Motor Authority:
Drive off in a 2019 Ford Edge ST for $43,350
Ford's 335-horsepower Edge ST is speeding into showrooms with a starting price of $43,350, including destination.
2020 Porsche Cayenne coupe spy shots
A coupe-like version of the Porsche Cayenne has been rumored for several years, but we finally have our first spy shots of an actual prototype.
Toyota supports hydrogen-powered autonomous boat
Toyota is one of a few major automakers that has thrown its weight behind hydrogen as a future fuel source, and the Japanese firm is taking its learnings around the globe and to the open seas.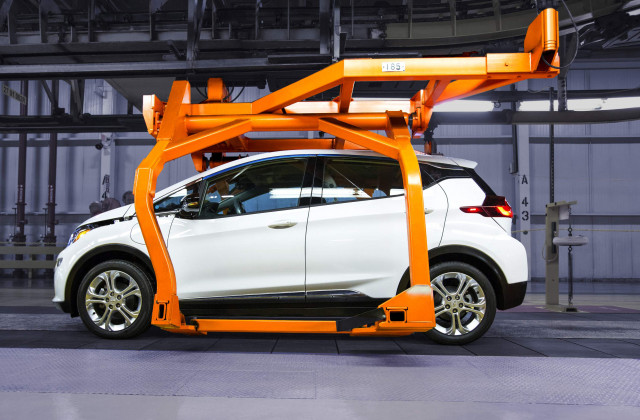 2017 Chevrolet Bolt EV pre-production
From Green Car Reports:
GM increases Chevy Bolt EV production to ease supply constraints
Amid shortages of Chevy Bolt EVs at dealerships across the U.S. and Canada, Chevy has announced it will increase production by 20 percent.
July 4th green car deals you can still find
June wasn't a great month for green-car sales, and automakers are offering some bargains to keep them moving out the door.
UK launches Road to Zero electric car initiatives
British Transport Minister Chris Grayling on Monday introduced a comprehensive package of laws aimed at speeding the adoption of electric cars in the country.