Contrary to common understanding, Subaru did not create the tall-wagon-crossover-hatchback vehicle. Subaru just created six different reasons to buy the same one.
Want a wagon? How about an Outback.
Want a mid-size crossover? How about an Outback.
Want an off-roader? You get the idea.
DON'T MISS: Read our full review of the 2019 Subaru Ascent
Few have mass-produced genre-bending weirdness like Subaru historically has. Those that have are usually called "Pacific Northwest."
But the Outback lacked any sort of accommodation for when its owners' canoes needed to fit more than five. Grow up too much, and you might grow out of the Outback.
2019 Subaru Ascent first drive
It fit that our first turns behind the wheel of the new, three-row 2019 Subaru Ascent outside Portland, Oregon, the Woodstock for bearded woodworkers that joust on mountain bikes on days off.
It's also the virtual home of Subaru, which earned its place on the state flag when a comic book editor rigged one to run on chili paste and patchouli. I'm kidding. Probably.
MUST READ: 2019 Subaru Ascent undercuts competition with $32,970 base price
It's thanks to the extensive sound-deadening and a cushy ride even atop 20-inch wheels that we can ponder Oregon's peculiarities in the Subaru Ascent.
There are configurable roof rails and second-row captain's chairs. A wi-fi hotspot (data subscription required) and six USB ports in all three rows complement 19 cupholders and 153.5 cubic feet of interior space.
Although the Ascent follows closely behind the tradition of Subaru's weirdness, it's the automaker's most mainstream offering to date.
It's better for it.
2019 Subaru Ascent first drive
2019 Subaru Ascent first drive
2019 Subaru Ascent first drive
You know it already
In many ways, the 2019 Subaru Ascent is instantly familiar. Its tall ride height, standard all-wheel drive, and modest style are cast in the same dye as the Outback and Forester. (And we probably mean tie-dye.) That's no surprise.
Although the Ascent has an engine to call its very own (for now), the automaker's three-row crossover rides atop the same skeleton that the other Subarus have—or will very soon—adopt too.  
2019 Subaru Ascent first drive
The Ascent measures 196.8 inches from nose to toes, and it sports three rows of seating that can fit up to eight adults—or more likely—a hodgepodge of parents, children, and gear.
Outside and in, the Ascent looks like an Outback rocking a dad bod. Its sympathy weight was gained for North Americans (the only place the Ascent will be sold) although it doesn't feel much bigger behind the wheel than the stilted wagon. It does feel very wide, though.
The Ascent's eager throttle—a Subaru hallmark—feels familiar too.
The eager 2.4-liter turbo-4 that makes 260 horsepower and 277 pound-feet of torque produced most of its thrust early and down low in rev range, almost annoyingly too much. The Ascent runs up to 60 mph in 7.4 seconds—a number that somewhat belies its eagerness at slow speeds. In mid-range acceleration, say passing from 65 to 85 mph, the Ascent feels nearly as confident. It's acceptable for its class, even impressive, despite being down two cylinders to staid competitors.
2019 Subaru Ascent
Credit goes to the refined, standard continuously variable automatic transmission (CVT) that Subaru seems to have mastered. The transmission doesn't feel like it filters much of the power to all four wheels when called upon. Mash it, and the CVT simulates an 8-speed automatic convincingly enough for Memorex—even with jerkiness.
But more impressive than the instant (and somewhat disarming) low-speed get-up, the turbo-4's ability to tow, climb, or return decent fuel economy may win over a few fans.
We briefly sampled the Ascent with a 4,300-pound Airstream saddled on its rear bumper. The Ascent decisively dragged the trailer like a lead blocker and cut through a slalom course just as well. There's little squat from the rear wheels, and aside from the awkward removable middle section of the rear bumper, the Ascent is reasonably convincing as a light-tow vehicle.
That's a first for Subaru, by our book.
2019 Subaru Ascent first drive
First for everything
The Ascent is full of other firsts, too.
Its three rows of seats haven't been seen on a vehicle wearing the Pleiades stars since the maligned and unfortunately named and styled B9 Tribeca. Its six USB ports and heated seats are in places you'd expect to find them—not tucked in odd spots—and a flotilla of cupholders dare every bladder in the ZIP code.
The Ascent boasts a responsive touchscreen fitted with Subaru's latest infotainment system, and thoroughly thoughtful ergonomic touches like scalloped door pillars near the elbow rests for longer arms and that recent Subarus would've ¯_(ツ)_/¯-ed.
It's also the first Subaru with enough power that didn't swill fuel too.
Although the Outback has nearly always been available with optional 6-cylinder engines, none of those engines were frugal. The older flat-6 engines preferred premium, and when they made the switch to regular unleaded several years ago, the consumption was more prolific.
The Ascent likely will never have a 6-cylinder engine, and it doesn't need it. Over 140 miles throughout Oregon's trails and highways, our Ascent limited managed 22.6 mph by our calculators. We never hit stop-and-go gridlock that Portland knows well enough, but we offset our boring highway jaunts with some scribbles on Oregon beaches in the sand.
Expect a hybrid to do better, whenever Subaru decides to build it.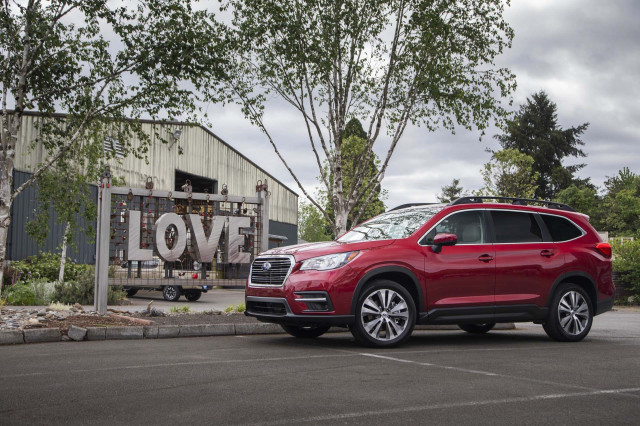 2019 Subaru Ascent first drive
Mass appeal
In top Touring trims, the Ascent crests more than $45,000 with an 8.0-inch touchscreen with navigation, premium audio from Harmon Kardon, and a panoramic moonroof, but those versions don't really feel nearly $10,000 better than their downmarket brethren.
At $32,970 to start, including destination, the Ascent's best life is nearby at $36,630 in Premium trim with cloth seating for seven (or eight), power liftgate, keyless ignition, 18-inch wheels, active safety systems, 8.0-inch touchscreen, and Apple CarPlay.
That's competitive with the Honda Pilot, which was our Best Car to Buy 2016, and the Subaru is sized within the hair of that crossover.
For many years, Subaru and Honda's similarities were limited to letters in their names, and even then, it was just one.
This Ascent is different. It's not Subaru's attempt at a bigger Outback, it's Subaru's attempt at mainstream.
It'll still do well in Oregon anyway.
Subaru provided travel and lodging to Internet Brands Automotive to bring you this firsthand report.