Look at the 2019 Toyota RAV4 and it's hard not to see the Tacoma pickup and the 4Runner SUV.
That's no accident. The original 'cute ute' is ready to get down and dirty. At least a little bit.
READ MORE: 2019 Toyota RAV4: looking more SUV than crossover
The new RAV4 isn't as tough as it looks, but that probably won't bother most buyers. Its style is chiseled and tough, almost like a three-day beard.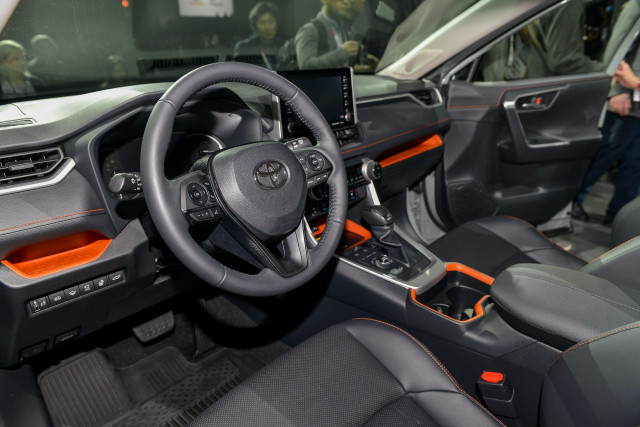 2019 Toyota RAV4, 2018 New York auto show
Inside, it's roomier and much nicer, with soft-touch plastics and a big infotainment upgrade that includes standard Apple CarPlay.
There's no shortage of standard safety gear, too, including automatic emergency braking and adaptive cruise control.
Up front, the seats are comfy and the view out is great. Rear-seat riders get decent room, too, but what looks like leather isn't. It's leatherette, even on the fanciest RAV4 Limited.
Toyota will give buyers lots of choices with the RAV4 goes on sale at the end of 2019: a standard version with a 2.5-liter inline-4 that should boast around 200 horsepower, or a hybrid with even more power.
The RAV4 Hybrid XSE—that's a mouthful—will even have a sport-tuned suspension and glossy black exterior trim.
For a more rugged look, the RAV4 Adventure has matte black trim outside and orange stitching inside, almost like a North Face tie-in.
It's not actually any more off-roady than the regular RAV4, but the Adventure looks the part.
And isn't that really all that matters?