Like a protective parent, the 2019 Subaru Forester is watching you. The latest crossover SUV is not a helicopter parent, but it certainly blurs the line with a passel of new safety features that nearly steal the headline that this is, in fact, a brand-new vehicle.
The 2019 Forester won't stand out much from last year's model in a crowded parking lot, that's for sure. The five-seat Forester an all-new model riding on new underpinnings shared with the larger, three-row Subaru Ascent, and its styling matches its big brother. Up front, the latest Forester is blocky and butch. From the side, the window line arcs upward as it moves rearward more than last year's model, a move that's hardly controversial. New taillights at the rear have an inorganic shape and less of the trendy-in-2005 clear lens look. Range-topping Forester Touring trims have matte silver faux skid-plates, but otherwise most trims are set apart by wheels that range from 17 to 18 inches in diameter.
MORE: Read our 2019 Subaru Forester preview
The Forester lineup starts in price-sensitive base configuration before working its way through mainstream Premium, new, zippy-looking Sport, leather-lined Limited, and tech-packed Touring trim levels. All share the same 2.5-liter flat-4 engine rated at 182 horsepower and 176 pound-feet of torque fitted with an automatic stop/start system.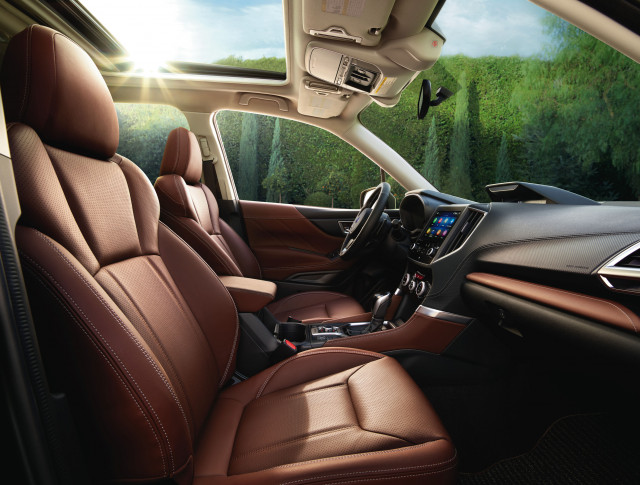 2019 Subaru Forester
A continuously variable transmission (CVT) is standard across the line; last year's 6-speed manual has been shelved. On Sport and Touring trims, the CVT features paddle-shifters, while all variants feature "Intelligent" and "Sport" modes. The Forester Sport goes a step further with a Sport+—because you can never have enough "sport."
Subaru says it's targeting 33 mpg on the highway, a 1-mpg improvement over last year's model and enough to tie the Honda CR-V as the thriftiest all-wheel-drive compact crossover.
Last year's optional turbo-4 also bites the dust, signaling the end of the line for zippy Foresters.
All-wheel drive is standard—it's a Subaru, after all. Forester Premium and higher trim levels feature an X-Mode button that activates hill-descent control and modifies stability and traction control parameters for slippery off-road conditions. To that end, the latest Forester boasts 8.7 inches of ground clearance, a figure higher than many SUVs positioned as serious off-roaders.
Despite its name, the Forester Sport is more about styling than performance. Its suspension mirrors that underneath other trim levels.
Last year's Forester was roomy; this year's is roomier. The exceptionally wide tailgate opens to reveal a maximum of 76.1 cubic feet of cargo space with the 60/40 split-folding rear seats folded flat. Subaru promises even more rear-seat legroom than in the outgoing model thanks to a wheelbase that grows by about two inches.
On the tech front
The 2019 Forester is among the first vehicles to include monitoring technology to keep distracted drivers in line. The DriverFocus system, as Subaru brands it, uses facial recognition tech to remember up to five drivers and their seat, audio, and climate control preferences. When a driver in the system's memory is detected, the Forester will automatically adjust those features to the driver's preferred settings.
There's also a camera integrated into the rearview mirror assembly on range-topping 2019 Forester Touring trim levels monitors the driver to look for signs of drowsiness or otherwise distracted driving. If it detects a discrepancy between the driver's actions and the car's movement, it will sound an alert.
It's a subtle, not-quite-firm reminder to stop texting and start driving, and it makes the popular Subaru crossover into even more of a coddling cocoon on wheels.
The DriverFocus attention-monitoring system is standard on Forester Touring trims, which also include a power-adjustable passenger seat, heated rear seats, and a heated steering wheel.
All versions of the Forester include a touchscreen for infotainment and standard Apple CarPlay/Android Auto compatibility. Forester base and Premium trims come with a 6.5-inch unit, while Sport and higher trims can be fitted with an 8.0-inch display. Navigation is optional on Limited and standard on Touring.
Subaru has also made its EyeSight suite of safety tech standard for 2018—automatic emergency braking, adaptive cruise control, and active lane control. Previously, the gear was optional on some trim levels.
Subaru says that the 2019 Forester will go on sale in late 2018. No prices have been announced.