Ford Motor Company [NYSE:F] will invest–and gamble–heavily on electrified vehicles in the next two years as it introduces new hybrid and plug-in hybrid versions of its most popular vehicles, including the F-150 pickup, the Mustang sports car, and the Escape and Explorer crossover SUVs.
At the same time, Ford plans to introduce a series of new battery-electric vehicles that it hopes will get its buyers hooked on the electric plug. The first of six battery-electric vehicles due by 2022 will go on sale in 2020.
Executives confirmed a slew of new products coming by 2020 at a press conference in Dearborn, Michigan, on Thursday. Ford executives said the company will introduce four new truck and SUV nameplates and will refresh or replace three-quarters of its truck and SUV lineup by 2020.
Those launches include the new 2019 Ford Ranger and 2020 Ford Bronco, previously confirmed to join Ford's family.
MORE: 2019 Ford Ranger marks return to mid-size pickups
By 2020, Ford will sell a total of eight crossovers and SUVs. Five of those will be hybrids, one will be battery-electric.
As a result, Ford's president of global markets Jim Farley said, by 2021, Ford hybrid sales will pass the global leader in hybrids. Toyota has long sold more hybrids under more nameplates than any other manufacturer, mostly behind the power of the Prius name.
Farley, a former Toyota executive before he was hired away by Ford, called hybrids "mostly niche products" that are now posed to break into the mainstream.
Toyota has sold more than 10 million electrified and hybrid vehicles worldwide since it launched its first Prius in the late 1990s. Today's hybrid and plug-in hybrid universe includes vehicles from the stalwart Toyota Prius, to the brand-new Bentley Bentayga Hybrid, to Ford's own C-Max family of Hybrid and Energi plug-in hybrids.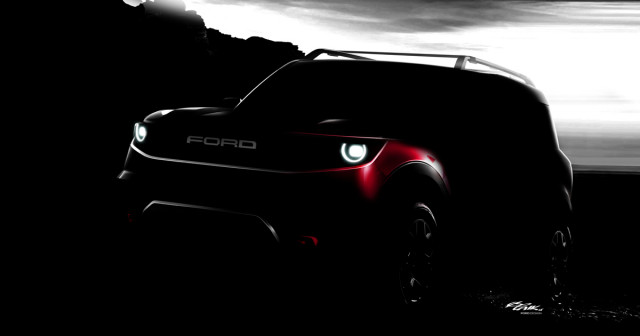 Ford's upcoming small off-road crossover SUV
The incredible shrinking car
As Ford electrifies, it will reduce the number of passenger cars it sells as it harmonizes its global vehicle lineup around five platforms. The front-drive, rear-drive, and commercial-van families will have unibody architectures; a body-on-frame architecture will include vehicles such as the F-150 and Expedition/Navigator SUVs. The final architecture will underpin the range of six new battery-electric vehicles.
Ford said as it introduces new vehicles, its portfolio of cars will shrink to 14 percent of its sales from more than 20 percent today, while trucks and SUVs will account for 86 percent of all vehicles.
MORE: All the latest on the upcoming Ford Bronco
Ford includes future battery-electric vehicle sales in with its truck and SUV portfolio, which suggests its future battery-electric vehicles will all be classified as trucks by the NHTSA.
In addition to powertrain technology, Ford says each of these new vehicles will have 4G LTE connectivity available, and will offer over-the-air updates for software and data-driven features.
Ford also will introduce a bundle of safety gear that includes automatic emergency braking, automatic headlights, blind-spot monitors, active lane control along with the mandatory rearview camera. The cluster of technology will be called Co-Pilot360.
Ford's future hybrid and PHEV lineup
The 2020 Ford lineup: what we know
Here's how Ford plans to electrify its lineup over the next two years, with hybrids, plug-in hybrids, and battery-electric vehicles:
Ford F-150: While the F-150 gets a diesel this year, a new-generation truck is on the way. When it arrives in 2020, it will be joined by a new F-150 Hybrid. Ford has made no statements on electric range, battery pack size, or overall efficiency, but says the new truck will offer electric-based features such as a built-in generator for small tools and equipment. An electrified F-150 is a critical piece of Ford's plan to meet upcoming CAFE requirements while it feeds sales of the best-selling vehicle on the planet. Ford sold 896,764 F-Series trucks in 2017, only 42,727 units off its best-ever year of 939,511 trucks in 2004.
Ford Explorer: A new version of Ford's mid-size crossover SUV is coming. The architecture that will underpin the new vehicle hasn't been detailed, but it's possible it will be spawned from a new rear-drive vehicle family. A hybrid will join the lineup, and a plug-in hybrid is a strong possibility. Ford confirmed on Thursday a performance model, the Explorer ST, will be included in the next-generation Explorer family.
Ford Escape: Ford will introduce a new version of its compact SUV, one with what looks like more sculpted and rounded lines, according to an illustration released by the company. The Escape Hybrid will return, and a plug-in model or even a battery-electric version could appear soon after it is released.
New Ford Bronco
Ford Bronco: Ford has confirmed the return of a long-storied nameplate on a vehicle with angular lines and a compact body, likely the size of a Jeep Wrangler. A hybrid version is expected.
Unnamed small SUV: Ford confirmed a crossover SUV smaller than the Bronco will also join its lineup. A possible rival for the Jeep Renegade, the as yet unnamed vehicle may also include a hybrid model.
2020 Ford Mustang Shelby GT500
Ford Mustang: the Mustang adds a hybrid model by 2020, when it also revives the GT500 nameplate on its highest-performing Mustang yet.
Battery-electric utility vehicle: Rumors of a new battery-electric vehicle have circulated in recent weeks, as have rumors of a Mach 1 nameplate and a Lincoln badge and 300 miles of battery-electric driving range. No details have been confirmed by Ford.
Also: Ford has confirmed it will introduce a new full-size Transit van soon, to pair with a refreshed Transit Connect van that now offers diesel power. On the cutting-room floor, the Ford Flex and Lincoln MKT crossovers are expected to enjoy a final 2019 model year before they are dropped.