No flip of the calendar passes without a slew of new cars, crossover SUVs, trucks, and even minivans hitting the market. Some are mild rehashes of last year's models, while others are entirely new designs.
It's our job to sort through them. For the 2018, we've found at least 18 new vehicles that are big news for their builders. Some are thrilling sports cars for a select few, while others will likely reach the top of the sales charts.
With that in mind, here's a look at the most important new cars of 2018:
2018 Alfa Romeo Stelvio
No, it's not technically Alfa Romeo's first high-riding vehicle—that was a military-oriented four-by the brand sold in the 1950s—but the Stelvio is Alfa Romeo's first chance to succeed in the U.S. since Dustin Hoffman drove a Spider in "The Graduate." The Stelvio is little more than a high-riding Giulia with more cargo space, and that's just fine with us.
2018 Buick Enclave
The first Buick Enclave arrived a decade ago. And it's probably the one vehicle that saved the brand from parent company General Motors' chopping block a few years later during its bankruptcy and bailout. A redesigned Enclave is finally here, and it's everything we could hope for: more luxurious, more refined, and more fuel-efficient. It's a luxury crossover worth coveting.
2018 Chevrolet Equinox 2.0T
Chevy's compact crossover enters this fight punching hard. Its lineup is all-turbo, including an intriguing, high-mpg turbodiesel that could fill VW's vacuum. Or it may not, since Chevy walls off the safety tech important to crossover buyers in high-buck trim levels only. Its GMC Terrain sibling is a little quieter, but we'd probably save the cash and go for the bowtie.
2018 Chevrolet Traverse Redline
Is the Buick Enclave too rich for your blood? The Chevy Traverse delivers nearly all of its inherent goodness, aside from its soft leather and extensive sound deadening, at a more palatable price. That it looks kind of like a softened Chevy Tahoe doesn't hurt, either. Put this one high on your shopping list.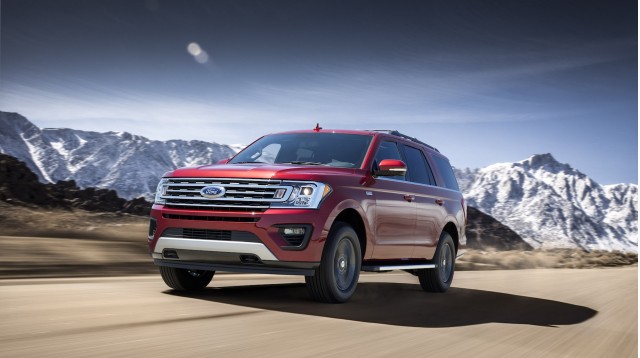 2018 Ford Expedition FX4
Gas is cheap and we're drilling again, so who's to fault Ford for trying to relive its 1990s heyday with a redesigned Expedition? Actually, the 2018 Expedition is more than just a rehash of last year's model. It's luxury-grade refined while it retains the smooth ride, strong towing, and commanding view out of its predecessors.
2018 Honda Accord
It's hard for us to overstate just how great the 2018 Honda Accord is (well, maybe not). That it's a mid-size sedan with commendable road manners, strong turbos, and a refined, roomy interior is no surprise. That it offers something for everyone is more of a shock. The 2018 Accord can be a frugal commuter, a silent cruiser, or a corner carver, regardless of which options you select. It's one last hurrah for the mid-size sedan, unless Honda does it all again in a few years.
2018 Honda Odyssey Elite
Repeat after us: you don't need a crossover. You don't need a crossover. The 2018 Odyssey makes an excellent family hauler, with its versatile interior, commanding view from the driver's seat, solid safety feature set, and strong V-6 engine. True, we think the Chrysler Pacifica's hideaway seats are tops, but the Odyssey is a stellar runner-up that we'd put in any garage.
2018 Jaguar E-Pace
The pint-size Jaguar E-Pace is pretty to look at, but it's a lot pricier than some of its direct rivals like the Volvo XC40 and BMW X1. It's a test of just how far Jaguar can stretch its brand, and it may very well pay off as luxury buyers in particular flock away from sedans and into high-riding crossovers. We'll watch this one closely.
2018 Jeep Wrangler
Sure, kudos to Jeep for making the 2018 Wrangler better on road. But what really impresses us is that this four-wheeling icon is just as full of character—even more capable in the places where cell-phone reception is at one bar or less—than its predecessor, while being far more manageable as a daily driver.
2018 Kia Stinger GT
The Stinger is the first Kia we'd mention in the same breath as BMW and Audi. This shapely five-door—yes, it's a hatchback—rides on a rear-drive platform shared with Hyundai's Genesis luxury brand, and it dispenses with the cheap-frills feel that still occasionally permeates the Kia lineup. It's excellent to drive, and it (mostly) feels like a genuine luxury car.
2018 Lexus RX L
The 2018 Lexus RX isn't new, but the RX L is. It's simple: Lexus stretched its hugely popular RX to give it a third row of seats. It's also an idea as brilliant as it is overdue, especially since it plugs one of the most glaring gaps in the Lexus lineup.
2018 Lincoln Navigator L in Black Label Destination trim
It's still a tarted-up Ford Expedition, but the Lincoln Navigator is once again a luxury SUV worth coveting. From its eye-catching looks to an interior that can be as ostentatious as your budget allows, the 2018 Navigator reminds us that it's good to be on top. Moreover, the Navigator is a sign that Ford's beleaguered Lincoln division may finally be poised for the rebound that's been rumored since the Continental lost its suicide-style doors in 1970.
2018 Nissan Leaf
The first mainstream electric car is back for a second round, but it comes with a big asterisk attached: its electric-only range is about 80 miles short of the Chevy Bolt EV that's been on sale since the 2017 model year. What were you thinking, Nissan? In its defense, the Leaf is cheaper to buy and comes with more safety gear from the get-go.
2018 Subaru Crosstrek first drive
Take note, REI shoppers: Subaru has redesigned its hugely popular Crosstrek. It's still a hiking shoe with four wheels, and that's just perfect. The latest Crosstrek is quieter, smoother, and more fuel-efficient, without diluting any of the virtues that made it such a hit in the first place.
2018 Toyota Camry Hybrid
Popular convention would be to not mess with a good thing. In the Camry's case, it's nearly two decades of sales dominance. Except that's exactly what Toyota did: they made the 2018 Camry far more interesting to look at, inside and out, while focusing on improving driving dynamics. The result isn't the moonshot that the 2018 Accord is, but the latest Camry range is worth a serious look.
2018 Volkswagen Atlas, Boerne, Texas
VW's big bruiser is a massive crossover with legitimate room for the entire family, the kids' friends, a few dogs, and maybe the neighbors and their family, too. This roomy, Tennessee-built crossover has some solid virtues, but it needs a more efficient powertrain. It was, after all, intended for a turbodiesel. But, err, about that.
2018 Volkswagen Tiguan
VW is no stranger to studying the American market (cough, cough, underwhelming Passat). But they must have gathered the right focus groups when it came time to form the 2018 Tiguan. Skip the three-row version since its rearmost seats are borderline torture and you'll end up with a roomy and comfortable compact crossover at a very reasonable price.
2018 Volvo XC60 T8
Take flagship model, leave in dryer too long to create smaller model. It's a recipe most automakers have followed, but few have done it as well as Volvo. The 2018 XC60 is a sublime compact crossover with just the right amount of Scandinavian restraint. That it's thousands cheaper than the BMW X3 and Mercedes-Benz GLC-Class that we're not totally sure are worth their premiums is even better. Now about that missing sock that's still circulating around the dryer.