Jaguar and Land Rover to electrify all new vehicles by 2020
British automaker Jaguar Land Rover says that every vehicle they introduce by the year 2020 will be either hybrid or fully electric. More specifically, the manufacturer stated that each new vehicle will feature an electrified powertrain.
To help Floridians flee Irma, Tesla remotely extended range for free
With millions of Florida residents bracing for potential Irma devastation, owners of the Tesla Model S 60 and Model X 60 received a free temporary upgrade. Tesla sent out an automatic, over-the-air upgrade to anyone living in a mandatory evacuation zone, remotely extending their vehicle's range to help them escape potential harm.
2018 Jeep Grand Cherokee Review
The Jeep Grand Cherokee is family vehicle that can do more than just carry the kids and their hockey gear. It's ready to go off-road, tow a trailer, or, if you buy the right model, attack a racetrack. It exceeds what is expected of a family crossover, and we rate it highly, though we recognize that safety is becoming a problem for this aging vehicle. It gets a 7.7 out of 10 on our scale. (Read more about how we rate cars.)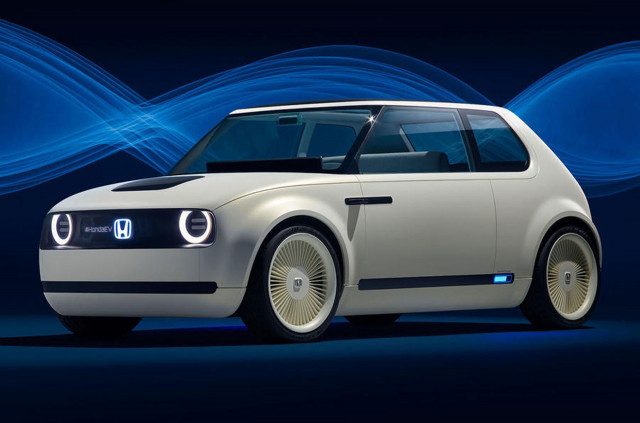 Honda Urban EV Concept
From Motor Authority Mercedes-AMG's Project One has landed, and its F1 powertrain has over 1,000 HP
It's the car everyone's been dying to see, and now it's finally here.
Honda Urban EV Concept marks the return of retro design
A long time ago, Honda built a car called the City. It was adorable, tiny, and has garnered something of a cult following today. Think of the Honda Urban EV Concept, which debuted Tuesday at the 2017 Frankfurt Motor Show (IAA), as more than a spiritual successor.
2019 Porsche Cayenne Turbo takes familiar route to high performance
Porsche knows chemistry. Take an engine from the Porsche Panamera Turbo that can reach 150 mph (ask me how I know), and add the third-generation Cayenne. The solution is the 2019 Porsche Cayenne Turbo that appeared Tuesday at the 2017 Frankfurt Motor Show (IAA).
Mercedes-Benz EQA concept, 2017 Frankfurt auto show
From Green Car Reports Mercedes-Benz Concept EQA small electric hatchback debuts in Frankfurt
Following various teaser images, the Mercedes-Benz EQA concept for a compact all-electric hatchback made its debut on Tuesday at the 2017 Frankfurt Motor Show.
China developing timetable to end sales, production of gasoline cars
The auto industry has now grudgingly accepted that battery-electric cars will make up some portion of the world's new vehicles in years to come.
2018 Nissan Leaf: does it pioneer the 'mid-range' electric car?
With the 2018 Nissan Leaf due to arrive at U.S. dealers in four or five months, next year is shaping up to be a very interesting test of what buyers want in battery-electric cars.