It's the call no parent ever wants to receive. But if you do, your heart skips a full five beats.
"We were in a car accident," the voice cracked over the phone as I bolted straight up. "We are all alright. Here's our location."
The good news: the car seats did their job to safely protect my children. Now I'm replacing them (the seats, not the kids). Hopefully, this isn't something you'll ever have to deal with. If your car is involved in any kind of crash, you might need to replace your car seats as well.
The call and the crash

The phone rang and I saw it was the caretaker of my two children. They had just left the house minutes before, so the phone ringing with her name on the screen wasn't something I expected.
I answered the phone and heard the worst thing I could imagine: there had been a wreck.
I kept my composure and was relieved to hear that everyone was all right. Without missing a beat, I told her to stay put and that I was on my way.
When the driver of an Audi Q5 had not yielded a flashing yellow light, they contacted the Toyota Prius my kids were riding in.
Within minutes, I was on the scene just behind two fire trucks, one ambulance, and five police cars. The cavalry had been called in.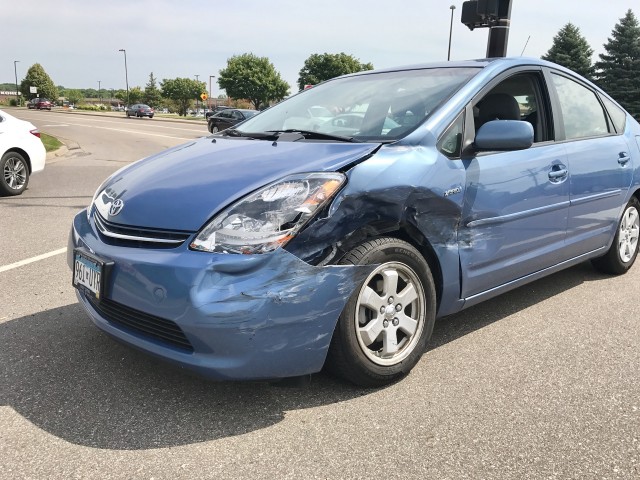 Toyota Prius after car crash, July 2017
Enlarge Photo
Audi Q5 after car crash, July 2017
Enlarge Photo
Audi Q5 after car crash, July 2017
Enlarge Photo
I ran to the mangled Prius and saw my kids inside, still strapped into their car seats. My 3.5-year-old daughter was clearly shaken up and scared, but fine. My 16-month-old son was silent, and seemed unaware of what had just happened.
A firefighter gave me permission to unstrap them; my son was happy to be out of his car seat, but my daughter clung to me.
To distract them, the helpful firefighters offered the kids stuffed animals. In due course, everyone was deemed fine and we were cleared by the medics.
Both cars had to be towed away. But the car seats? They appeared to be just fine, still strapped in firmly.
"This thing is locked in here tight," one of the police officers said. "Who put this in here?"
After I told him that I had, he said that most people don't know how to secure a car seat properly. It's not only sad, but a major issue when it comes to protecting a child during a crash—despite the fact that drivers can get their installations checked for free at inspection stations all across the U.S.
But just because the seats looked fine at a quick glance doesn't mean that they're still safe.