The cars are running, the clock's ticking when I slide sideways in the seat. Mirrors? Check. Youthful attitude? Check.
Jet lag? On hold. Test drives in the 2018 Hyundai Kona leave every 30 seconds, and I'll have four minutes to come up with something to tell you about the Kona. That's one minute for every letter in its name.
There's a lot to learn about the 2018 Kona before it erupts in showrooms next March. It's Hyundai's fourth crossover SUV, the smallest, and it's Hyundai's best shot at grabbing some of the eyeballs staring down cars like the Nissan Juke, Jeep Renegade, and Honda HR-V.
New look, not the same as the old look
Slotted below the compact Tucson and the mid-size Santa Fe Sport and three-row Santa Fe, the Kona makes perfect sense in size and mission.
It doesn't always make sense, visually. Its young-at-heart looks veer into the Toyota C-HR and Juke end of the buzz-fed spectrum. The Kona has a wedge shape with thick fenders and lots of body armor in the form of black plastic cladding.
The cladding splits up body panels for more pizazz. A flying wing of cladding darts in at the rear roofline, playing up the contrasting roof color available on some models. Three separate pieces of cladding circles the wheel wells. The Kona loves plastic as much as it loves cutlines, and that really straddles the line between playful and busy.
MORE: Read our full 2018 Hyundai Kona preview

Busy's the only way to describe the front and rear ends. The deep grille has a mesh pattern like fish scales, and the headlights protrude in black-plastic surrounds below the Kona's LED running lights. Engineers say the lighting's split for safety. Headlight rules mandate a certain height and placement, but taller vehicles become more visible when running lights are placed higher on the nose. Plastic-framed taillights jut into an otherwise tame rear end.   
The look is on-trend inside as well as out. The cabin has a softly styled dash with a central infotainment display. Soft rubberized trim on the dash turns to hard trim over the lower doors. When painted in colors like lime green, orange, and red, the Kona wears bracelets of body-color trim around some controls.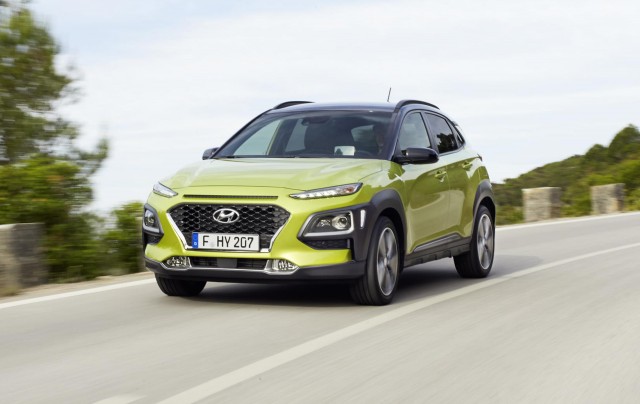 2018 Hyundai Kona
2018 Hyundai Kona
2018 Hyundai Kona
2018 Hyundai Kona
Thank the Veloster
Hyundai set up a section of its on-campus road course for our brief test drive, and all the Kona SUVs came with a 1.6-liter turbo-4 and a 7-speed dual-clutch automatic.
When it goes on sale in March, the base Kona will come with a 147-hp inline-4 coupled to a 6-speed automatic. All-wheel drive will be an option, and 0-60 mph runs of 10 seconds and a top speed of 121 mph have been published by the company.
(Abattery-electric Kona may be in the works, and could have a range of more than 200 miles, but Hyundai hasn't confirmed its release date, or its existence, for that matter.)
MORE: Would the Kona be the same if it had the Veloster name?

The Kona I pull into Drive has a 175-horsepower, 1.6-liter turbo-4 with 196 pound-feet of torque, most of that torque being available from 1,500 to 4,500 rpm. On loan from other Hyundais like the Veloster and Elantra, it's quoted at 7.7 seconds to 60 mph and a 131-mph top end.
A brisk launch down a straight runway reminds me that the Veloster's biggest asset is perky response. In the Kona, the turbo-4 turns its eager grunt into pleasantly quick acceleration, with just enough sound filtered into the cabin to amp up the Juke-like appeal.
Hyundai omits the paddle shift controls, though, and has dropped the drive-mode selector down to Normal or Sport. No more Eco, which it says confused customers and left them thinking their cars performed poorly. Tapping the Sport button moves shift points higher, and adds some steering weight.
Cruising around some light switchbacks, the Kona's speed-sensitive power steering built up good cornering force with a hint of feedback, so long as speeds stayed in a moderate range. Down at parking lot speeds, copious boost left the Kona senseless. It's worth noting U.S. cars will get a middling-firm setup in steering and suspension, somewhere between home-market and European cars, and our short drive didn't represent final U.S. tune.
It's the same for the suspension, which sports MacPherson struts in front on all versions and split at the rear. Front-drive cars get a rear torsion beam, while all-wheel-drive models have a multi-link rear. I drove the Kona over pavement that simulates crappy roads from around the world, and think it won't have any problem absorbing the worst of them well, though the suspension clunked and left some wheel rebound undamped, typical for small cars.
As for the all-wheel-drive system, it's an unusual part-time setup. The driver has to push a button to lock the rear wheels up to the fronts; otherwise, it operates in front-drive mode only, without any automatic traction intervention. It's less costly this way, engineers explain, without much of a fuel-economy penalty.
Hyundai hasn't published any tow ratings for the Kona; if they do, don't expect them to be very high.
2018 Hyundai Kona
Top scores: size, safety, stuff
The brief drive gave us a better impression of interior space and quality. The driver sits high enough to see over compact cars, but the Kona's no Land Cruiser. The driver seat has flat cushions but good adjustment, and the steering wheel has a long telescoping stroke.
Head room and leg room are strong, better than in the godawfully cramped Juke and the tight Jeep Renegade and Fiat 500X. The Kona's shy of the HR-V with its 164-inch overall length but its 102.4-inch wheelbase is down just 0.4 inches.
For a wayback perspective, the first 2001 Santa Fe SUV was 177 inches long; the first 2005 Tucson, 170.3 inches long.
MORE: Hyundai has big plans for its N performance brand

Back-seat space rivals the HR-V and beats it, I think, in head room. Back-seat passengers up to 6 feet tall will slide into the back easily, and will find a few inches of head room. The seat cushions seem too flat for long-ride comfort, but they fold down to expand a sizable cargo hold with a two-level storage system.
For safety, the Kona skips adaptive cruise control. Some cars will come with forward-collision warnings and automatic emergency braking, active lane control, and blind-spot monitors. A head-up display with a pop-up display comes only on the most expensive model.
The Hyundai Kona SE, the base model, will have 16-inch wheels, cruise control, Bluetooth with audio streaming, Apple CarPlay and Android Auto, HD and satellite radio, a 7.0-inch infotainment display, and power windows, locks, and mirrors. The Kona SEL adds a rearview camera, 17-inch wheels, roof rails, leather-trimmed steering wheel, and keyless ignition, with automatic emergency braking as an option.
The 2018 Hyundai Kona Limited adds leather, 18-inch wheels and Goodyear tires, a sunroof, LED headlights, and the 1.6-liter turbo-4. An Ultimate package tops that off with parking sensors, navigation, Infinity audio, wireless smartphone charging, and the head-up display.
All-wheel drive will be an option across the board.
Hyundai hasn't priced the 2018 Kona, since it's still nine months from showrooms. It goes on sale in March, and we expect a sub-$20,000 base price when it arrives. Stay tuned for a full first drive.