IIHS names the best used cars under $20,000 (and under $10,000) for your teen
If you don't have a teen living under your roof, you might not have noticed, but 'tis the season for buying cars for young drivers. Whether they're looking for a gift to suit a high school grad (good luck with that, BTW) or something to send off a college-bound kid, parents across the country are scouring the lots for rides. 
2018 Buick Regal video preview
Are the days of the four-door sedan numbered?
The 2018 Volvo S90 boasts a back seat fit for a king
Don't bother calling shotgun if you're about to ride in the 2018 Volvo S90. The back seat is now the place to be thanks to a wheelbase stretch for leg-crossing room plus a new standard massaging feature.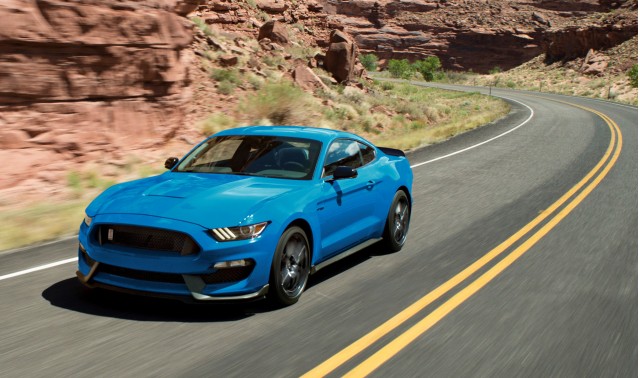 2018 Ford Mustang Shelby GT350
From Motor Authority:
2018 Ford Mustang Shelby GT350 keeps old look, gains new colors
Ford's Mustang receives some significant updates for the 2018 model year but the changes don't affect the Shelby GT350 and GT350R.
Audi has provided us with our first look at its new e-tron Sportback concept to be unveiled on Wednesday at the 2017 Shanghai auto show.
Volvo has only just broken ground on its first-ever U.S. assembly plant, but we already know what vehicle will first roll out into the southern breeze of Ridgeville, South Carolina when the plant becomes operational in 2018.
Solar farm used by West Hill House B&B

 
From Green Car Reports:
What U.S. cities have the most solar power? New report lays it out
Cities across the U.S. are working to limit their emissions of climate-change gases turning to solar power, among other tactics.
Electric jet startup is backed by Boeing and JetBlue
Seattle-based startup Zunum Aero has received funding from Boeing HorizonX and JetBlue Technology Ventures toward making its dream of electrified air travel a reality.
Q: Why is Tesla worth more than GM? A: The sins of Detroit
It remains unclear whether Tesla will survive as an independent company, given that it's had exactly two profitable quarters in its 12-plus years of existence.