It's hip to be frugal these days, but that doesn't mean that a compact hatchback has to be merely an appliance.
They aim for the same buyer—someone who wants to spend between $20,000 and $30,000 on a car that balances fuel economy with practicality. A little driving zest doesn't hurt, either, which is why both models come in the sport trims seen here.
The recipe is basically the same. Sport models of both include larger wheels buttoned-down suspensions. They're not quite Porsches, but they are definitely zippy. 
DON'T MISS: Read our full review of the 2017 Subaru Impreza
Don't assume that both the Civic and the Impreza are cut from the same mold. For one, the Honda is front-wheel drive and it's rated at 180 horsepower. The Impreza, as is tradition for Subaru, comes standard with all-wheel drive. But it has just 152 horsepower. Predictably, the Civic runs circles around the Impreza—as long as it's not snowing. 
Both models are decently equipped from the get-go with stick shifts, but tick all the boxes and you'll wind up with leather seats, moonroofs, seat heaters, fancy stereos, and all sorts of safety equipment.
Hatch-to-hatch
If you're buying a hatchback over a sedan, it's probably because you want to carry more. To that end, it's a mixed bag. The Civic has nearly 26 cubic feet of cargo space with its second row upright compared to just 21 for the Impreza. But in terms of maximum capacity, the Subaru comes out way ahead with 55 cubes versus 46 for the Civic.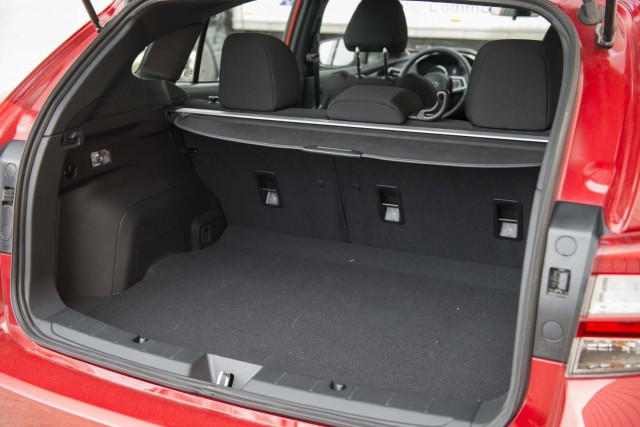 2017 Subaru Impreza vs. 2017 Honda Civic
2017 Subaru Impreza vs. 2017 Honda Civic
2017 Subaru Impreza vs. 2017 Honda Civic
That's a virtue of the Impreza's roomier passenger compartment. There's more stretch-out room here than in the Honda, but neither is a punishing place for four or even five passengers in a pinch. 
Both have comfortable space and great visibility for drivers. We give the Honda the edge for its interior styling and small item storage, but Subaru's infotainment system is far more advanced than the standard radio on the Civic seen here. Even Honda's extra-cost touchscreen infotainment doesn't quite compare to the Impreza's classy setup. 
On the road
On the road, the two cars quickly reveal their differences. The Impreza is quiet and refined, with little road rumble or engine growl entering its well-isolated cabin. Turn up the wick and it handles confidently. The Sport trim has its own suspension and steering tuning and it shows; it's an entertaining little hatchback. But what it lacks is power, something exacerbated by its optional continuously variable automatic transmission. You'll need to dig deep into the gas pedal to really maximize the Impreza.
The ace up the Impreza's sleeve is its all-wheel drive, which turns it into a mountain goat on slippery roads. If you're a city slicker from San Diego, that's probably not crucial—but then again, there's not really a big fuel economy hit. The Impreza Sport 5-door with the automatic is rated at 30 mpg combined running on regular unleaded.
MUST SEE: Read our full review of the 2017 Honda Civic
The Civic is stiffer and louder, but it also enters and exits corners like a genuine sports car with power to spare. We love its stick shift but we aren't as crazy about its optional CVT. It's a little buzzier than the Subaru's. At 32 mpg combined, the Honda is thriftier, but it takes premium fuel that may wind up costing you more. 
So which one is our favorite? It's a close contest. The Subaru comes across as a downsized Audi, with suave moves and subtly good looks. But it's not particularly quick and it's not as entertaining to drive as the Honda Civic. Here, we give the slight edge to the zippy little Honda. It's a hoot to put through its paces and it's immensely practical.