Big is back in style, at least if the 2017 Chicago auto show is anything to go by.
There's always a little less news in Chicago than in Detroit, held a few weeks earlier, but this year several automakers took the wraps off of notable new cars under the bright lights at McCormick Place. Leading the charge was the 2018 Ford Expedition, which retains its truck-based roots but heaps on creature comforts nearly befitting a luxury badge.
Across the convention center, the Expedition's rival, the 2018 Toyota Sequoia, was treated to an update almost too subtle to notice. We paid attention to the 2018 Dodge Durango SRT, the long-rumored answer to every enthusiast with a family's wishes. With 475 horsepower on tap and three rows of seats, it could be the fastest way to drop the kids off at school every morning. 
The big debuts
Here's a look at what we considered to be the most important debuts at the 2017 Chicago auto show, plus a few other highlights.
The 2017 Chicago Auto Show opens to the public February 11, and runs until February 20.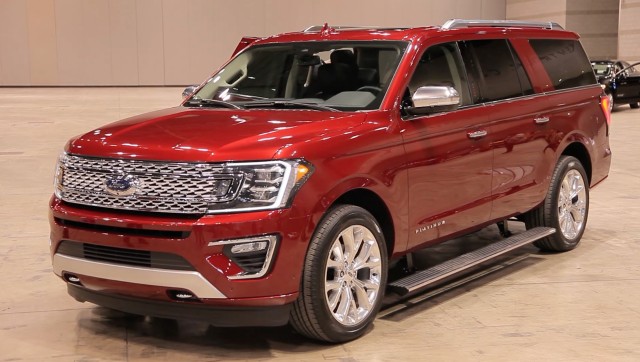 2018 Ford Expedition
2018 Ford Expedition: We nearly wrote off the Expedition a few years ago in light of $5 a gallon gasoline, but it's a different story today. The Expedition goes decidedly upscale inside and out for 2018 with more features that families beg for in full-size SUVs. If you're in the market for a big family hauler that can also tow, it looks like this new Ford should be at the top of your list. 
What we like: Huge step forward inside.
What we don't: How much of an improvement can the new Lincoln Navigator be over this?
2018 Hyundai Elantra GT, 2017 Chicago auto show
2018 Hyundai Elantra GT: It may share its name and engines with the Elantra sedan, but the Elantra GT was tuned on Germany's famous Nurburgring race track and it was designed to appeal to buyers from Paris to Rome (and we're not talking Paris, Texas, or Rome, Georgia). It looks like a solid contender for those who value sporty handling and a classy interior—namely, the kind Volkswagen has coveted with its Golf lineup. 
What we like: Euro-tuned suspension in the GT Sport. 
What we don't: Will consumers understand that it's quite different from the Elantra Sedan?
2018 Dodge Durango SRT, 2017 Chicago auto show
2018 Dodge Durango SRT: Think of the Dodge Durango SRT as a Jeep Grand Cherokee SRT with a little more cargo room and an extra row of seats. That's basically what it is, and that's not a bad thing. With a 475-horsepower, 6.4-liter V-8 delivering power to all four wheels, it should be as ferocious on the drive to school as it will be on a race track. Just don't look for it to sip premium unleaded—it'll gulp the stuff. 
What we like: It's the answer to every question muscle car enthusiasts with kids have asked.
What we don't: It'll pass many on the road...but it won't pass many gas stations without stopping.
2018 Toyota RAV4 Adventure, 2017 Chicago Auto Show
2018 Toyota RAV4 Adventure: When Toyota first announced the RAV4 Adventure, we thought it was just going to be an appearance package. Buff looks, but nothing to back that up. Well, that's not entirely true. In a bid to rival the Subaru Crosstrek and Jeep Cherokee, the RAV4 Adventure actually rides on a raised suspension that should give it a hint more off-road ability. Toyota knows how to build an off-roader, so it'll be interesting to see if the RAV4 Adventure lives up to its name. 
What we like: The RAV4 needed a little personality.
What we don't: Will it actually be measurably better off-road? 
2018 Subaru Legacy, 2017 Chicago auto show
2018 Subaru Legacy: Sure, it's not all-new, but Subaru has added some desirable tech and upped the refinement quotient to what was already one of our favorite mid-size sedans. And it's safe to bet that the same upgrades will make their way onto the company's hot-selling Outback (with 182,000 sold last year, it was the company's best-seller).
What we like: Apple CarPlay, Android Auto, and more refinement.
What we don't: In terms of what you can actually see, it's a very mild update.