The city of Detroit—at least its central core—is bustling now more than it has in years, but was the same true within the walls of its sprawling convention center for the 2017 Detroit auto show? 
It's known as the North American International Auto Show, or NAIAS, (possibly because the convention center actually overlooks Windsor, Ontario, Canada), but the Detroit show has typically been a place where home turf automakers like Ford Motor Company, Fiat Chrysler Automobiles, and General Motors show off their best and their brightest. That didn't quite happen this year. To be sure, Ford had some worthwhile news like a turbodiesel engine for its F-150 pickup and confirmation that both the Bronco and the Ranger nameplates will return. And GM took the wraps off of some new crossovers that will no doubt be on many shopping lists this year. But things were quiet at FCA, which had no news to report whatsoever.
European and Asian brands filled the void for the most part with some important all-new unveilings like the Toyota Camry, Honda Odyssey, Volkswagen Tiguan, and BMW 5-Series.
And there will be some previously unfamiliar nameplates arriving in dealers soon, like the sporty Kia Stinger sedan and the Nissan Rogue Sport crossover.
We used to see dozens of concept cars in Detroit, but things were a little tame this year. Nissan previewed its next-generation Altima sedan, Audi gave us a hint of its new megabuck Q8 crossover,  Infiniti showed off a thinly-veiled QX30, and VW teased us once again with a new concept car.
Finally, here's a new one: Ford told us to expect a new mid-size pickup using the revived Ranger nameplate and it confirmed long-standing rumors that the Bronco off-roader will return. That's great and all, but the automaker told us absolutely nothing about them and they showed off no images or renderings. 
Here's a look at what we actually saw this year in Detroit—and what we thought.
Our top five
These were the most important new car debuts in Detroit. 
2018 Chevrolet Traverse
2018 Chevrolet Traverse. With its Tahoe-like shape, the Traverse has finally been updated. The old model had amazing staying power and we hope that Chevrolet has kept its virtues while updating what was beginning to feel tired. 
What we like: Looks great inside and out.
What we don't: Fuel economy estimates aren't impressive—just 25 mpg highway with front-wheel drive. 
2018 Ford F-150
2018 Ford F-150. To keep its hugely popular F-150 fresh, Ford updated its engine room, added some new tech, and will eventually be making a turbodiesel V-6 available.
What we like: The turbodiesel could give the F-150 30 mpg efficiency. 
What we don't: The F-150's new grille design looks like fellow Detroiter Tom Selleck's mustache. 
2018 Honda Odyssey, 2017 Detroit auto show
2018 Honda Odyssey. Honda focused on interior flexibility with its new Odyssey by creating a second row of seats that be configured and reconfigured in seemingly endless ways. 
What we like: Big interior upgrades and choice of advanced 9- and 10-speed automatics.
What we don't: The second row multi-configurable, but it still doesn't fold into the floor like the Chrysler Pacifica.
2018 Kia Stinger, 2017 Detroit auto show
2018 Kia Stinger. Enthusiasts have begged any automaker for a reasonably-priced, rear-wheel drive sedan. The Stinger is the answer to their demands. Now  it's on car nuts to actually buy this stylish and sporty sedan.
What we like: Rear-wheel drive and a choice of turbo-4 and V-6 engines at a price that should way undercut BMW, Jaguar, and Cadillac.
What we don't: No manual transmission option and we think the styling is a little busy in its details. 
2018 Toyota Camry, 2017 Detroit auto show
2018 Toyota Camry. America's best-selling sedan is far more interesting to look at inside and out and its SE and XSE trim levels could be bonafide sports sedans. Toyota has resisted the zippy, but often thirsty turbocharged engines seen in so many rivals.
What we like: The Camry is way more interesting to look at. 
What we don't: Should Toyota have gone the turbo route like almost everyone else? 
Detroit dreamin'
Concept cars have been a staple of auto shows for more than six decades. They provide a glimpse into the future in one way or another, whether it's how they look, what technology they bring to the table, or even what quirky features may eventually find their way into showroom-bound cars.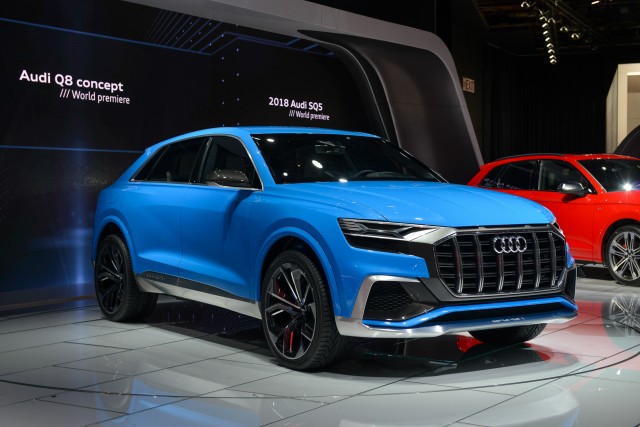 Audi Q8 concept, 2017 Detroit auto show
Audi Q8 Concept. With its rakish tall wagon looks, the Q8 will eventually top Audi's crossover lineup as a more style-oriented alternative to the Q7. 
What we like: It looks like the Q8 will inaugurate some new design themes to the Audi lineup. 
What we don't: Does the world need another less-than-practical luxury crossover? 
Infiniti QX50 concept, 2017 Detroit auto show
Infiniti QX50 Concept. Infiniti is gearing up to debut a new version of its compact crossover range in order to better compete with the Mercedes-Benz GLC-Class, the BMW X3, and the Lincoln MKC, among others.
What we like: The QX50 is definitely due for a refresh; this concept has some very nice lines.
What we don't: Let's hope that rear visibility is better on the real crossover.
Nissan Vmotion 2.0 concept, 2017 Detroit auto show
Nissan Vmotion 2.0. Here's the next-generation Nissan Altima, the brand's hot-selling sedan. Though the current Altima is a solid offering, it's light on passion and the Vmotion suggests there may be something good in store. 
What we like: Its creased exterior looks finely-tailored. Gorgeous wood trim is abundant inside.
What we don't: Really, Nissan? Suicide-style doors? 
Volkswagen I.D. Buzz concept, 2017 Detroit auto show
Volkswagen ID Buzz. It's becoming a tradition: VW trots out a new minivan concept and tells us that it may eventually make its way to production. This latest one looks darn close, however, and it was chock full of nifty details like a spinning chubby Troll doll on its dashboard that was even cheesier in reality than it sounds. 
What we like: An electric VW Bus would make so much sense. This one has some production-ready details like buttons, hinges, and moldings. 
What we don't: There's always a chance that VW will continue to tease without delivering. 
Bound for showrooms
These debuts will be arriving in dealers soon.
2018 Audi SQ5, 2017 Detroit auto show
2018 Audi SQ5. On the heels of an all-new Audi Q5 comes a sportier variant, the SQ5. There wasn't much here that surprised us, but the SQ5 looks like it's going to be at least as much of a hoot to drive as its predecessor.
What we like: Audi builds on its already solid Q5 with just what it needed: more fun.
What we don't: Once again, the SQ5 looks a whole lot like the standard Q5. 
2017 BMW 5-Series
2018 BMW 5-Series. BMW's bread-and-butter sedans are all new for 2018; they're lighter and more powerful and they promise to be more entertaining to drive.
What we like: Promise of more responsive handling, plus some big tech upgrades.
What we don't: Lacks the evocative style of some rivals like the Mercedes-Benz E-Class and Volvo S90.
2017 Detroit Auto Show Walkaround
2018 GMC Terrain. GMC's blocky compact crossover gains a controversial new look and an even more eyebrow-raising gear lever. Instead of a knob, it features a row of buttons on the dashboard.  
What we like: A bold new look continues the Terrain's tradition of not looking like anything else.  
What we don't: Dear automakers: Please stop reinventing the gear lever. Also, this crossover may have the worst over-the-shoulder visibility of anything on the market short of a cargo van.
2017 Nissan Rogue Sport, 2017 Detroit auto show
2017 Nissan Rogue Sport. Slotting in below the Rogue is a new Nissan crossover—except that, well, it's not really new. It has been sold overseas as the Nissan Qashqai for a while, but crossover-crazy Americans are finally getting our chance.  
What we like: This strikes us as a rather smart decision for Nissan to have both a Hyundai Tucson-sized Rogue Sport and a Chevy Equinox-sized Rogue in its lineup.
What we don't: With only about 140 horsepower, the Rogue Sport won't be winning any drag races.   
2018 Lexus LS, 2017 Detroit auto show
2018 Lexus LS 500. Is Lexus back? The LS 500 is stunning to behold; if not exactly a work of art, it does certainly have tremendous presence inside and out. 
What we like: The LS feels like a proper luxury flagship once again and it has lost its ill-conceived infotainment control knob. 
What we don't: Its styling could be more graceful.
2018 Subaru WRX STI, 2017 Detroit auto show


2018 Subaru WRX and WRX STI. You'll have to squint to spot the WRX and WRX STI's styling changes, but both models are now available with big brake upgrades and a few other important functional changes.
What we like: Upgraded brakes on both models should address one of our biggest criticisms. 
What we don't: They're still a little homely (or under-the-radar, depending on your perspective). 
2018 Volkswagen Tiguan
2018 Volkswagen Tiguan. VW finally revamped its smaller crossover, growing it considerably inside and out and adding an available third row of seats. 
What we like: Few cars were as overdue for a redesign as the Tiguan.
What we don't: The third row is basically useless for anyone but very small children.