In 2017, more was more.
For automakers marching toward more fuel-efficient cars, 2017 was a watershed year. It marked the year that nearly every major automaker announced concrete plans to build at least one—if not more—battery electric vehicle by the end of the year. Even Jaguar Land Rover, a relatively small automaker by comparison, jumped into the fold.
Last year also marked the year for the first mass-produced, affordable electric car with a range comparable to a gasoline-powered car.
The groundbreaking car didn't come from a Silicon Valley startup with more buzzwords than actual employees.
It came from the "General". As in General Motors. As in, we mean from Detroit. As in, the future is here and we were there. We even named the 2017 Chevrolet Bolt EV our Green Car Reports' Green Car of the Year 2017.
Twelve cars topped our fuel efficiency ratings for 2017. Not coincidentally, they all use proton power—in part, or completely—to motor down the road.
Last year, we knew EVs would roar to the forefront for many automakers' future plans—we just didn't anticipate how big of a noise these quiet cars could make in the mainstream.
2017 BMW i3
BMW's technological showcase may be getting long in the tooth, but it still holds serve as one most efficient battery-powered vehicles on the road by the EPA's MPGe standard, which measures the comparable amount of electricity contained in one gallon of gasoline. The i3's mark of 124 MPGe is among the highest for any vehicle on the road today, and it's clear that BMW is expecting to trickle down knowledge gleaned from the i3 into more mainstream models.
2017 Chevrolet Bolt EV
The first affordable, mass-market EV with a range of more than 200 miles surely would top our list of efficient cars for 2017. The Bolt EV is more than just an exercise for Chevrolet to produce an electric car (they did that once, remember?) it's a milestone moment for automakers. The Bolt EV may be the moment when electric cars stopped being for early adopters and started appealing to mainstream buyers.
2016 Fiat 500e
The little "compliance car" that FCA chief Sergio Marchionne doesn't want to sell is probably the best way to drive a Fiat 500. The little city runabout keeps most of its weight down low with batteries, and the instant torque from the electric motors make it surprisingly fun to drive. It's just a shame that the 500e is limited to a few U.S. states, and with all its deep discounts now who knows how long it will last?
2017 Ford Fusion Hybrid
Sold with or without a plug, the Ford Fusion Hybrid made our list because it meets or exceeds mid-size sedan shoppers' expectations that their commuters be hyper-efficient too. The plug-in hybrid can travel 19 miles on electricity alone, which is lower among competitors, but the Fusion doesn't wear its mission on its sleeves. From the exterior it appears to be a normal Fusion, and for us, that still goes a long way.
2017 Mitsubishi i-MiEV
Energy efficiency is the i-MiEV's biggest (and maybe only) selling point. The little city car never found a mainstream audience, but thrifty shoppers in dense urban areas know well that the cheap runabout has a few redeeming qualities and can be relatively spacious inside. The car's bones are actually very old and we're sure the end is near for the i-MiEV, but for now the electric car from Mitsubishi has its time to shine on this list.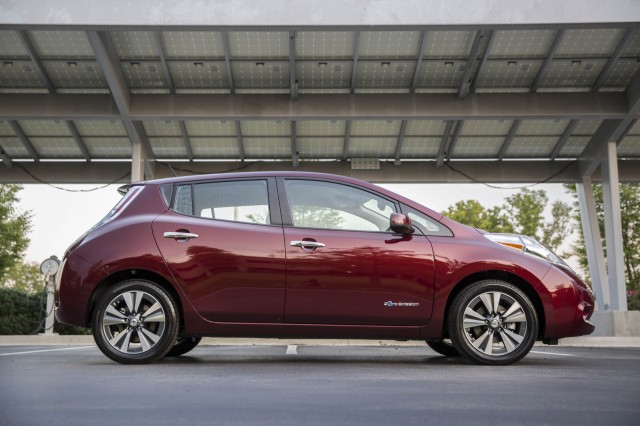 2017 Nissan Leaf
The Nissan Leaf's importance can't be understated. It's by far the best selling electric car so far, and it helped introduce America to affordable all-electric transportation. It's true that the Leaf is approaching its sell-by date and we're expecting a replacement any day now. This year all Leafs boast a range of more than 100 miles, which may not be enough to some buyers anymore, but it's atop our list because the Leaf still knows how to go.
2017 Chevrolet Volt
The Chevrolet Volt with a "V" and the Chevrolet Bolt with a "B" share more than names that sound alike, they also have overlapping missions. The Volt's 53-mile range is enough for most daily commutes, and Volt owners happily report months between gas station visits, but the Bolt EV is clearly Chevrolet's future. Thankfully, the Volt is a very good segue into electric cars for many first-time buyers worried about range anxiety or charging times.
2017 Toyota Prius Prime Premium
We liked the newest plug-in Prius because it smoothed over some of the rough edges left over from the latest Prius design. Others will appreciate the Prius Prime's increased all-electric range of 53 miles and new tech. But the Prime improves upon one of the most fuel-efficient cars on the road with better drivability and an updated interior design that helps it become a better car—not just a better electric car.
2017 Volkswagen e-Golf
Volkswagen's only all-electric car (for now) is a remarkably good one. The e-Golf received a range bump up to 124 miles for 2017 to complement its handsome style and brutal practicality. We liked the understated nature of the e-Golf and the seamless integration of its batteries within the Golf's normal powertrain. The only bad news? It has limited availability (only 10 states) and we wonder why it's not more accessible with the automaker's current diesel buyback.
2017 Toyota Mirai
Toyota's split strategy on alternative powertrains has given us a hydrogen-powered car with a face for radio. Functionally, the Mirai works like any other car except that it's only emission is water. Limited to areas with hydrogen refueling stations (read: Southern California), the Mirai has a very limited audience and even smaller sales numbers. We're guessing that most people will never see one on the road, but those who do probably won't forget the experience.
2017 Tesla Model S
We'll agree that the 2017 Tesla Model S is still the gold standard for electric vehicles today—but the competition is catching up. That still says a lot about a startup company that defies convention at every turn and has never acted like an automaker. The Model S now ranges at more than 300 miles and can accelerate faster than gravity, but perhaps our favorite part of the electric sedan is that it still turns heads with devastating good looks.
2017 Tesla Model X
More owners finally received Tesla's long-awaited SUV and judging by its appearances in tony neighborhoods, it seems like its popularity is growing. While we're split on its style, we weren't divided on the electric crossover's long range and comfortable driving modes. The Tesla Model X will appeal to families looking for more than a sedan and who are willing to shell out nearly six figures for a very "green" car. We don't know what's in store for the crossover this year, but we do know that Tesla will be looking to deliver more of the big SUVs in short order. We just hope that they get our letter on those falcon rear doors before they go much further.