Though we're well into the Jetsons age of in-car features and technology, automakers have proven that there is still plenty of room for innovation. 
Collectively, our staff has put countless miles on every new car to hit the market over the past few decades. We hate to sound jaded, but when a car comes to market with something truly innovative, the fact that it stands out is reason enough for a second look. Sometimes it's the little things that impress—those that make our time behind the wheel (or in a passenger seat) that much more enjoyable. Other times, there's a less immediate gratification with a feature that may point the way toward the future.
Presented in no particular order, here's a look at what we think some of the biggest feature debuts have been over the last few years.
ALSO SEE: The 11 best-performing cars of 2017
2017 Chrysler Pacifica - Best Car to Buy 2017
Chrysler's "Are we there yet?" apps
Every parent and every kid has reached that point where they're simply done with a road trip—even if it's just while out running errands. Although kids have more distractions now than ever before (cue someone grumbling about how they bounced around in the "way back" of a Vista Cruiser), we have to applaud Chrysler for including some terrific road trip apps in the Pacifica's optional rear seat entertainment system. In addition to classics like Tic-Tac-Toe and checkers, there's even a license plate spotting game. Moreover, the system is fully up-to-date with HDMI and USB inputs as well as a Blu-Ray player.
Mercedes-Benz Active Lane Change Assist
Mercedes-Benz Active Lane Change Assist
Debuting on the incredibly advanced 2017 Mercedes-Benz E-Class, Active Lane Change Assist is one of the biggest advancements in the march toward cars that can automatically drive themselves. All the driver has to do is hold the turn signal for more than two seconds and the E-Class will look for a clear opening and will then automatically steer itself into an adjacent lane between 50 and an astounding 112 mph (in case you can't tell, this tech was intended for Germany's unrestricted Autobahns). 
General Motors Rear Seat Reminder
General Motors Rear Seat Reminder 
To combat what seems like a growing trend of parents leaving kids in a hot (or cold) car's back seat, General Motors has begun implementing a system that reminds the driver when it thinks an item or a human has been placed into the back seat. The rear seat detection system knows when a rear door has been opened and the vehicle has subsequently been driven. When the vehicle is turned off, a chime sounds and a message is displayed on the instrument cluster. And it's not just to alert you that you may have left your child sleeping in the second row; the system has helped remind us that we've tossed an afternoon's shopping or a briefcase in the back seat as we're walking empty-handed into the house. 
Audi Traffic Light Information System, Las Vegas
Audi vehicle-to-infrastructure communication
Autonomous cars are on the way, but they're going to need to do more than just talk to each other. Audi and the Las Vegas metro area have just launched the world's first vehicle-to-infrastructure communication system. Now, certain Audis can alert drivers as to when a traffic light is going to change colors. While that's of admittedly dubious real-world value right now, it means that the door, or perhaps the floodgate, is now open. 
2017 Honda Pilot Apple CarPlay
Continued roll-out of Apple CarPlay and Android Auto
In-car infotainment systems are definitely getting better (see: Ford's Sync3, which now actually functions!), but this is one area of vehicle tech that could really have benefited early on from Apple and Google's input. Enter Apple CarPlay and Android Auto, both of which work brilliantly well with touchscreen infotainment systems. We're now so accustomed to these systems that we often recommend skipping an automaker's navigation system and relying instead solely on CarPlay and Auto since they work so well and aren't nearly as distracting as those offered by the factory. 
2017 Aston Martin DB11 AeroBlade
Aston Martin DB11's AeroBlade
The AeroBlade integrated into the Aston Martin DB11 represents one of the biggest aero advancements in years—and it's not a bulky spoiler but instead a tiny opening. The DB11 channels air coming across the side of the car through portals near its rear windows. It then bottlenecks that air underneath the trunk lid, and fires it back up through a narrow strip in the deck to create a "virtual spoiler." It's a harmonious blend of style and function that's subtle but effective.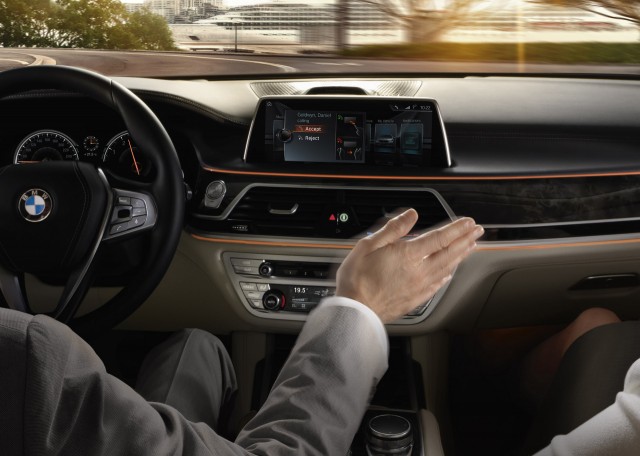 2016 BMW 7-Series
BMW's gesture control
Fifteen years ago, the BMW 7-Series was a symphony (or a catastrophe, depending on your perspective) of buttons, knobs, and switches. And then everything went away, replaced instead by limited real buttons and menu-intensive screens. Now, BMW has launched its gesture control system that works as advertised, albeit with the expected learning curve. As cars become more and more complex (and distracting), we can expect to see gesture control to become a thing of the future. 
2016 Volvo XC90 T8 'Twin Engine' plug-in hybrid, Spain, Feb 2015
Volvo/Bowers & Wilkins audio system's Gothenburg Concert Hall mode
High-zoot audio systems are nothing new, but there is something truly special about the Gothenburg Concert Hall mode available in the Volvo S90 and XC90. When equipped with the Bowers & Wilkins audio system, the S90 and XC90 offer a mode that replicates a unique concert hall sound—in this case, the renowned acoustics found in Volvo's hometown of Gothenburg, Sweden. It's a simple setting accessed at the touch of a button, but it's enough to make just about any commute relaxing.
2016 Toyota Yaris
Toyota's enhanced safety package
Kudos to Toyota for becoming the first mainstream automaker to make automatic emergency braking standard on almost all of its models for 2017. Even the lowly Yaris hatchback can apply its brakes on its own if it detects an impending crash to either lessen a wreck's severity or to prevent it entirely. Sure, this tech will become mandatory in a few years, but Toyota is a big step ahead of any competitor. That's something we applaud so much that we factor it into our safety rating score. A handful of rivals don't even offer automatic emergency braking on some of their high-volume models (we're looking at you, Chevrolet Cruze). 
2015 BMW i8 laser headlights
BMW and Audi laser lights now legal
Light tech has been brought to the forefront by the Insurance Institute for Highway Safety, which is now including the effectiveness of headlight high and low beams as a requirement for its coveted Top Safety Pick+ award. BMW and Audi are pioneers in laser lights, which are more compact but far more effective than even the new hotness, LED headlamps. Although laser lights have been offered in Europe for a couple of years, they're now legal in the United States—and that means they should become commonplace soon.