It was 10 months ago that we took delivery of our long-term pearl white 2016 Honda Pilot Touring AWD. In that time we've covered nearly 12,000 miles. You might say we're getting to know it rather intimately.
We've performed weekend errands to Home Depot, cross-country road trips, family trips up north to the cabin, and of course, gotten a car wash or two. We recently had our first service stop as well.
The fact is, the Pilot's designed to shuttle your most precious cargo around: your loved ones. Whether it be your children and pets or friends, safety is paramount.
But for families on a budget, the question remains: is the safety tech offered on the Pilot worth it?
What we have
There are five trim levels in the Pilot lineup, and ours is a Touring model, which is one step below the loaded Elite trim. The Touring model features nearly everything you could want from a safety standpoint as standard equipment.
While optional on lesser trims, our Touring (and the top Elite model) comes standard with Honda Sensing, a package of active safety systems bundled together: a forward-collision warning system with automatic emergency braking; adaptive cruise control, lane-keeping assist, lane departure warnings, and road-departure mitigation.
Oh, and they all have acronyms. We'll spare you those.
There's a rearview camera, which in this case is a mutli-angle system. This allows you to show a top view, normal view, or wide view while in reverse.
Of course there's the standard safety equipment one expects in a new vehicles these days, from airbags and anti-lock brakes to electronic stability control and traction control.
In what might be the most passive piece of safety equipment the Pilot has, there's an expanded view driver's mirror.
You might have noted that blind-spot monitors are absent from the long list of safety equipment our Pilot Touring has. That's because we don't have it. In fact, they're only available on the top Elite trim.
On Elite Pilots, the blind-spot monitors take the place of Honda's LaneWatch right-side-view camera. It's available on the EX and EX-L, and standard on the Touring model, but unavailable on the Elite.
Honda believes the LaneWatch system and blind-spot monitoring systems are somewhat redundant in nature, and that the blind-spot monitoring system is a more premium feature. The two, in Honda's mind, are not needed together. Honda's told us that it will be rolling out blind-spot monitors to more models as new and refreshed vehicles are launched, but it declined to comment which ones or on a timeline.
We think blind-spot monitors are a superior way of delivering information down both sides of the vehicle, but you'll have to buy the most expensive Pilot to get them. Bummer.

The good

Thankfully, we haven't had to test certain systems such as the automatic emergency braking system or road departure mitigation system. We hope that you'll never have to experience them, either. 
We have tested most of the other safety systems in various conditions and everyday situations—and, for the most part, they perform well.
Honda's LaneWatch system described above receives mixed feeling from our team. While many find it quite useful, it does require you to take your eyes off the road to see what's on the curb, plus it's only on the passenger side of the vehicle. What's more, it means you don't have a blind-spot monitoring system.
The lane-departure warning system, which works in conjunction with the road-departure mitigation system, does what it says it will do, technically. It tracks the side of the marked road lanes and will use the electric-power steering system to nudge you back into your lane should you veer off course. If you don't take control and it feels there's an issue, it will start sounding alarms and flash a warning on the driver information screen in the gauge cluster. If things get really out of hand, the road-departure mitigation system engages the brakes via the Pilot's electronic stability control system to keep you from running out of your lane—or off the road.
The lane-keeping system system is supposed to provide a less stressful driving experience by reducing steering correction movements and driving effort on the highway, according to Honda. The issue is, that while the system works, it doesn't do it well. It essentially bounces you between lane markings like a pinball instead of actually keeping you centered in your lane. Not only can a human driver command a smoother path, but competitors' systems, like the one you'll find in a new Volvo, flat out do a better job by choosing a line and following it. If you can't remove your hands, you aren't in complete control, and you can drive more smoothly, what's the point?
The adaptive cruise control works and is nothing groundbreaking. You can set a distance between you and another vehicle and the Pilot will maintain the gap.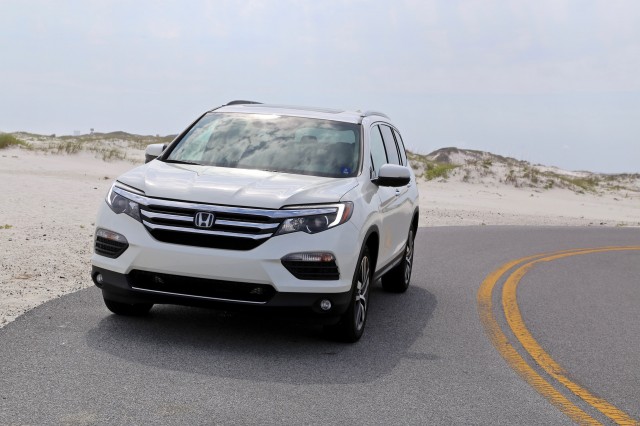 2016 Honda Pilot Touring long-term road test
The bad
The forward-collision warning system has given some of us fits.
For some of our team, the forward-collision warning system has worked as advertised without issue. Others on our team have found an issue on certain rural two-lane roads where the system thinks the vehicle approaching you in the opposing lane is actually in front of you. Alarms sound, warnings flash, and it jolts you to a reality that the Pilot thinks you're going to possibly experience a head-on collision. You aren't.
We reached out to Honda regarding this issue and it isn't the first time the issue had been brought up. There's a setting for the system's range and Honda suggested we shorten the range in those particular conditions. Unfortunately we were unable to duplicate the issue and test whether shortening the sensor range stops the falses. It's possible that inferior lane markings lead the system to believe the oncoming vehicle is actually in the Pilot's lane--and that points to an uneasy future for more autonomous driving, which will depend heavily on the condition of the road and stripe maintenance to work well.
What's on deck for the Pilot?
We are continuing to track our fuel economy and will bring you another update on that as we pile more miles on our Pilot, a look at the apps in Honda Link and the infotainment system as a whole is in the cards, and we'll be taking a look at the available accessories as well.
More family-life challenges are also ahead for the Pilot with fall and the holidays approaching.
When winter approaches we'll see how the Pilot's all-wheel-drive system handles the white fluffy stuff, and we'll figure out what the cold does to its fuel economy.
In the meantime, be sure to follow along and connect with us below in the comments, on Instagram, or Twitter, and let us know if you have a task or question in mind for us.