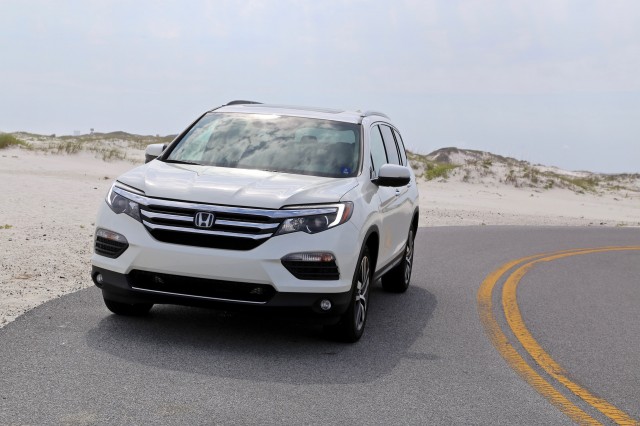 2016 Honda Pilot Touring long-term road test
From The Car Connection: 2016 Honda Pilot Touring long-term road test: what we'd change
Last week, we picked 7 things that keep us grabbing the keys to our long-term 2016 Honda Pilot Touring AWD for long road trips. Now it's time for the nitpicking.
Infiniti's version of Autopilot to be offered on new vehicles
Last fall, Tesla Motors made its Autopilot software available on Model S and Model X vehicles. Soon, Nissan's luxury division could offer similar, semi-autonomous driving software on a range of Infiniti models.
Car thieves still love California
Today, many Californians are driving to the polls to cast votes in federal and state primaries. Let's just hope they remember to lock their cars while they're in the voting booth.
Jannarelly Design-1
From Motor Authority: Jannarelly Design-1 retro roadster makes debut
You've probably never heard of Anthony Jannarelly, but we're sure you're familiar with his work. The French designer penned the world's most expensive car, the $3.4 million W Motors Lykan Hypersport, and now he's designed his own car.
2018 Mercedes-Benz A-Class spy shots
A new generation of the Mercedes-Benz A-Class is brewing and we have the first spy shots. The prototype was spotted at a Mercedes technical center in Germany and reveals many of the details of the upcoming compact hatchback, the nameplate's fourth generation.
1,000-hp Mazzanti Evantra Millecavalli debuts at 2016 Turin Auto Show
The most powerful car to ever come out of Italy, the 1,000-horsepower Mazzanti Evantra Millecavalli, made its world debut today. The covers came off at the 2016 Turin Auto Show where Mazzanti confirmed production will total just 25 units.
2017 Ford Escape, Elkhart Lake, Wisconsin, May 2016
From Green Car Reports: 2017 Ford Escape quick drive review
The Ford Escape has been a hugely popular small crossover SUV since its 2001 debut, and after a quick drive in the updated 2017 model, we're reminded why. While it's not the most capacious entry in the segment, the driving experience is more rewarded and the interior quality remains top-notch even in the current generation's fifth year.
Apple will build electric cars by 2020: Tesla's Elon Musk
Despite no official confirmation of its existence, plenty of buzz remains around the rumored Apple electric car. Interest in what is known as "Project Titan" largely rests on Apple's reputation for innovation, despite far too little information for analysts to make even educated guesses about specific features or design elements.
Chile is giving away solar energy, for free, because it has so much
Chile has a problem with its solar industry. It's not that the industry can't meet electricity demand for the South American country—quite the opposite, in fact.
___________________________________________