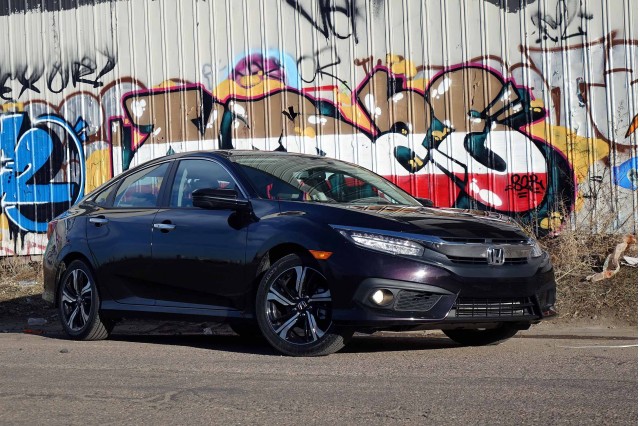 2016 Honda Civic Touring
From The Car Connection: Chevy Cruze vs. Toyota Corolla: Compare Cars
Despite the surging popularity of utility vehicles, today's small sedans are do-it-alls. They're practically mid-size these days, and the top entrants still sell hundreds of thousands of units a year.
2016 Honda Civic video road test
The Honda Civic is one of the best-selling, most widely recognized car lines in the world. You might say it's a wee bit important for Honda to get it right when it goes in for a revamp.
Honda gets a jump on Takata, plans to recall more 20 million airbag inflators
Last week, the Takata airbag recall nearly tripled in size in the U.S., as the National Highway Traffic Safety Administration ordered the Japanese supplier to recall an additional 35-40 million airbag inflators. Though Takata hasn't yet publicly responded to those demands, Honda isn't waiting around.
2016 Ram 1500 Stinger Yellow Sport
From Motor Authority: 2016 Ram 1500 Stinger Yellow Sport unveiled
Ram is offering pickup buyers a new special edition model in the form of the 1500 Stinger Yellow Sport. It's available for the 2016 model year in Crew Cab 4x2 and 4x4 configurations and will be produced in a limited run of 2,250 units.
Jaguar will soon implement its first major update to the F-Type sports car since the model's launch for the 2014 model year. A prototype has been spotted testing at the Nürburgring and reveals many of the planned changes.
Engineers from Audi have started the first public road trials of the new RS 5. The German automaker is just weeks away from the June 2 unveiling of its second-generation A5 but work on the new RS 5 still has a long way to go.
2016 Toyota Mirai - Quick Drive - Portland, July 2015 [photo: Doug Berger]
From Green Car Reports: Smaller, cheaper Toyota Mirai fuel-cell car coming in 2019, company says
To increase the reach of its hybrid cars, Toyota launched the Prius C subcompact in 2012 as a smaller, less expensive alternative to the Prius Liftback that's the linchpin of its lineup. Now, Toyota says it may be planning to do something similar with its Mirai hydrogen fuel-cell vehicle.
Electric rear axle project uses 48-volt system to electrify small cars
As an alternative to costlier full-hybrid systems, many suppliers are looking to mild-hybrid powertrains to boost the efficiency of internal-combustion cars. A small 48-volt battery can provide supplementary electrical power, taking some of the load off the gasoline or diesel engine.
Ford CEO Mark Fields confirms 200-mile electric car coming (updated)
What a difference a week makes. In late April, Ford's director of electrification programs and engineering, Kevin Layden, said the 100-mile range of the 2017 Ford Focus Electric would suffice for most drivers.
___________________________________________