A three-row crossover has to be able to carry your family and all your stuff efficiently without breaking your budget. With that in mind, we are here today to help you pick between two large crossovers that make family duty their first mission: the Nissan Pathfinder and the Toyota Highlander.
Both the Nissan Pathfinder and Toyota Highlander offer V-6 engines and three rows of seats. However, there are quite a few differences. Let's compare them to help determine which you should choose to serve your family best.
MORE: Read our latest reviews of the 2017 Nissan Pathfinder and 2017 Toyota Highlander

Styling is subjective, and we find the these two to be equally pleasant, more inside than out. Despite some changes to the front and rear fascias for 2017 that provide a blockier look, the Pathfinder still wears the subdued curves of a family-oriented crossover. Inside, it leans toward functional, rather than over-designed. However, the semi-gloss dashboard top surface meets the semi-matte, soft-touch door panels in a way that just doesn't feel quite right.
The Highlander is also in the gray area between SUVs and more rakish crossover wagons, but changes for 2017 give it an awkward front end that is definitely closer to a truck look, thanks to a maw-like grille and exaggerated wheel arches. Inside, the cabin is car-like, though there are a few fine details borrowed from Toyota's trucks.
2017 Nissan Pathfinder
2017 Nissan Pathfinder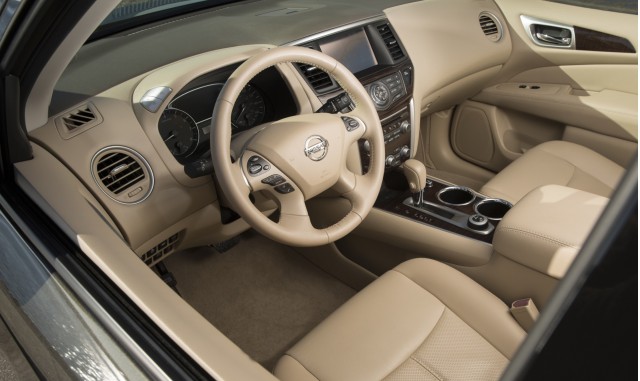 2016 Nissan Pathfinder
Powertrains and performance
The Pathfinder offers just one powertrain. The 3.5-liter V-6 engine is updated with direct injection, among other improvements, for 2017, adding 24 horsepower for a total of 284. Power flows through a continuously variable transmission (CVT) to the front wheels or all four wheels in models with the all-wheel-drive system that also comes with a locking center differential. The powertrain offers both strong, smooth acceleration and lower revs when cruising. It's all in the name of fuel economy, though we note that there's quite a delay when quick bursts of power are needed for passing. With front-wheel drive, the Pathfinder is EPA-rated at 20 mpg city, 27 highway, 23 combined.
Handling and cornering are more sedan-like than reminiscent of an SUV, and this seven-seater's heft is never apparent at the wheel. Firmer suspension settings for 2017 do little to hurt the ride or improve the handling. The hydraulic-electric steering is particularly well tuned, and the ride is pleasant. Road noise is also well muffled.
The Highlander is fairly athletic as well, without too much body lean in turns and a ride that balances comfort with control. It's not quite as agile as the Pathfinder, but Toyota offers more powertrain choices.
Most Highlanders come with a 3.5-liter V-6 that is also upgraded for 2017. It now puts out 295 horsepower, up 25 from last year, and it is mated to a new 8-speed automatic that replaces a 6-speed. The V-6 is smooth and relatively strong and the 8-speed shifts almost imperceptibly. With front drive, the Highlander V-6 can manage 21 mpg city, 27 highway. It comes standard with a towing package that can handle 5,000 pounds. The Pathfinder can tow 6,000 pounds, which is up 1,000 pounds this year, but it's towing package is optional.
The 2.7-liter inline-4 in the base Highlander is adequate with a light load but taxed when carrying the whole family. It is rated at 20/24/22 mpg.
Toyota also offers a Hybrid model that mates the V-6 with an electronically controlled CVT, an electric motor, and all-wheel drive for a net 306 hp (up 26 horses this year). Due to an additional 350 pounds, it feels only adequate, and its EPA ratings of 30/28/29 mpg are only a tease from our experience, though the hybrid is more efficient than any Pathfinder.
Interior space
Interior space is a draw, but each vehicle has its strengths. The Pathfinder has clearly been designed to prioritize elbow room and comfort for passengers. It's longer than the Highlander, and that added size gives it a very accessible and useful third-row seat.
The second-row benchseat slides back and forth, allowing for more leg room if the third row is empty. It also has a complex sliding-and-folding mechanism for access to the back row with child seats in place—truly a parent-friendly feature. That third row has short, flat, van-like cushions that sit surprisingly low. That's good for head room, but it's still marginal for adults. Nonetheless, that actually makes it roomier than most third rows.
2017 Toyota Highlander
2017 Toyota Highlander
2017 Toyota Highlander
The Highlander's advantage is it can seat up to eight passengers, but its third row is small in all respects. The roomy front row features a large center console. In row two you'll find either a three-person split-bench seat with a reclining feature, or a pair of captain's chairs. The second-row also slides to improve access to the reclining third-row seat.
Safety and features
The Highlander pulls ahead of the Pathfinder in both safety and features. The Toyota comes standard with eight airbags and it adds several standard safety features this year, including forward collision warning with pedestrian detection, lane departure warning with lane departure prevention, automatic high beams, and adaptive cruise control. The IIHS calls it a Top Safety Pick+, and it's earned a five-star overall score in federal testing. Among the safety options are blind-spot monitors with rear cross traffic alerts and front and rear park assist..
By comparison, the Pathfinder has two fewer airbags, but a newly available forward collision warning system brings it closer to the Highlander in safety technology. While the 2017 model hasn't been crash tested, the 2016 model received good scores in all safety tests and the addition of forward collision warnings means it could be named a Top Safety Pick or Top Safety Pick+ by the IIHS to go with its five-star federal score. It is also available with rear parking sensors, a surround-view camera system, blind-spot monitors, and rear cross-traffic alerts.

The Pathfinder comes in S, SL, SV, and Platinum models, and the Highlander is offered in LE, LE Plus, XLE, SE, Limited, and Limited Platinum trims. The feature sets and pricing are very similar model for model, but we give the Highlander the nod in features for its available 4-cylinder and Hybrid models and more trim level choices.
In the final analysis, these family crossovers are closely matched. The Highlander can seat up to eight, but the Pathfinder has a more comfortable third-row seat. The Highlander offers 4-cylinder and Hybrid models, but the Pathfinder's V-6 is plenty efficient. The Pathfinder has more controlled handling, but the Highlander has better safety test scores. In our ratings, the Highlander takes the win thanks mostly to its safety record. New safety scores could level the field, though, so you should choose the vehicle with the strengths that are more important to you.
_________________________________________