Last week, we picked 7 things that keep us grabbing the keys to our long-term 2016 Honda Pilot Touring AWD for long road trips.
Now it's time for the nitpicking.
Granted, the Pilot does many things very well--well enough to earn our Best Car To Buy 2016 award.
Some things could stand improvement, and some things it does are honestly better left to other technology providers, let's say.
What we're driving
Our Pilot is a $44,000 Touring AWD model, with White Diamond Pearl paint and a buckskin-colored leather cabin. It's fitted with the standard 280-horsepower V-6 and a 9-speed automatic with paddle shift controls. We have rear seat entertainment via a Blu-ray player and second-row screens, a fold-away third-row seat as well as a power tailgate.
In front, there's touchscreen navigation; heated power front seats; remote start; keyless ignition; and an audio system with satellite radio and Bluetooth audio streaming. Its standard safety suite including a multi-view rearview camera, adaptive cruise control, a lane-departure warning system, lane-keeping assistance, and forward-collision warnings with automatic emergency braking.
In our first 5,000 miles, we've overcome our initial pause for Pilot features like pushbutton transmission controls, the beep of its real-time traffic data system, and the lack of a volume knob for passengers (there's a hard button for the driver on the steering wheel, after all). But we'd be remiss if we didn't point out a handful of things that could stand a round of improvement.
Here's what we'd fix:
The homebrew-ish infotainment interface. We complain a lot about infotainment systems, everything from Ford's MyFord Touch (may it rest in agony) and the roller-controller brigade from Germany and South Korea. Honda's system is pure touchscreen, which we prefer, and it has big touch-and-swipe tiles for mostly easy operation.
Fitting for the company that builds the Odyssey, Honda's setup feels like a third-rate gaming system. Some tabs on screens are small, low-contrast affairs; toggling from Map to Audio functions is a legit first-world hassle, and Honda's Garmin-licensed maps offer none of the gorgeous visual depth of some systems in other $44,000 vehicles.
None of this leads to hair loss, stomach upset, headaches, dizzy spells, or anything that requires a warning label. Still, five minutes in a Chrysler Pacifica shows how a well-developed system can lure buyers into a different vehicle altogether.

No Apple CarPlay. At least for the 2016 model year. For 2017, Honda will update its microphones and firmware to enable CarPlay, the best information-overload cure we've sampled yet. Our 2016 model doesn't have the right mic, so it's not possible to retrofit for CarPlay use. Sad!
Ride noise. Our Pilot rides on 20-inch wheels, and while neither the size of the tread nor its sidewall height hurts the ride quality much, it does make for a lot of tire slap. The Pilot's suspension also makes more noise as it damps out the road--more than in the Ridgeline pickup, in fact.
Juddery stop/start. Shutting off the engine at stoplights, and kickstarting it back to life, is a relatively new technology making its way into mainstream vehicles in a big way. Some drivetrains just don't handle the combination of restart and launch well while a vehicle is in a drive gear, and the Pilot is one of them. Catch it off-guard, and it restarts with a mild lurch, counter to its otherwise smooth operation.
Better seat bottoms. The Pilot is an expert at maximizing interior space. That said, its seats don't have much bolstering, and the flat seat bottoms grow more noticeable the longer you drive. We've put in 700-mile trips without any real drama, but more support at the sides would be welcome.
The rearview camera needs a washer. The camera sits just above the license plate, and apparently, that's a popular place to hang out if you're dust, dirt, or water droplets. The Pilot's camera gets murky sometimes, and since it's a family appliance, there's nothing so exotic as a camera washer nozzle. Bowling alleys have ball washers; Honda's wide-angle lens could use some spit-polishing of its own.
Option packaging is better, but still could use some work. Honda has heard us, when it comes to making safety technology available on lower trim levels. Things like adaptive cruise control are available on all but the base model. It's time for the next big step: let us have blind-spot monitors on any Pilot, not just the Elite. An ideal setup: pair it with dual-sideview LaneWatch cameras, instead of excluding those features from each other as it now stands.
HondaVac, stat. It has to be on the wish list for any family vehicle, we think. The in-van vacuum from the Odyssey should make its way into the Pilot, and with extra-long hoses as the similar system in the Chrysler Pacifica. Put an end to the hunt for quarters in our lifetime.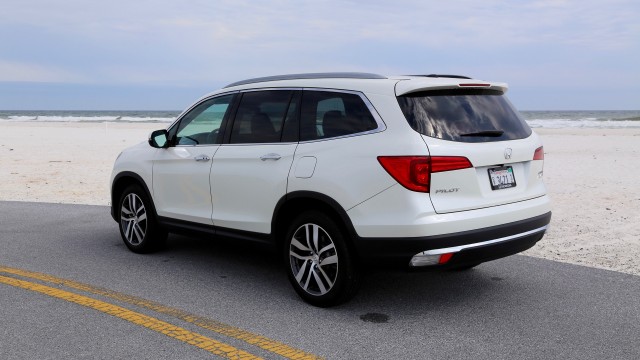 2016 Honda Pilot Touring long-term road test
Planning ahead for winter
The Pilot's had its last flirtation with the beach for a while. In a few weeks, it's headed north, to spend the rest of the good-weather months at our Minneapolis bureau, where kids, dogs, and weekends at the cabin will rule.
While it takes up light housekeeping in the upper midwest, we'll show you the ins and outs of the Honda infotainment and telematics services, and show you how the Pilot can text and talk to your phone while you're driving.
Of course, we'll put it through the family-style challenges in which every crossover SUV should excel. We'll test its child-safety-seat access, see how many people of various sizes fit best in its eight seats, and will reconnoiter with it at the 2017 Detroit auto show.
On the way through summer and fall, we'll wedge in some gas-mileage runs and other tasks to figure out if we've missed something in naming it our Best Car To Buy.
Follow along with us--and connect with us in the comments below, if you have a task or a question in mind for our long-term road test.