2016 Lincoln MKX
From The Car Connection: Trump & Clinton use fear of the foreign to sway voters
GOP presidential front-runner Donald Trump isn't afraid to make xenophobic statements if they'll rile up his base of supporters. For example, he's repeatedly promised to build a wall along the U.S. border with Mexico.
Lexus RX Vs. Lincoln MKX: Compare Cars
Mid-size luxury crossover vehicles like the Lincoln MKX and Lexus RX have developed multiple roles in the market.
Maserati Ghibli, Quattroporte recalled for stuck-accelerator issue
Concerns about a sticking accelerator pedals have led Maserati North America to issue a recall for up to 28,235 vehicles—some of which are still at dealerships or holding lots.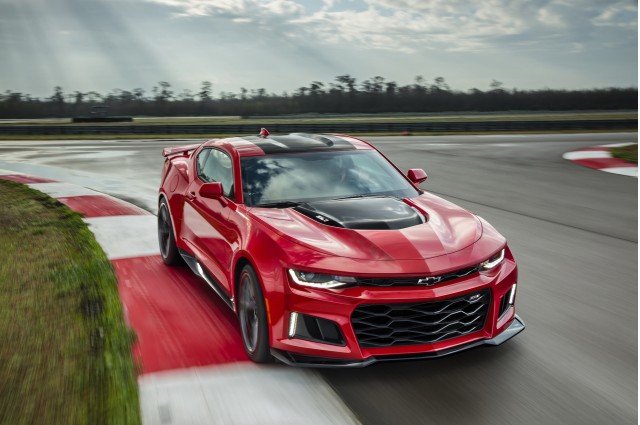 2017 Chevrolet Camaro ZL1
From Motor Authority: 2017 Chevrolet Camaro ZL1 debuts with 640 hp, 10-speed auto
If you thought the 1LE was going to be the biggest, baddest Camaro on sale this year, then you'd be wrong. The folks at Chevrolet have just dropped a new Camaro ZL1 and the car is packing a staggering 640 horsepower and 640 pound-feet of torque.
BMW confirms i8 Spyder, hints at more high-end models and M cars
At a press conference today, BMW outlined some of its future plans for the coming years. Among those plans is the launch of a convertible version of the i8 plug-in hybrid sports car.
2017 Mercedes-Benz CLA gets updates inside and out: Video
Back in 2013, Mercedes-Benz ventured into new territory in the United States with the launch of the CLA compact sedan. However, despite the CLA being the first compact car from the German automaker in this market, it turned out to be a huge hit.
2014 BMW i3
From Green Car Reports: Consumer Reports: avoid buying used 2014 BMW i3 electric cars
The BMW i3 electric car has been on sale in the U.S. since May 2014, meaning some of the earliest examples are now likely turning up on used-car lots. So does BMW's radical electric city car make a good used-car purchase?
Tesla Model 3 mania starts with tweet, owner contest (today only)
Two weeks from tomorrow, Tesla Motors will unveil a prototype for the Model 3 electric car at its design studio in Hawthorne, California. Yesterday evening, the company kicked off the countdown to the presentation with a single tweet showing a Model S, a Model X, and a dark silhouette clearly intended to be the Model 3.
2017 Audi A4 won't offer 2.0-liter TDI diesel in U.S. after all
While the 2017 Audi A4 is an entirely new vehicle, its shape isn't strikingly different from the car it replaces. The innovations come largely in a broad suite of comfort and electronic assistance features that will take the car into the 2020s.
___________________________________________