The Kia Soul and Honda Fit are both boxy small cars with remarkable interior space. The Soul is a style-first urban warrior whose attraction lies in its practicality and cheeky character. The smaller Fit sits at the top of the economy car segment, with a supremely flexible interior and combined EPA fuel-efficiency rating of 36 mpg.
Even small passenger cars are now giving way to miniature crossover SUVs, but which of these two practical small cars suits you best?
MORE: Read our full reviews of the 2017 Kia Soul and 2017 Honda Fit

The Soul's 6.8 overall score is higher than the 6.0 awarded to the Fit. Even by our own numbers, we're convinced the race is closer than that—many of our editors still like the Fit over the Soul. Consider the Soul the automotive equivalent of Gonzaga men's basketball—they turn up for the tournaments and manage to surprise us all. (Read more about how we rate cars.)
Now in its second generation, the Soul's boxy profile is distinctive and appealing. The design has a blunt front end, with a roof that "floats" over a blacked-out greenhouse. The rear end is dominated by tall tail lamps, with bug-eye headlights up front. Somehow it all works, and the Soul capitalizes on the silhouette by offering a lot of space for people and cargo. It's less funky inside, with grown-up soft-touch materials, as well as some extras like ambient lighting.
2016 Kia Soul
2016 Kia Soul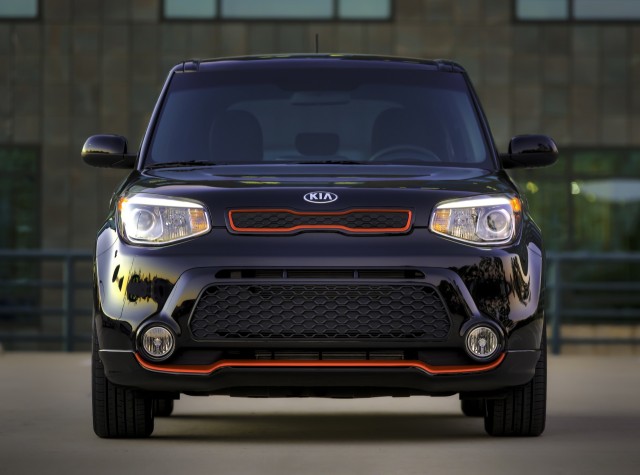 2016 Kia Soul
2016 Kia Soul
The Fit is a more conventional small, tall five-door car with body creases and other design tricks to hide its boxy, almost wagon-like shape. But it somehow comes across as cheerful, almost perky, unlike more sedate small cars that attempt to ape larger models. Its interior is more stylized than that of the new Civic, and mostly composed of gray and black plastics. A large circular molding around the speedometer in the instrument cluster is unusual, and the central display or touchscreen is slightly canted toward the driver.
Soul vs. Fit: performance
The Kia Soul comes with a choice of three engines, but we don't recommend the base 1.6-liter inline-4, with an output of just 130 horsepower, unless you're getting the 6-speed manual gearbox. A 6-speed automatic is optional. A more powerful 164-hp 2.0-liter, inline-4 comes only with the automatic and a 201-hp turbo-4 comes with a 7-speed dual-clutch automatic. Unusually, the larger engine gets better EPA fuel efficiency ratings: 1.6-liter turbo-4 models are rated at 26 mpg city, 31 highway, 28 combined, while the 2.0 versions come in at 25/30/27 mpg. The Soul isn't particularly sporty, but it's quick enough with the larger engine—although tall gearing means frequent downshifts on the highway, and the transmission can hunt on long grades.
The Honda Fit has only a single engine, a 130-hp 1.5-liter inline-4 with a 6-speed manual gearbox as standard. Most Fit buyers order the continuously variable transmission (CVT) that does far better on fuel efficiency, at 33/41/36 mpg. That puts the Honda at the head of its class in EPA ratings. It's done a decent job of making the CVT tolerable, and the Fit suppresses most exterior noise fairly well even at speeds well above any U.S. speed limit. Ride is well-controlled, but the body leans on cornering.
2016 Honda Fit
2016 Honda Fit
2016 Honda Fit 5dr HB CVT EX Engine
2016 Honda Fit
The Honda Fit has a more refined ride than it did in the past, and it's agile, with responsive steering and handling. Still, the driving experience isn't quite as fun as in earlier generations, or competitors like the Ford Fiesta. That may be just fine for buyers interested in maximum versatility and fuel economy at a reasonable cost.
Soul vs Fit: comfort and quality
The Soul offers a tall and spacious cabin in a small footprint. The front seats are comfortable, with usefully long seat cushions, and head and leg room in back is impressive for two riders, though the subcompact width precludes a third passenger. All seats are higher than those of an economy car, making it easy to get into or out of. Interior materials are simple, blending style and practicality. The only flaw is engine noise, which is loud on acceleration but often noticeable even while cruising.
Despite its small size, the Fit holds four adults. The front seats are particularly comfortable, but the apt-named "Magic Seat" is the big win. The rear seats fold and flip to create a cargo area from the floor to the roof, while the front seats recline to create an upholstered interior platform. The littlest Honda wins hands-down for interior adaptability. Among small and affordable hatchbacks, the new Fit suppresses most exterior noise fairly well.
Soul vs Fit: safety and features
The Soul gets five stars overall from the NHTSA, including five-star scores in every category except rollover resistance, where it gets four stars. The IIHS hasn't yet finalized its ratings for 2017. You can opt for forward-collision warning and lane-departure warning systems on high-end models, but they don't include automatic emergency braking.
The NHTSA gives the Fit an overall rating of five stars, with five stars on all tests save for four in rollover resistance. The IIHS rates the Fit as "Good" on most tests, with "Acceptable" (one notch lower) on the new small-overlap crash test. Those IIHS scores are strong enough to merit a Top Safety Pick award. A rearview camera is standard, and a right-side-view camera is optional on higher trim levels, but conventional blind-spot monitors aren't available.
The base 2016 Soul starts just under $16,000, with standard alloy wheels. You can add a heated steering wheel, heated rear seats, and cooled/ventilated front seats for a four-figure premium. Connectivity and infotainment hardware—and the optional navigation system—are fully up to snuff with the systems available in pricier premium vehicles.
The 2017 Honda Fit starts at the same $16,000 level, though the CVT adds $900 to the manual-equipped base car. All Fits include power windows and locks, air conditioning, keyless entry, cruise control, an AM/FM stereo with a USB port and Bluetooth with audio streaming. Options include a sunroof, heated front seats, leather upholstery, and a navigation system.
___________________________________________