2016 Buick Cascada
From The Car Connection: 2013-2014 Ford F-150 investigated for brake failure
The National Highway Traffic Safety Administration has launched an investigation of 2013 and 2014 models of the Ford F-150 pickup.
You've probably forgotten the Reatta, right? It's true--it's been 25 years since Buick last had a convertible in its lineup.
My car does what? New campaign teaches drivers & shoppers about safety features
We spend a lot of time reading and writing about new car technology, and as a fan of auto news, you're probably up-to-date on it, too. Many Americans aren't so lucky, though, so the National Safety Council has launched a new campaign to bring drivers and shoppers up to speed on the many high-tech features available on today's rides.
2017 Infiniti Q60 Red Sport 400
From Motor Authority: New Infiniti Q60 coupe will be second model with Red Sport performance trim
Infiniti's new Q60 coupe will be the second model to offer the Red Sport performance trim, the Japanese firm confirmed during the past week's 2016 Geneva Motor Show.
Chevy celebrates Camaro's 50th birthday with special edition
To mark the Camaro's golden anniversary, Chevrolet has announced a 50th Anniversary Edition trim level loaded with unique cosmetic touches. The first Camaros popped on the scene as 1967 models, so the 50th Anniversary Edition trim will be offered for the 2017 model year.
Polestar launches official performance parts range for Volvo
Since the middle of last year, Polestar, once a standalone motorsport and engineering firm, has been an official subsidiary of Volvo. Going forward, Polestar will continue to develop dedicated performance vehicles for Volvo like the previous S60 and V60 Polestar models, as well as offer performance parts that can enhance the look and driving feel of your Volvo.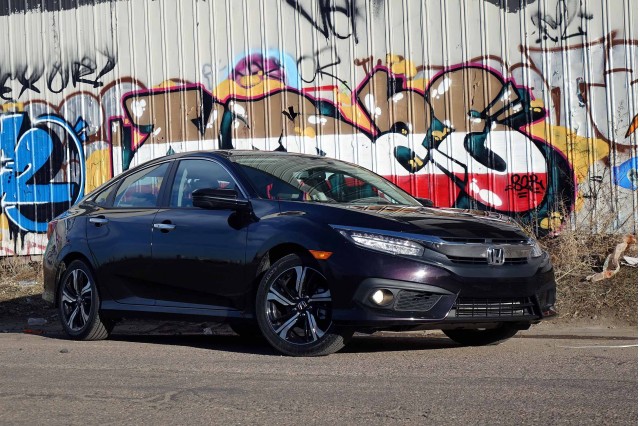 2016 Honda Civic Touring
From Green Car Reports: 2016 Honda Civic Touring: Gas Mileage Review
The once-humble Honda Civic has been a mainstay of the carmaker's lineup in the United States for nearly 40 years. But never before has it been so aspirational inside, outside, and underneath.
Next top-level Tesla Model S to be P100D, says software hacker
Perhaps no car company today is as good at the extended tease as California electric-car maker Tesla Motors. Whether it's tweets from CEO Elon Musk, fervent fan speculation on few facts, or mainstream-media coverage based on incomplete knowledge and misunderstanding, the tiny carmaker gets huge media attention.
New diesel Audi SQ7: electric turbo, 48-volt electrics aid efficiency
Given the diesel scandal lingering over Volkswagen's operations, it might come as a surprise that Audi has unveiled a new, high-performance flagship crossover powered by the controversial fuel. But the new SQ7 brings to the table much more than just a high-power 4.0-liter twin-turbocharged diesel V-8 engine.
___________________________________________