2016 GMC Sierra 1500 eAssist
No, the 2016 GMC Sierra 1500 and 2016 Chevrolet Silverado 1500 still aren't moving to downsized engines, or turbocharging. But if you're in California, you might soon find new mild-hybrid versions at the dealership.
For now, these Sierra 1500 and Silverado 1500 trucks, with what's termed eAssist, will be extremely rare. For the 2016 model year, they're only offered in the Golden State—with the production run of 2016 Chevrolet Silverado 1500 eAssist models limited to 500, and just 200 of the 2016 GMC Sierra 1500 eAssist.
The cost of the option is just $500. Although there's one other very big asterisk: For now, it's only offered on one specific (rather expensive) build of each of these trucks.
CHECK OUT: Nissan Leaf Security Flaw Puts Vehicle Telematics Apps Under Scrutiny
If you're in other regions, don't give up hope yet. The brands note that they will adjust 2017-model-year production numbers depending on feedback from these initial models; and availability will likely expand to other states—likely depending on how steep gas prices will rise from their current near-lows.
The eAssist versions of these trucks pair GM's 5.3-liter V-8 (still with cylinder deactivation that can run it as a V-4 in some situations) and eight-speed automatic with a belt-alternator-starter motor system capable of delivering an extra 13 horsepower and 44 pound-feet of torque. That won't allow all-electric propulsion, as a full hybrid system would, but it does bring stop/start capability, to automatically shut off the engine when idling at traffic lights, in some situations, and it lets the system provide boost to the engine during acceleration as well as use regenerative braking to capture some energy involved in deceleration.
Borrowing from Volt, Malibu Hybrid
The small 24-cell, 450-Wh battery pack is located under the center console or front bench seat, depending on the configuration; the system uses the same cells as in the Chevrolet Malibu Hybrid, GM notes. A liquid-cooled power inverter module is liquid-cooled and under the hood, while the induction motor itself has a stator design and is closely related to what's used in the Volt and Malibu Hybrid.
Altogether, in some "high-load" situations, the system can boost available power by up to 13 hp and torque by up to 44 pound-feet. Output and peak torque will likely remain the same as the non-eAssist trucks, though, at 355 hp and 383 lb-ft of torque.
The eAssist Silverado and Sierra models can tow up to 9,400 pounds, and it includes an Eaton locking rear differential.
With the eAssist system, the Silverado and Sierra return 18 mpg city, 24 highway (and 20 mpg combined). That's an improvement of 2 mpg in the city, as well as 1 mpg better in the highway and combined figures.
Already the third generation of GM hybrid trucks
This marks the second time GM has offered such a mild-hybrid system on its full-size trucks, and the third time it's added a hybrid version.
For 2009-2013 these full-size trucks offered a version of the Two-Mode hybrid system that had been codeveloped with BMW and the company then known as DaimlerChrysler. That system added hundreds of pounds of additional weight and dropped tow ratings to around 6,000 pounds, but it was expensive.
Beginning in 2005, for a short time, GM did offer a mild hybrid system in its full-size trucks; that system produced few mileage gains but also did allow engine stop/start and strong performance.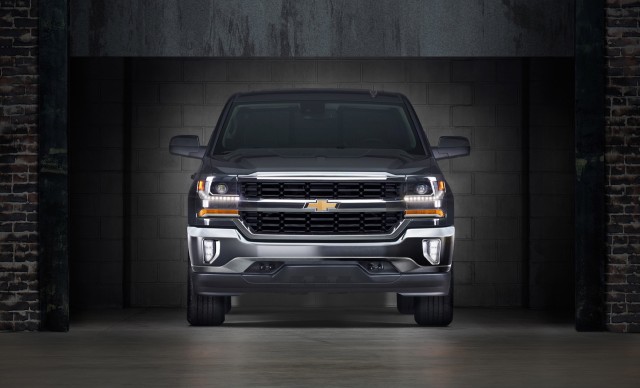 2016 Chevrolet Silverado 1500 eAssist
GM itself has avoided the 'hybrid' term with these trucks. Former GM mild-hybrid efforts have had some drivability issues—as well as, in some cases, a lack of real-world mileage gains to match their EPA-cycle boost. Yet GM has completely revamped its mild hybrid systems several times since then, and says that these trucks will use software controls developed for the Volt. The new system also keeps the weight gain under control—down to about 100 pounds versus the equivalent non-eAssist versions.
Unless you're clued-in on badging, you're probably going to have trouble distinguishing these trucks from others in the lineup. While styling is essentially the same for these trucks as for the other model in the respective lineups, they get automatic grille shutters that close over 30 mph, as well as a standard soft tonneau cover—which together bring a six-percent aerodynamic improvement.
It's just $500...but only available on a loaded $50k truck
In Sierra form, for now, eAssist comes only as a $500 package, available only with the 2016 Sierra SLT crew cab 2WD model, with the SLT Premium Plus package (including a heated steering wheel, heated and cooled front seats, LED headlamps, front and rear park assist, enhanced Driver Alert features, a power sliding rear window, Bose audio, and full LED headlamps. That brings the total price to at least $50,155—although there are plenty of other a la carte option possibilities.
Check back later in the year, as details on the 2017 Chevrolet Silverado and 2017 GMC Sierra lineups are revealed, for the extent of expanded eAssist mild-hybrid availability.
___________________________________________