Once upon a time, the Honda Civic was a go-to recommendation for buyers shopping for a compact car. It was rarely the cheapest option, but a Civic offered good quality, economical operation, and a greater degree of sportiness than many rivals.
In recent years, however—and particularly with a disastrous 2012 model—the Civic lost its way.
A clean-sheet redesign for 2016 has changed all that, moving the Honda Civic back into the go-to category, winning it a North American Car of the Year trophy. Initial plans call for three body types: The sedan has already hit the showrooms, the coupe is just about to go on sale, and the hatchback will arrive later this year.
ALSO SEE: 2016 Honda Civic: Stop-Sale Issued, Recall Looms, Engine Issue To Blame
The coupe's design is, perhaps, even more successful than the sedan's. Though the coupe is five inches shorter, the two variants share their 106.3-inch wheelbase, and the coupe's sportier stance is achieved with reduced overhang.
We're still not sure about a shelf-like chrome element that dominates the grille, but everything else about the coupe's dramatic design works. Of particular note are the rear fenders' aggressively sculpted haunches, and an LED strip that joins the C-shaped taillights in a distinctive signature, even when they aren't illuminated.
Interior styling is elegantly subdued, with a low seating position and an excellent view forward; the view rearward isn't as good, but there's a camera for that. Materials are of good quality, generally, and accent trim is a bit flashier in upper trim levels.
CHECK OUT: Ford Explorer Vs. Kia Sorento: Compare Cars
2016 Honda Civic Coupe
2016 Honda Civic Coupe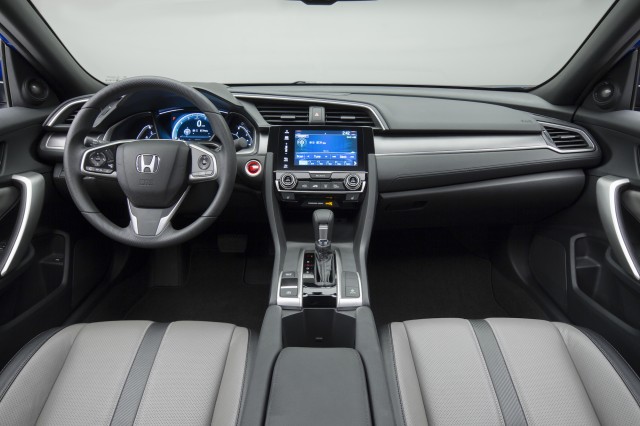 2016 Honda Civic Coupe
No one buys a sporty coupe with the expectation that anyone will actually fit in the back seat. And it turns out that Honda research found most Civic coupes are rarely occupied by anyone but the driver. So most prospective owners won't mind that rear headroom is in short supply. Even passengers of average height are likely to feel the glass of the sloping rear window at the top of their heads.
Interestingly, though, legroom is in more than ample supply—a full five inches more than in the outgoing coupe. As a result, taller rear-seat passengers may need to crouch down, but they can still stretch their legs.
At 12.1 cubic feet, the coupe's trunk isn't as large as the sedan's, but it's a well-shaped space with a large opening, and the split-folding seats have a sizable pass-through for additional versatility.
During a first drive in San Diego, we were able to sample the coupe in each of its powertrain configurations.
As in the sedan, the coupe offers a pair of engines. The base engine is a 2.0-liter four-cylinder that makes 158 horsepower and 138 pound-feet of torque. It's rated for 26 mpg city, 38 mpg combined, and 31 mpg combined when paired with a six-speed manual transmission; or 30/41/34 mpg with the continuously variable automatic transmission (CVT).
DON'T MISS: Koch Brothers Want To Kill The Electric Car Again (And They'll Spend $10 Million A Year To Do It)
The optional 1.5-liter turbocharged four-cylinder is mated only to the CVT produces 174 hp and 162 lb-ft of torque, and earns EPA ratings of 31/41/35 mpg.
Few buyers of 2.0-liter Civics will opt for the manual transmission. And while it offers a more engaging driving experience than the CVT, its shift and clutch feel are probably too light to satisfy performance-oriented drivers. (We were allowed a very brief spin in a test mule sedan that pairs the turbo engine with the manual—Honda plans to offer this powertrain combination in the future—and while it also upped the fun quotient, its action was also very light.)
With either engine, the CVT feels more competent than exceptional. While it does offer a sport mode for more aggressive performance, it doesn't have the simulated shifts or paddle shifters you'd find in many competitive set-ups. On the other hand, the CVT doesn't punish Civic occupants with the economy-oriented tendency to drone annoyingly at high revs.
Essentially, it gets the job done—and more speedily with the turbo engine. The normally aspirated 2.0-liter unit doesn't feel underpowered, but neither will it impress with its forward propulsion.
READ: Volvo To Offer Apps Instead Of Keys On 2017 Models [Video]
The Civic coupe shines, though, when it comes to steering, handling, and ride. Each is ultra-polished, and they work collectively to provide a decidedly upscale feel. The coupe will move swiftly through twists and turns, but the general sense of refinement is more evident on the highway.
At one point in our drive, while passing slower traffic on a rural freeway, a glance at the speedometer revealed that we were traveling at 90 mph, easily 20 mph faster than we thought we were going. The coupe feels that calm and composed—and anyone who ever drove an original CVCC Civic will understand just how far this model has come in its tenth generation.
Even so, serious Civic enthusiasts will want to wait until Honda unleashes Si and R-Type variants. Stay tuned.
___________________________________________