Believe it or not, the Jeep Renegade and the Kia Soul are frequently compared by buyers seeking a small, square-ish, carry-all utility vehicle. While they're both upright five-door hatchback shapes, each has a distinct personality, and they could hardly be more different.
The Renegade is Jeep's littlest SUV, with exaggerated tough-guy styling and genuine off-road prowess. The Soul, on the other hand, is a style-first urban warrior whose attraction lies in its practicality and cheeky character. It doesn't offer the Jeep's all-wheel-drive or, really, any hardware that could bring it even close to rocky trails or mountain climbing. 
Which one is right for may come down to a simple decision: Do you absolutely need all-wheel drive? If so, the Jeep gets the nod. Otherwise, the Kia carries a higher rating from our experts, who gave it better marks for design, comfort and quality, safety, and features.
MORE: Read our full 2017 Jeep Renegade and 2017 Kia Soul reviews
By the numbers, the Soul is a runaway winner. Its 6.8 overall rating is more than a point higher than the Jeep's 5.3, but the competition is closer than that. (Read more about how we rate cars.)
New in 2015, the Renegade is the first vehicle developed from the ground up for global sale by the combined Fiat Chrysler Automobiles. Its design is every inch classic SUV, with oversize lights and other details for visual interest.
The interior is straightforward, modern, and contains a number of Jeep-brand reminders in the form of "Easter Egg" design elements. The Renegade's front seats are comfortable, but there's not that much room in the rear unless rear-seat riders bargain aggressively with those in the front. The seats are comfortable and nicely bolstered, and the Renegade is clearly wider than other AWD entries, meaning the shoulders of the two front-seat riders are suitably separated.
The Soul's boxy profile, now in its second generation, is like no other. And it capitalizes on the silhouette by offering much more space for people and cargo. The design has a blunt front end, with a roof that seems to float over a blacked-out greenhouse. The rear end is dominated by tall taillights, while the front end uses bug-eye headlights.
Inside, the Soul dials down the funkiness a notch or two, providing the right amount of sophistication with grown-up soft-touch materials, as well as some extras like ambient lighting. The seats are comfortable, with dual-density foam and usefully long seat cushions in front. It's easy to get into or out of, front or back, and the back-seat space is impressive for a car with this small a footprint.
2016 Jeep Renegade
2016 Jeep Renegade 75th Anniversary edition
2016 Jeep Renegade
2016 Jeep Renegade 75th Anniversary edition
The Jeep Renegade comes with two powertrain options. The base model is propelled by a 160-horsepower turbocharged 1.4-liter four-cylinder engine paired with a 6-speed manual. If you don't want to shift for yourself, you'll move up to the 180-hp 2.4-liter four, which uses the new 9-speed automatic transmission that's increasingly common in new Chrysler, Jeep, and Fiat products. Front-wheel drive is standard, with all-wheel drive optional for both engines. We prefer the manual to the automatic's constant shifts and hunting for gears, but the base engine's lean on power. It's a mixed bag, maybe slightly in favor of the rare base setup.
The Kia Soul comes with a choice of three engines, but we recommend against the base 1.6-liter inline-4, with an output of just 130 horsepower, unless you're getting the 6-speed manual. Soul Plus versions are fitted with a more powerful 164-hp 2.0-liter, direct-injection inline-4, paired only with a 6-speed automatic (an option on the base model). Soul Exclaim models are fitted with a new 1.6-liter turbo-4 that makes 201 hp. The Soul isn't particularly sporty in any of its combinations, but with the larger engine you'll find it quick enough—although tall gearing means frequent downshifts on the highway, and the transmission can hunt on long grades.
The Renegade's safety ratings have been only middle-of-the-pack—considering there are now a number of high-rated vehicles in its class. It earned four-star overall ratings from federal officials, including four stars for front impact and five for side impact, while it's received a mix of "Acceptable" and "Good" ratings from the IIHS. A rearview camera is standard on all but the base model. Optional safety systems include forward-collision warnings with automatic braking, blind-spot monitors, and lane-departure warnings.
2016 Kia Soul
2016 Kia Soul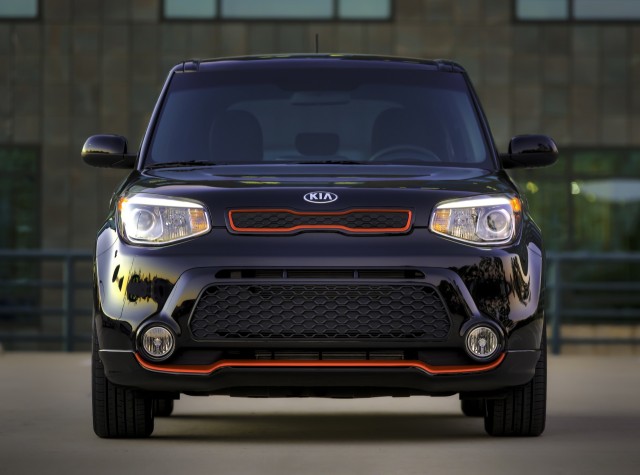 2016 Kia Soul
2016 Kia Soul
The Soul does better, with five stars overall from federal officials, including five-star scores in every category except rollover resistance, where it gets four stars. The IIHS hasn't yet rated the 2017 editions. You can opt for forward-collision warning and lane-departure warning systems this year on high-end Exclaim models, but they don't include automatic braking.
The 2017 Renegade comes in four trim levels: the base Sport (starting under $20,000 for the base 2WD version), the mid-level Latitude, and the top-of-the-line Limited. All-wheel drive is a $2,000 option. Then there's the Trailhawk model ($7,000 more) with its greater off-road capability, which only comes with all-wheel drive and the larger 2.4-liter engine with the nine-speed automatic. Only a handful of small feature changes distinguish the 2017 Renegade from prior years.
The 2016 Soul comes in base Soul (starting just over $16,000), Soul Plus (+), and Soul Exclaim (!) versions. All include alloy wheels, and for a four-figure premium, you can add things like a heated steering wheel, heated rear seats, and cooled/ventilated front seats. Connectivity and infotainment hardware—and the optional navigation system—are fully up to snuff with the systems available in much more expensive, premium vehicles.
Unless you need that all-wheel drive, of course, in which case there's a whole different set of comparisons you should make.
___________________________________________