The Toyota Corolla and Honda Civic are two of the best-selling compact sedans in the U.S., and each nameplate has been with us for more than 40 years now. The 2017 Civic is only a year old in its current form, while the 2017 Corolla is in its fourth model year of the current generation and is celebrating its 50th anniversary.
Each will provide economical, reliable basic transportation, with higher fuel economy and more features and amenities than their predecessors. But one earns considerably better ratings from our reviewers.
MORE: Read our 2017 Toyota Corolla and 2017 Honda Civic reviews
It's hard to argue the numbers here, and by the scores, the Civic is the winner. Both have been rated using our new scoring method, and while the Corolla is more handsome, we like the Civic's edgier looks and its safety record is hard to top. (Read more about how we rate cars.)

The Toyota Corolla has long been known for design that's the purest vanilla. For 2012, Toyota gave it a fresh look that's more daring and edgy than previous versions. It has a more distinctive front end, side accent lines, and a kickup in the window line. Still, it remains instantly identifiable as a compact Toyota sedan. LED headlamps and running lamps on the outside add a nice finishing touch, while a sporty Corolla SE adds blacked-out trim and other sporty details.
The 2016 Civic sedan is simply the best-looking Honda in a decade or more, with an edgy fastback profile that hides a increase in size by widening and lowering the sedan's proportions. The front end may be its weakest angle, with a thick and formal band of chrome; elsewhere the Civic's flared wheels, fast roofline, and bracket-shaped taillamps wouldn't look out of place in an Acura showroom. The back reminds some of the departed Accord Crosstour, but the package comes together in a striking look that's a welcome departure from its blander predecessor.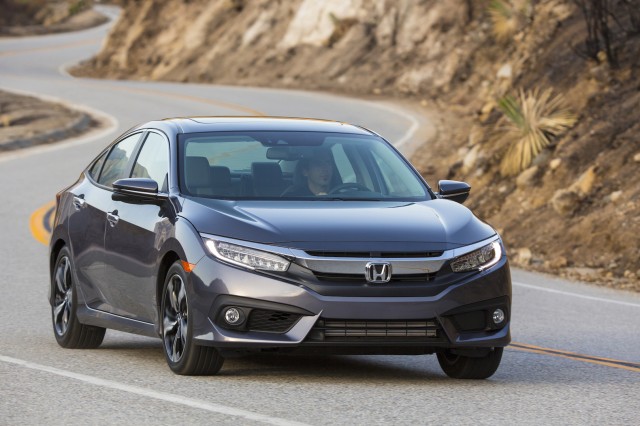 2016 Honda Civic Sedan (Touring)
2016 Honda Civic Sedan (Touring)
2016 Honda Civic Sedan (Touring)
Under the hood of most Corolla models you'll find a 132-horsepower 1.8-liter inline-4, with a continuously variable transmission (CVT) that responds well in most cases. For those seeking maximum fuel efficiency, the Corolla LE Eco trim holds the upper hand, with a specially tuned version of that engine and gas mileage of 35 mpg combined.
On the road, most models in the Corolla lineup remain a bit springy and pillowy, with steering that's too light for anything but demure driving. They're competent, predictable, and unexciting. If you enjoy driving, the sportier Corolla SE should be your only choice. Its suspension is tuned more like that of a sport sedan—with a Sport button that firms up the steering, and a ride that's absorbent and nicely damped.
The Civic has two performance identities. Base models have linear, unexciting acceleration and handling. Turbo Civics get a big power boost and exceptional ride smoothness. The standard engine is a 158-hp, 2.0-liter inline-4, with either a 6-speed manual transmission (on LX models only) or a CVT carried over from the last-generation Civic. The linear, unobtrusive power delivery will be familiar to earlier Civic owners; the loose and light-shifting manual turns in 31-mpg combined EPA ratings—but the far more common CVT is rated at 35 mpg combined. You'll get the same fuel economy plus far more lively performance from the 1.5-liter turbo-4, and with 174 hp it's capable of Civic Si-like straight-line performance.
The Civic's big performance appeal is its much-improved ride and handling. With more refined electric steering and hydraulic mounts for the suspension, it's precise and composed in all versions. Base models depend on the small 16-inch tires to soak up bumps, but ride quality is still good. The turbo versions get better tires and additional hydraulic suspension bushings that deliver a wonderfully compliant, composed ride quality and excellent tracking.
Corolla vs. Civic: utility and safety
Toyota put a lot of effort into the Corolla interior, which no longer screams "rental car" as previous models did. The materials and trim are impressive for such a low-cost car and it now ranks as a mid-size car in terms of real, usable seating space, with back-seat leg room in particular expanded to make it large enough for adults.
The Civic's cabin too now offers 6-footer room in back, and lots of clever storage solutions. The front seats are low, but they're height-adjustable, and the dash is quite low, which gives the Civic excellent frontal visibility. In the back seat, the Civic outperforms almost all its rivals, with enough head and leg room for 6-footers to sit behind 6-footers, and an inch of knee room to left over. And the cabin is filled with thoughtful touches, from a flexible console storage system to a big, 15-cubic-foot trunk.
2016 Toyota Corolla
2016 Toyota Corolla
2016 Toyota Corolla
Both cars are at least adequate for safety, but the Corolla falls behind the Civic in IIHS ratings. Toyota earns a five-star overall safety score from the NHTSA, but only a "Marginal" score on the new small-overlap frontal crash test added a few years ago by the IIHS.
The Civic has earned across-the-board top scores by the NHTSA and already earned a place on the IIHS Top Safety Pick+ honor roll, with the top score of "Good" on every test. Honda now offers its latest safety technology on most versions, not just pricey models. Every Civic comes with a rearview camera—and can be configured with adaptive cruise control, forward-collision warnings and automatic emergency braking. Sadly, the latest design's high tail blocks rear three-quarter views, making the rearview camera a necessity.
Toyota added a suite of standard safety features for 2017 across its model range that now makes it a leading automaker. In the Corolla, Toyota's Safety Sense Plus includes forward collision warning with automatic emergency braking, adaptive cruise control, automatic high beams, and lane-departure warning with active lane control to help steer drivers back into their lane. The automatic emergency braking includes pedestrian detection. It also covers one of our safety gripes from the 2016 model: Toyota was simply missing technology that others had already adopted.
That won't change the scores on its structure, so a gap opens between the Civic and Corolla on crash performance.
A few years can make a world of difference in the fast-moving car world, and we rate the 2017 Honda Civic at 8.0 points versus a score of 6.8 for the 2017 Toyota Corolla. The Civic outdoes the Corolla for styling, performance, and safety. With a roomier interior, a return to its sportier side, and better fuel economy, it's the better of the two compact sedans in our view.
Either of these compact sedans should provide years of reliable transportation—but the Civic will be more fun and comfortable, and better-looking to boot.
___________________________________________