The classic compact car isn't so compact any more. Across the set of nameplates usually thought of as small cars—Civic, Corolla, Elantra—most of them now qualify as mid-size four-doors.
Two of the newest entries not only amp up their interior space, they set new benchmarks for ride and quietness. The question is, which should you buy—the new Honda Civic, or the new Hyundai Elantra?
MORE: Read our full reviews of the 2017 Hyundai Elantra and 2017 Honda Civic
By the numbers, the Honda handily beats the Hyundai by more than a point. The Civic gets to 8.0 thanks to superlative safety and great fuel economy. The Elantra has both to match, but the Civic does it in style. (Read more about how we rate cars.)

The Honda Civic is a stalwart among small sedans. Redesigned for 2016, it has a stiff new body, efficient new engines, and lots of safety technology. There are coupe and hatchback body styles, but the sedan compares best with the Elantra.
The new 2016 Civic is simply the best-looking model in a decade or more. The rakish fastback shape effectively hides its size by widening and lowering its proportions. The flared wheels, fast roofline, wedge-shaped tail and bracket-shaped taillights add flair, though the cabin design is more restrained. It's also better organized, with horizontal lines and a single display replacing the tiered dual-screen design of its predecessor.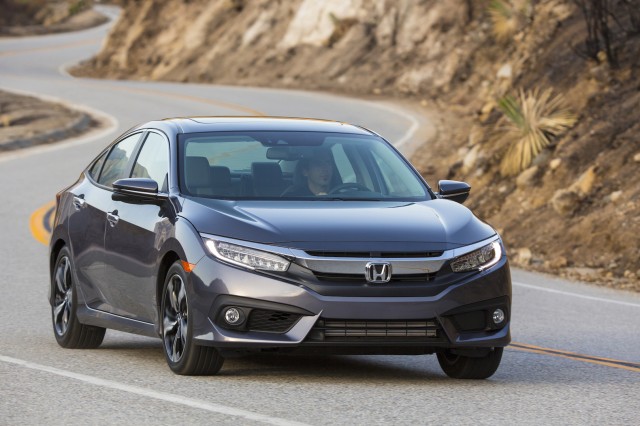 2016 Honda Civic Sedan (Touring)
2016 Honda Civic Sedan (Touring)
2016 Honda Civic Sedan (Touring)
The 2016 Elantra has traded last year's brash looks for a more refined design with a wide, deep grille and boomerang LED running lights at the front, though its plainer sides lack the old car's distinction. The interior is straightforward, with horizontal lines and a large central touchscreen angled toward the driver. Commendably, it has knobs and buttons for basic functions.
Civic vs. Elantra: performance
Base Civic models have linear, unexciting acceleration and handling, while turbo models get more power and an exceptionally smooth ride. A 158-horsepower, 2.0-liter 4-cylinder is standard, with a 6-speed manual gearbox, but only on the base LX. All the rest come with a more efficient continuously variable transmission (CVT) that's rated by the EPA at 31 mpg city, 41 highway, 35 combined. The light-shifting manual is lower, at 32 mpg combined.
The EX-T with CVT offers almost the same fuel economy plus far more lively performance from the 174-hp 1.5-liter turbo inline-4; its big appeal is a much-improved ride and tauter handling. Turbo versions get better tires and suspension tuning that deliver a wonderfully compliant, composed ride quality, but the ride is still good even in base models with smaller 16-inch wheels.
Standard Elantras use a 2.0-liter 4-cylinder rated at 147 hp. It's EPA-rated at 29/38/33 mpg in base form, a bit less in the Elantra Limited. Most will have the optional 6-speed automatic transmission, though the base model comes with a 6-speed manual gearbox. A new Elantra Eco sports a 128-hp turbocharged 1.4-liter inline-4 paired with a 7-speed dual-clutch transmission, for an estimated EPA rating of 35 mpg combined.
The 2017 Elantra is only an average performer, but it offers one of the most composed driving experiences in the class. It accelerates evenly, though its shifts are set to maximize fuel economy, not speed. Sporty roadholding isn't a priority; instead, the new chassis delivers a remarkably supple ride—and a Sport driving mode offers crisper responses.
2017 Hyundai Elantra
2017 Hyundai Elantra
2017 Hyundai Elantra
2017 Hyundai Elantra
Civic vs. Elantra: comfort and utility

The Civic's expansive cabin has room for 6-footers in back, and lots of clever storage solutions. The front seats start very low to the floor, but they're height-adjustable. In back, it offers enough head and leg room for 6-footers to sit behind 6-footers, with an inch of knee room to spare. Storage is ample, and also thoughtful, from a flexible console storage system to a big, 15-cubic-foot trunk.
The Elantra too has generous interior space for the segment, with plenty of head, leg, and shoulder space. The front seats are firmer and more bolstered than in the past, though the back seats are less grippy and sit higher. Head room and knee room are still good for adult riders, even with the optional sunroof. Small items can be stored in the doors, console, and a covered bin ahead of the shift lever.
Civic vs. Elantra: safety and features

All Civics come standard with Bluetooth and a wide-angle rearview camera; all but the LX have the clever side-view camera that shows the blind-spot region on the center display. A Honda Sensing system that bundles adaptive cruise control, forward-collision warnings and automatic braking is optional. The 2016 Civic has earned a place on the IIHS Top Safety Pick+ honor roll, though it hasn't yet been rated by the NHTSA.
Hyundai predicts a Top Safety Pick+ award for the 2016 Elantra from the IIHS and a five-star overall rating from the NHTSA. A rearview camera is available, but an advanced-safety technology bundle is offered only on the priciest Limited version. That includes forward-collision warnings with automatic emergency braking; adaptive cruise control; lane-departure warning and active lane control; and blind-spot detection with cross-traffic alerts.
At around $20,000, even the base Civic LX gets climate control; an electronic parking brake; a USB port; and a 160-watt sound system. The Civic EX adds a 7.0-inch touchscreen; Apple CarPlay and Android Auto; more audio choices; heated front and rear seats; 17-inch wheels; and leather. The top-line Civic Touring starts around $27,500 and gains the Honda Sensing safety suite; a power front passenger seat; heated outboard rear seats; navigation; LED headlights; and a 450-watt premium audio system.
The 2017 Hyundai Elantra SE starts around $18,000. It has cruise control; air conditioning; 15-inch wheels; a six-way adjustable driver seat; and a six-speaker audio system. Options include the automatic transmission; heated and ventilated front seats; memory seats; a split/fold rear seat; automatic climate control; USB ports and Bluetooth; Android Auto; a navigation system; premium audio; Hyundai's Blue Link telematics package; and more.
The bottom line? The new Honda Civic is a very good mid-size car best experienced as a fully equipped Touring model—where it comes close to providing the space of higher-priced family sedans, with excellent ride and handling. The Elantra does well in near-base trim, though we'd want it optioned with the active-safety package. The Civic is a clear winner, and we won't argue with those numbers.
___________________________________________