The Honda Fit has been one of the highest-rated small cars at The Car Connection--but the Chevy Sonic has done very well, too. Which one should you buy?
We rate the Sonic higher than the Fit, mostly because we think it's better-looking and is more interesting to drive. (Read more about how we rate cars.)
MORE: Read our latest reviews of the 2017 Honda Fit and the 2017 Chevrolet Sonic
Both the Honda Fit and Chevy Sonic are subcompact hatchbacks, and there's also a Sonic four-door sedan that starts at a slightly lower price. Buyers with long memories may notice that they're the size of compacts from just a few years ago. But either is significantly better, more capable, and more fuel-efficient than economy cars of old.
2017 Honda Fit
2017 Honda Fit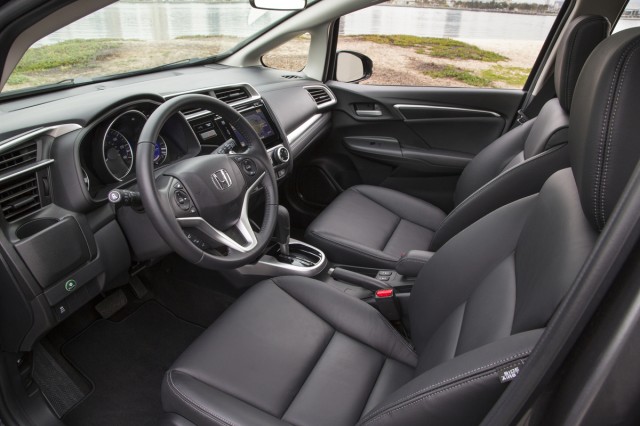 2017 Honda Fit
The Sonic and the Fit are relatively upright and tall five-door cars with design flourishes and accents that work to disguise their boxy shapes. The Honda was new for 2015, and while it may be a little fresher than the Sonic, which is now in its fifth model year, we still prefer the more sporty look of the Sonic hatchback. Both have simple and straightforward interiors with just enough silver trim and clever styling to take them out of the dreaded "econobox" category. They're not luxurious, but neither is there anything to be ashamed of inside.
The latest Fit is powered by a 130-horsepower 1.5-liter 4-cylinder engine. A 6-speed manual gearbox is standard, but most Fits will use a continuously-variable transmission (CVT) that maximizes fuel efficiency. The combination vaults Honda to the head of its class for efficiency. Honda's done a decent job of making the CVT tolerable, and the Fit manages to suppress most exterior noise fairly well even at speeds well above any U.S. speed limit.
The base Chevrolet Sonic LS comes with a 138-hp 1.8-liter 4-cylinder engine, but the optional 1.4-liter turbo engine--with the same power rating but more torque--gives better acceleration, higher EPA ratings for fuel economy, and way more driving enjoyment. The 1.4 turbo is offered on Sonic LT and LTZ models; either engine can be ordered in the LS and LT with a 6-speed manual gearbox or a 6-speed automatic transmission.
Compared to its unloved predecessor, the Chevy Aveo, the Sonic has always been surprisingly fun to drive. Especially with the 1.4-liter turbo, it's lively and responsive--more so than the Fit, which has slightly less power and the CVT instead of the conventional automatic. There's a penalty in fuel economy with the Sonic, though: Depending on the engine-and-gearbox combination, its combined EPA ratings run from 28 to 33 mpg.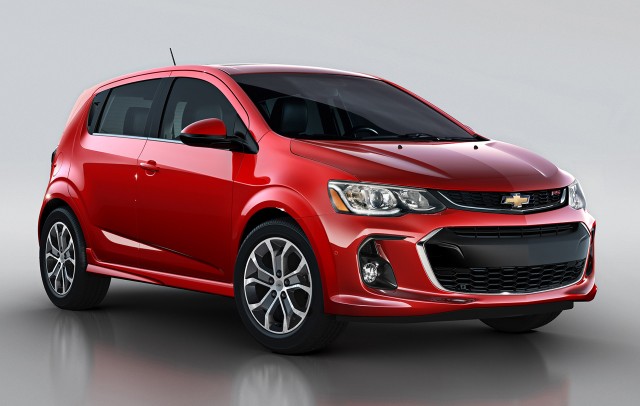 2017 Chevrolet Sonic
2017 Chevrolet Sonic
2017 Chevrolet Sonic
2017 Chevrolet Sonic
Each is reasonably spacious in front but is most flexible when used by two people. You can get four adults into either car, but if you routinely travel four-up, a compact may be a better and more spacious bet. Like its predecessors, the latest Fit has the aptly-named "Magic Seat" arrangement that gives unparalleled flexibility for accommodating remarkable numbers of people and volumes of cargo. The rear seats fold, flip to the side, or can be removed altogether, while the front seats can be fully reclined to form an almost-flat interior space. However, its front seats are pretty poorly padded, and the dash seems intrusive. The Sonic's rear seat folds, but you can't remove it to turn the space into what's effectively a very small moving van as you can in the Fit.
Both cars do well on safety ratings, though neither offers the full suite of electronic active-safety systems now starting to filter into even the least expensive segments of the market. The Fit has earned very good safety scores from both the Insurance Institute for Highway Safety (IIHS), which dubs it a Top Safety Pick, and the National Highway Traffic Safety Administration (NHTSA). The NHTSA gives it five stars overall, and the Fit achieved Good ratings in all IIHS categories except the tough new small-overlap front crash tests, where it was rated Acceptable. The Sonic earns top scores of Good on every safety test, including the tough small-overlap crash test. The NHTSA gives it five stars overall and five stars on all but one individual rating (four stars for rollover safety).
The Honda Fit now essentially includes four models and primary builds: a base Fit LX, a mid-range EX, and a premium EX-L. Keyless entry, cruise control, a rearview camera, and air conditioning are among many items now included even on the base LX, while mid-level EX models get push-button start, upgraded infotainment, and Honda's impressive LaneWatch wide-angle lane-change aid from the Accord. The Fit EX-L heaps on leather and more luxury, while a navigation trim level finally gets a system worth the premium, with a high-contrast display and live traffic data.
There's no truly "base" model of the Chevrolet Sonic, the kind that used to come with painted steel wheels and plastic covers. Every Sonic includes Bluetooth connectivity, keyless entry, air conditioning, and steering-wheel audio controls. The mid-level LT model adds the Chevrolet MyLink system with a 7-inch color touchscreen display, hands-free connectivity, streaming audio (along with Pandora and Stitcher apps) and voice recognition, plus remote start on automatic models. The Sonic LTZ top trim comes standard with the 1.4-liter turbocharged 4-cylinder and automatic transmission. Last year, Chevy added 4G LTE connectivity and the ability to create an in-car WiFi hotspot into the Onstar package. Finally, the sporty-looking Sonic RS hatchback has the same powertrain as the standard car but a racier appearance, including unique wheels and various trim embellishments.
Unless all-wheel drive is an absolute necessity, both will provide flexible and comfortable basic transportation for $20,000 or less. In the end, the Honda Fit gets the nod over the Chevy Sonic if you need the unparalleled flexibility of its interior and a set of optional features that's slightly more modern than the aging Sonic. But the Sonic trumps the Fit in its fun-to-drive quality, and in styling, and in our overall ratings.