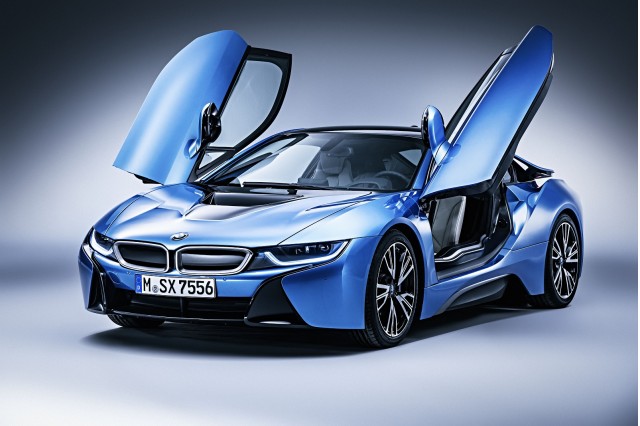 2016 BMW i8
From The Car Connection:
The 2016 BMW i8 blends a stunning coupe design with a slew of advanced technology underneath; the plug-in hybrid powertrain, and its corresponding efficiency, may be all but irrelevant.
The 2016 Ford F-150, fresh off a transformation that made it leaner yet much-improved in most ways, gets new Sync 3 infotainment and trailer-backup wizardry.
28 States Use Outdated Driver's License Format, Which Could Leave You Stranded At The Airport
When we think of technology and change, we often think of computers, mobile phones, cars, and such. But today, even the most mundane objects are evolving, from electrical outlets to thermostats. Driver's licenses are not immune.
2016 Toyota GT 86 GRMN
From Motor Authority:
Toyota GT 86 GRMN Special Edition Set For 2016 Tokyo Auto Salon: Video
Toyota's GT 86, sold in the United States as the Scion FR-S, hasn't had much in the way of updates since the debut in 2011. That's about to change soon, though, as prototypes for an updated version have been spotted testing.
Hyundai Puts Former Lamborghini Exec In Charge Of Genesis Luxury Division
Having recently announced the new luxury brand Genesis, Hyundai has now named the person who will lead it. That person is former Lamborghini executive Manfred Fitzgerald.
Ring In The New Year With The Best Supercar Sounds Of 2015: Video
As you get ready to go out and celebrate the start of the new year, here's a video to bring your octane levels to the max. It's a compilation of some of the best performance cars and supercars seen this year, with their engines screaming.
First 2015 Hyundai Tucson Fuel Cell delivered to lessee at Tustin Hyundai, June 2014
From Green Car Reports:
Hyundai To Launch 400-Mile Fuel-Cell SUV By 2020: Report
Hyundai Tucson Fuel Cell crossovers were first delivered to customers in Southern California last year, and almost 100 vehicles have been leased since then.
VW Buybacks, Payments For Hard-To-Fix Diesels Will Cost Billions
Hundreds of thousands of diesel-VW owners are waiting to find out how their cars will be updated to meet emissions standards, once modifications are approved by regulators.
Green Car Reports: Best Reader Of The Year Award
Green Car Reports has many readers, more than we thought possible seven years ago, when we launched the site. While many readers dip into a few articles without commenting or interacting, a substantial number of you read most of our articles and comment, sometimes vigorously.
___________________________________________