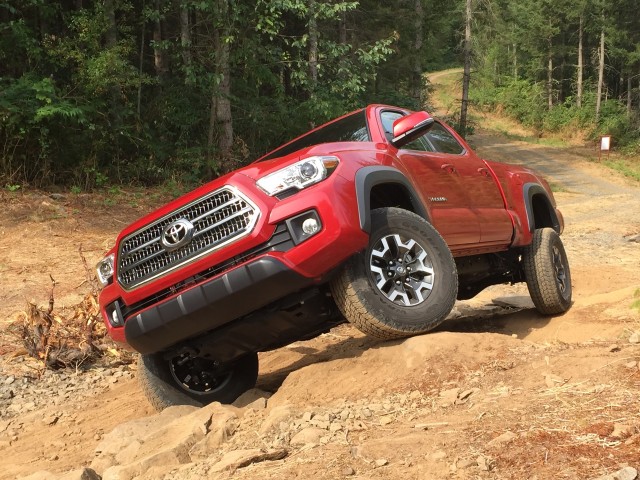 2016 Toyota Tacoma - First Drive, August 2016
From The Car Connection:
The Toyota Tacoma has some of the most rabid loyalists of all the mid-size trucks. They bought more than 155,000 copies last year, twice as many as its nearest competitor. And there's such a strong following among older Tacomas that they maintain their resale value better than any other truck.
2016 Nissan Titan XD Priced From $41,485
Prices for the 2016 Nissan Titan XD will start at $41,485 including destination, the automaker announced today. The XD is the first of a new generation of Nissan full-size pickup trucks to be launched.
Rumor: Google & Ford Create New Company To Build Autonomous Cars
Someday, people will look back on 2015 and say, "That's when autonomous cars were born" -- not because self-driving vehicles began appearing on roads (though at least one did), but because we began to understand the changes those cars would bring to the century-old auto industry.
1970 Plymouth Hemi Cuda Convertible
From Motor Authority:
Not One, But Two Hemi Cuda Convertibles Head To Auction: Video
When it comes to classic American muscle, it doesn't get much rarer than the Plymouth Hemi Cuda Convertible. Now, incredibly, two of these rare beasts are coming up for auction. They will go under the hammer at the Mecum Auctions event in Kissimmee, Florida running from January 15-24, 2016.
BMW M760Li: V-12-Powered 7-Series M Performance Model Rumored
If you want a fast, full-size German sedan, there's no shortage of models available on the market. Audi has its S8, Mercedes-Benz has its Mercedes-AMG-tuned S-Class and BMW has its Alpina-tuned 7-Series, though the latter isn't quite in the same league as some of its rivals. That's where a new M Performance version of the BMW flagship comes into the picture.
Nissan Just Killed The GT-R LM NISMO LMP1 Project
Remember when Nissan said it was serious about getting back into motorsports? So serious, in fact, it launched its racing marketing campaign during the 2015 Super Bowl with a very expensive ad? Well, seems things didn't quite work out and now, three days before Christmas, Nissan is killing the GT-R LM NISMO LMP1 project.
2016 Ram 1500
From Green Car Reports:
Chrysler Conundrum: Truck Sales Mean Buying Emission-Credits From Tesla, Toyota, Honda
When it comes to fuel efficiency, Fiat Chrysler Automobiles (FCA) is among the lowest of all U.S. automakers. The company was at the bottom of the most recent Union of Concerned Scientists emissions rankings for carmakers.
Final Transportation Bill: Electric-Car Fans Get Reasons To Rejoice
Electric-car advocates can end the year on a high note, thanks to several provisions in the final Federal transportation bill approved earlier this month. The Fixing America's Surface Transportation Act (FAST Act) was signed by President Barack Obama on December 4.
When Electric-Car Drivers Learn How Gas Cars Work: Video
One of the major tasks of electric-car advocates is getting people used to the idea of cars with plugs. For some people, driving around in near silence and plugging in at charging stations can take some getting used to.
___________________________________________