Each year we spend thousands of miles in the year's crop of new cars, trucks, SUVs, and minivans. Some are brilliant pieces of engineering or marketing or styling--some all of the above.
Now that we've told you of the vehicles that just missed the final round of competition, it's time to show you the ones that will contend for The Car Connection's Best Car To Buy 2016 award. 
We start by looking only at vehicles new or significantly updated each year, which narrows the field to the vehicles you should consider, or reconsider, against established benchmarks.
Then we limit base prices to $50,000 or less--to our editors, value is a big virtue. Then we eliminate vehicles unavailable for road tests by our editors prior to December 1, 2015, and unavailable for purchase by April 30, 2016--a rule which eliminates vehicles like the new Buick Cascada, Chevy Spark, Chevy Cruze, and Tesla Model X from the running.
Finally, we cut our list to vehicles that score 8.0 or more on the TCC Rating, and eliminate vehicles that will not outpoint our top-rated vehicles, should pending safety scores raise their overall TCC Rating. We consider safety an essential piece of the Best Car To Buy puzzle, and no car wins the award if it scores less than an NHTSA five-star overall rating, or an IIHS Top Safety Pick.
The vehicles that remain are our nominees. Some facts about this year's crop:
13 vehicles are nominated for this year's award
3 brands placed two vehicles on the list--Chevrolet, Honda, and Kia
5 luxury brands are represented on this year's list--Land Rover, Lexus, Lincoln, Mercedes-Benz, Volvo
2 sports cars made the list of nominees
4 sedans made the list of nominees
7 crossover SUVs made up the bulk of this year's list of nominees
Vehicles range from 155 horsepower to 455 horsepower
We'll be naming our winner on January 4, 2016. On the same day, we'll also name the winners of the Motor Authority and Green Car Reports Best Car To Buy awards--as well as the winners of our Driver's Choice awards.
It's a big day--and it starts with these new vehicles.
2016 Chevrolet Camaro
The 2016 Chevy Camaro finally shuffles off its muscle-car coil--and earns true sports-car credentials.
2016 Chevrolet Malibu
The 2016 Chevrolet Malibu lineup skips performance models, plush luxury appointments, and all-wheel drive; yet the driving experience, comfortable cabin, and frugal numbers may convince you to trade in that Camry, Accord, or Fusion.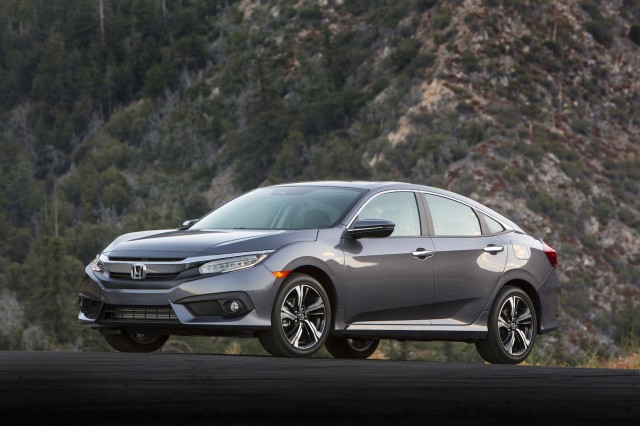 2016 Honda Civic Sedan (Touring)
The 2016 Honda Civic drops almost all the economy-car pretense; in Touring trim, it could easily wear a premium label.
2016 Honda Pilot
The 2016 Honda Pilot has axed its hard edges: it's once again a smooth, capable family wagon, one that raises the bar for refinement.
2016 Kia Optima
The 2016 Kia Optima is better than its game-changing predecessor in nearly every way—except it's a little less distinct.
2016 Kia Sorento
The 2016 Kia Sorento grows a little bit larger, and grows up a lot.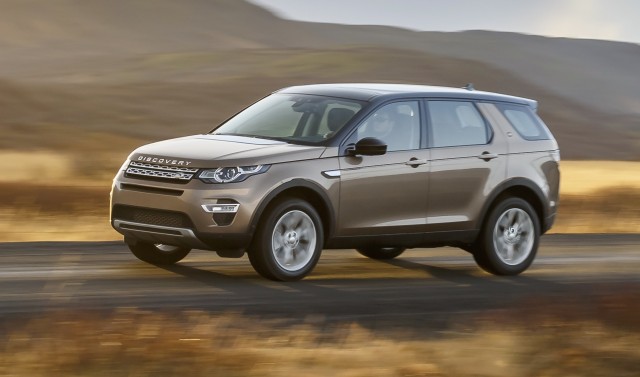 2016 Land Rover Discovery Sport
2016 Land Rover Discovery Sport
The 2016 Discovery Sport takes most of Land Rover's rugged, go-anywhere ability set and makes it part of an attractive, well-designed crossover wagon that suburban families are going to be happy with every single day of the year.
2016 Lexus RX 450h F Sport
The new 2016 Lexus RX is edgier and more focused than before—more of a style-conscious statement of indulgence—when your luxury car also has to be a very practical everyday driver.
2016 Lincoln MKX
The 2016 Lincoln MKX goes after the same comfort-oriented, design-savvy luxury crowd as before, but with more performance and pizzaz, it has a much better chance of reaching them.
2016 Mazda MX-5 Miata
The 2016 Mazda MX-5 Miata shouldn't disappoint driving purists, yet it's been reformulated for a new generation to enjoy.
2016 Mercedes-Benz GLC-Class (Euro-spec)
As a tangential—and far more sophisticated—replacement for the GLK, the savvy 2016 Mercedes-Benz GLC is a far better match for American wants and needs.
2016 Nissan Maxima
The 2016 Nissan Maxima locks in an arresting shape and charming front-drive road manners, in its quest to distance itself from the Altima.
2016 Volvo XC90
The 2016 Volvo XC90 is a capable and comfortable luxury utility vehicle that whispers its virtues rather than shouting them--and reinvents Volvo as a purveyor of quietly sophisticated design, comfort, and efficiency.
___________________________________________