2016 Audi A5 Coupe
From The Car Connection: 2016 Audi A5 Review Audi's A5 lineup includes some of the best looking and most practical two-door cars built so far in the 21st century. While its form and design cues are often imitated, it's easy to understand why.
2016 BMW 3-Series Crash-Tested: Maintains 'Marginal' Rating
Luxury sport sedans like the BMW 3-Series may wrap in more safety-technology features than mainstream models the same size; yet you can't necessarily count on better occupant safety.
Why Does Volkswagen Want To Face Dieselgate Trials In Detroit?
It goes without saying that Volkswagen's Dieselgate scandal is going to cost the company a very pretty penny. We'd initially pegged the cost around $25 billion, but some analysts now expect the final bill to top $40 billion.
2017 Volvo S90
From Motor Authority: 2017 Volvo S90 Revealed Ahead Of Detroit Auto Show: Video
After numerous leaks, we finally have our first official look at Volvo's all-new S90 sedan. The luxurious mid-sizer, which makes its world debut next month at the 2016 Detroit Auto Show, is the second model in Volvo's brand renaissance and, like the XC90 that precedes it, is based on the modular SPA platform.
​Ford Shelby GT350 Vs. Chevy Camaro SS: Video Throwdown
You know, sometimes it's tough to convince our friends and family that this is a tough job. Hard days and long nights. Real work. Convincing them is about to get impossible.
2017 Chevrolet Cruze Hatchback Spy Shots
Chevrolet completely redesigned its Cruze compact for the 2016 model year but right now all we've seen is the sedan bodystyle. With the previous-generation Cruze also spawning hatchback and wagon variants, it's only a matter of time until similar variants based on the latest Cruze are launched on the market.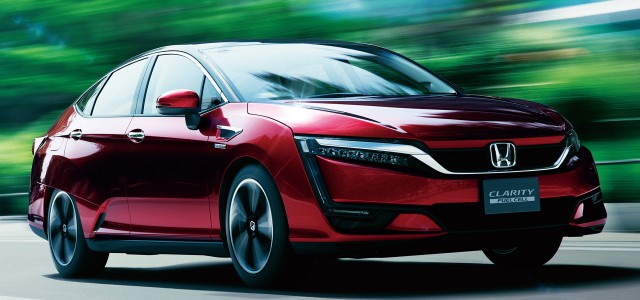 Honda Clarity Fuel Cell
From Green Car Reports: Japan's Ambitious Hydrogen-Vehicle Plans Stumble, With Bureaucracy To Blame
Japanese Prime Minister Shinzo Abe's ambitious plans for hydrogen fuel-cell infrastructure are stumbling, thanks to bureaucratic red tape. Abe is a serious supporter of hydrogen fuel-cell cars. He's pushed through measures to cut taxes on them, and encouraged construction of a network of fueling stations.
German Regulators Deem VW Diesel Emission Software A 'Defeat Device,' Deepening Crisis
The Volkswagen diesel emission scandal deepened on Tuesday as German regulators ruled that software to evade the use of emission-control systems constituted an illegal "defeat device." Known by its initials KBA, the German Federal Motor Transport Authority issued its decision in an e-mail--though the extent of penalties to which VW could be subjected from the ruling is unclear.
Will Cheap Gas, Soaring SUV Sales Sink Fuel-Economy Goals?
U.S. emissions regulations are forcing carmakers to make their products more efficient over the next decade. Corporate Average Fuel Economy (CAFE) standards require carmakers to achieve a fleet average of 54.5 mpg by 2025.
___________________________________________