2016 Mitsubishi Lancer GT
From The Car Connection: 2016 Mitsubishi Lancer Review Now entering its ninth model year with the same basic vehicle, the 2016 Mitsubishi Lancer is the oldest compact sedan in the segment. It's working hard to keep up, and it represents good value for money and offers relatively sporty driving manners--at the cost of a noisy and unrefined interior and painfully noncompetitive gas-mileage ratings.
Jeep Grand Cherokee, Jeep Liberty, Dodge Journey Recalled: 757,000 Vehicles Affected
Fiat Chrysler Automobiles has issued two recalls affecting more than 757,000 vehicles worldwide. Most are registered in the U.S.
Kia Soul Vs. Toyota RAV4: Compare Cars
Both the Toyota RAV4 and Kia Soul are essentially tall wagons, with some great packaging and cargo versatility. But truthfully, that's about where the similarities end. They might not be two you'd typically cross-shop, but they're both great alternatives to basic sedans for cost-conscious small families or urban commuter types.
2016 Hennessey Venom GT Spyder
From Motor Authority: 2016 Hennessey Venom GT Gets 1,451 Horsepower, Debuts At SEMA
It isn't quite the Venom F5 that the company has been teasing, but Hennessey Performance Engineering has delivered an updated version of its Venom GT supercar that boasts considerably more power than before. The good news is that the Venom F5 is still coming, but to tide things over in the meantime Hennessey will unleash a 1,451-horsepower Venom GT.
LaFerrari Crashes Into Row Of Parked Cars In Hungary
One LaFerrari driver ended up driving the rare supercar into three other cars in downtown Budapest over the weekend. According to local news reports, the driver emerged from a Ferrari dealership in the Hungarian capital and moments later lost control of the car.
Quick Spin: We Drive The 2017 Acura NSX, Ever So Briefly
The second-generation Acura NSX isn't due to be released until next spring, but Acura is giving early rides to some media outlets. Last week, Acura had a preview test drive at Mazda Raceway Laguna Seca, and this past week I had the chance to get a few minutes behind the wheel on the high-speed oval at the Honda R&D Center in Tochigi, Japan.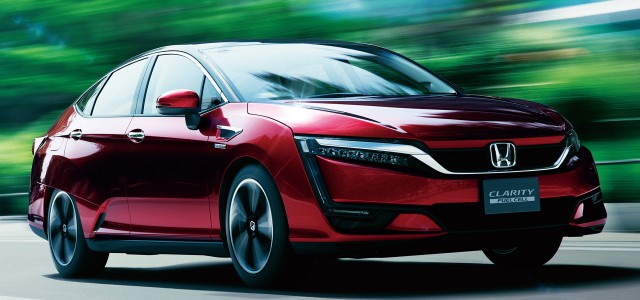 Honda Clarity Fuel Cell
From Green Car Reports: 2017 Honda Clarity Fuel Cell Sedan: Live Photos, More Details From Tokyo
We got a first look at the 2017 Honda Clarity Fuel Cell over a month ago, but major details--including the car's name--weren't released until the 2015 Tokyo Motor Show last week. Honda's production hydrogen-powered vehicle--now named Clarity Fuel Cell--will go on sale in Japan early next year, with a U.S. launch sometime after that.
First Detroit Electric SP:01 Built, Sold--But U.S. Won't Get It
The first Detroit Electric SP:01 sports car has finally rolled off an assembly line, but it's not headed for anyplace near the company's namesake city. Despite its name, the Detroit Electric sports car isn't being built in the U.S.--and it won't be sold here either.
Miles Driven In U.S. Hits New All-Time High; Gasoline Used Doesn't
Americans are driving more miles than they have in years, but that doesn't mean they are using more gasoline. Data collected by the U.S. Federal Highway Administration (FHWA) shows that vehicle-miles traveled (VMT) has increased consistently over the past 18 months.
___________________________________________