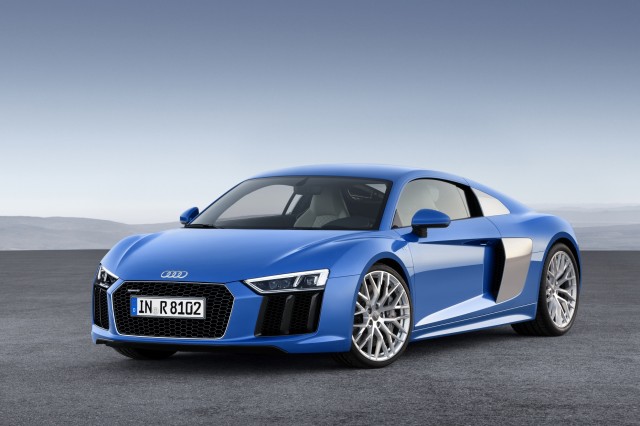 2017 Audi R8
From The Car Connection: 2017 Audi R8 Review Before a production version of the Audi R8 ever existed, racing fans were very familiar with it. Audi began racing the R8 Prototype at the 24 Hours of Le Mans in 2000, winning in its first time out and building a legacy of excellence over the next five years. The production car followed in 2008, proving Audi could build a sleek, mid-engine machine with the looks and performance of a supercar.
Is Your Car Affected By The Volkswagen Diesel Scandal? Check Your VIN
We're one month into the Dieselgate fiasco, and there's no relief in sight for Volkswagen owners. In fact, as more of the automaker's offices are raided and plundered by investigators, we wouldn't be surprised to see new and unpleasant revelations come to light.
Tesla Model S Slips In Annual Reliability Survey, Audi Gains
The Tesla Model S has dropped to below-average reliability levels and thus lost the organization's Recommended rating, according to the latest Consumer Reports Annual Reliability Survey results, released today.
Teaser for new Lexus concept debuting at 2015 Tokyo Motor Show
From Motor Authority: Teaser For New Lexus Concept Hints At Next-Gen LS Preview
Lexus will unveil a new concept at the 2015 Tokyo Motor Show that's meant to preview its new, progressive take on luxury. A single teaser shot has been released today, revealing the concept's headlight plus a little bit of its grille.
Ferrari Valued At $9.8 Billion, Shares Start Trading Today
A year after Ferrari parent company Fiat Chrysler Automobiles first announced that the storied Italian sports car manufacturer and race team would be spun off and its shares listed on the New York Stock Exchange, the initial public offering is finally complete and the shares ready to start trading.
Here's Some Of The 30 World Premieres Pegged For The 2015 Los Angeles Auto Show
Last month we told you that there would be at least 30 world premieres taking place at the 2015 Los Angeles Auto Show, whose doors open to the media on November 18. Now the organizers have given us a better of understanding of what the list entails.
Saab 9-3-based development mules for Turkish national car project
From Green Car Reports: Old Saab 9-3 To Become Turkish National Car; Electric Version May Be Included
By all rights, Saab should have faded into history long ago--but like a zombie, the Swedish brand continues to shamble along. Back in 2012, a consortium known as National Electric Vehicles Sweden (NEVS) had bought the remains of the bankrupt Swedish carmaker, with the intention of building electric cars, primarily for the Chinese market.
Dyson Buys Solid-State Battery Startup Sakti3 For $90 Million
Dyson, the U.K. company famous for its bagless vacuum cleaners, has acquired solid-state battery company Sakti3 in a deal worth $90 million. The news comes just seven months after Dyson announced a $15 million investment in the company, a spin-out from the University of Michigan.
Toyota Mirai, Electric DeLorean Highlight Back To The Future Movie Anniversary
You may have noticed that Back to the Future references have come into vogue lately. That's because this week marks the 30th anniversary of the time-travel film franchise.
___________________________________________