2015 Volkswagen Golf R - Driven, January 2015
The 2016 Volkswagen Golf hatchback models, the Golf SportWagen, and the Volkswagen Jetta sedans have all been placed in the top safety tier offered by the Insurance Institute for Highway Safety (IIHS), one of the two U.S. agencies that conduct crash tests.
Each of these models (now fully including the sporty GTI and Golf R in the Golf lineup, by the way) has already achieved top 'good' IIHS occupant safety scores in the organization's tests, which include small and moderate overlap frontal impact, side impact, roof strength, and seats (rear impact).
ALSO SEE: Hyundai Genesis Vs. Cadillac CTS: Compare Cars
For 2016, all of them also achieve the IIHS 'advanced' rating for front crash prevention—which boosts them onto the Top Safety Pick+ shortlist.
It's important to note that 2015 versions of these models don't meet that Top Safety Pick+ standard, even though in each case they're structurally unchanged from 2015 to 2016—and that 2016 models only meet that top standard with a key option package.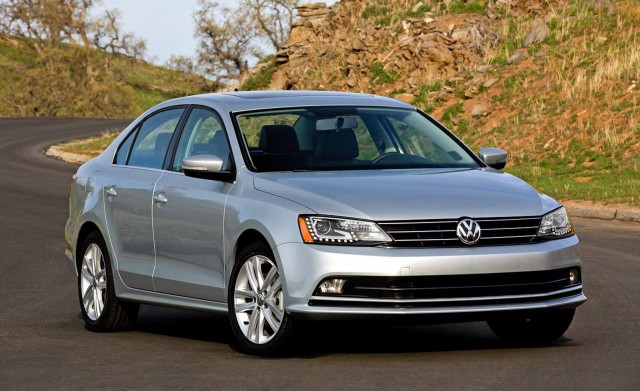 2015 Volkswagen Jetta
In the 2015 VW Golf and 2015 VW Jetta, their Forward Collision Warning system, which is available as part of the $695 Driver Assistance Package, achieves only the IIHS 'basic' rating for front crash prevention. The 2016 models offer a new Front Assist system (again part of the Driver Assistance package) that brings autonomous emergency braking that might help you avoid an accident at a moment of inattention.
This isn't the first time the Golf has achieved the Top Safety Pick accolade. It earned that nod for calendar-year 2014, when front crash prevention measures weren't yet required to earn a place on the top list; then with a calendar-year 2015 mandate requiring an 'advanced' or 'superior' rating in front crash prevention, they dropped off the list—for less than a model year, as it was.
READ: Corvette Brakes Hacked By Researchers Using Text Messages
These models do have room to improve. Neither the Golf nor Jetta product lines, so far, have achieved top federal NCAP crash-test scores. The Jetta and two-door Golf achieve four-star frontal scores, even though their overall rating is five-star, and the four-door Golf models haven't been tested by the feds since the Golf's 2015 redesign.
In short, if you're considering a base version of any of these models, it likely makes no difference in relative safety or occupant protection whether you go for the 2015 or 2016 model. But if you want the best possible crash prevention and are willing to pay a little extra for it, get a well-equipped version of one of these models with Front Assist.
___________________________________________