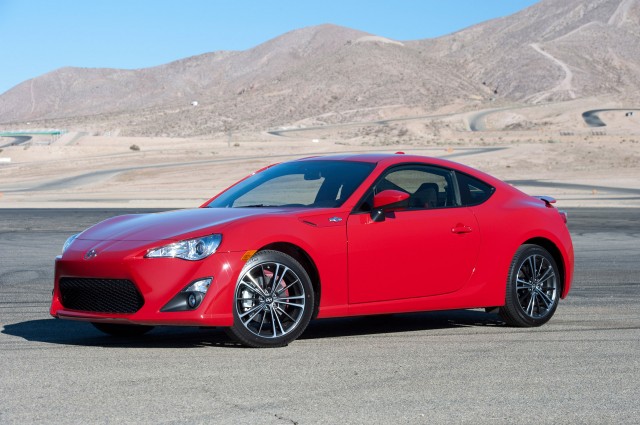 2016 Scion FR-S
From The Car Connection: 2016 Scion FR-S Review

The Scion FR-S has a nimble and fun to drive spirit, with just enough of the modern conveniences, technology, and safety equipment to keep it from being a penalty box anywhere but a twisty mountain road.  It's a sports car at its essence and among the purest of enthusiast cars on the market today, and it's also quite affordable.
Tesla Hits Reverse In Virginia: Referrals Aren't As Legal As Everyone Thought
A couple of weeks ago, we told you about Tesla's new incentive plan, which promises current Tesla owners $1,000 in services or goodies if they convince their friends to buy a Tesla Model S before October 31 (at a $1,000 discount, no less). Turns out, the company is having to roll back that program in Virginia.
Hyundai Tucson Vs. Nissan Rogue: Compare Cars
There are plenty of strong alternatives among compact crossovers — enough to give any good comparison shopper pangs of doubt. Brand-new versions of the Nissan Rogue, Ford Escape, Subaru Forester, and Toyota RAV4 all recently out, as well as an excellent revamp of the Honda CR-V.
Hyundai Vision G (HCD-16) concept
From Motor Authority: Hyundai Vision G Concept Previews Larger, More Luxurious Genesis Coupe
About a month ago we told you Hyundai would be bringing a new concept car code-named HCD-16 to the Los Angeles County Museum of Art, and that this concept would be in the form of a large, luxurious coupe. Well, Hyundai has now revealed the concept, whose name is Vision G.
Bugatti Veyron Successor Spied En Route To Pebble Beach Concours?
It's well known Bugatti is working on a successor to its Veyron. Test mules have been running around secret locations for more than a year, and one of the first prototypes was spotted in Germany back in May. Now we have what may be our best look yet at the car, which is tipped to be called the Chiron and due to debut sometime next year.
2017 Bentley Bentayga Leaked In Scale Model Form
Bentley's new Bentayga isn't due for an official reveal until next month's 2015 Frankfurt Auto Show, but photos of a scale model that appears legitimate provide an early glimpse. Prototypes for the new SUV already leave little to the imagination but the scale model reveals for the first time the design of key elements such as the lights, bumpers and C-pillar shape.
2011 Lexus HS 250h
From Green Car Reports: Ten Used Hybrid Cars To Consider Steering Clear Of
Some used cars are better bets than others. And just as new hybrid cars vary in efficiency, driving quality, and sales volume, some used hybrids may be a more conservative bet than others.
Montreal Plan: 2,000 Electric Taxis By 2019 To Compete With Uber, Lyft
Several cities have experimented with electric taxis, but Montreal could soon have one of the largest fleets in operation. A company operating in the Canadian city is undertaking a plan to put 2,000 electric taxis in service by 2019.
Could Tesla Add Autonomous Electric Car-Sharing As New Business?
The quarterly earnings conference calls held by Tesla Motors are always intriguing, and so it was with last week's second-quarter update. Financial analysts focused on the company's numbers--it's still losing money as it invests, and a fresh capital raise seems inevitable--but another topic raised some new business prospects.
___________________________________________