2016 Chevrolet Silverado 1500
From The Car Connection: 2016 Chevrolet Silverado 1500 First Look
Chevrolet's current-generation Silverado 1500 was all-new for 2014 but the full-size pickup has already come in for a substantial update, confirming the competitive environment in which the big, burly workhorse operates. Chevy says the latest update is part of an aggressive strategy to build on the current momentum of its full-size pickup's sales performance.
For at least one more model year, the Jaguar XK lineup essentially carries over unchanged. And the truth is, with the more rambunctious F-Type here in many versions and variants, the XK has taken a step back from center stage. While the 2015 Jaguar XK models (and the higher-performance XKR and XKR-S variants) remain exciting grand-touring cars, the F-Type is what is truly queuing up eager enthusiasts.
2015 Hyundai Sonata Recalled For Seat Belt Flaw: 140,000 Owners In U.S., Canada Affected
Hyundai Motor Company is issuing a recall for select Hyundai Sonata sedans from the 2015 model year. According to Auto News, some of those vehicles may be equipped with flawed seat belt buckles, which could dramatically increase the risk of injury to occupants.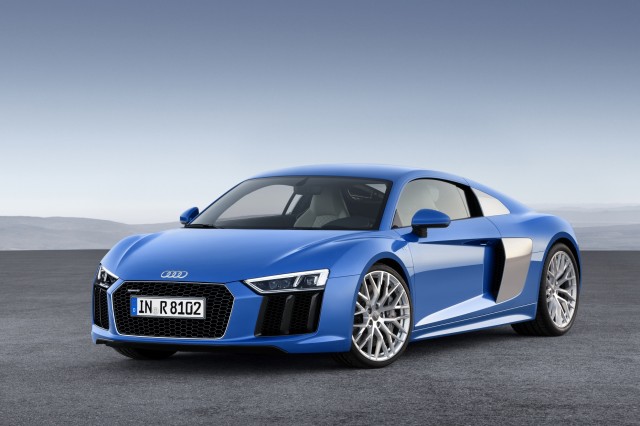 2017 Audi R8
From Motor Authority: 2017 Audi R8 First Drive
"The R8 is born at Le Mans." So said "Mr. Le Mans," now-retired race driver and nine-time 24 Hours of Le Mans winner Tom Kristensen in a promotional video that Audi showed at the press drive for the 2017 R8 supercar. Even though the video felt like a combination of a Folgers commercial and an online dating profile, Kristensen is right.
Aluminum-Carbon Hybrid A More Affordable Alternative To Pure Carbon Wheels
Only yesterday we brought you news that the Ford Motor Company's [NYSE:F] upcoming Mustang Shelby GT350R will be fitted as standard with light yet sturdy carbon fiber wheels, a technology previously the domain of the aftermarket and exotic supercars.
Close Look At The Ford Mustang Shelby GT350R's Carbon Fiber Wheels
Carbon fiber is seen by many in the auto industry as one of the most effective ways of reducing vehicle weight and thus improving acceleration, braking and handling while simultaneously curbing fuel consumption and emissions. But the expense of the material and finicky production process has mostly reserved its use for high-end cars. That's now starting to change.
2016 Lexus ES 300h
From Green Car Reports: 2016 Lexus ES 300h Hybrid Gets Styling Update, Nicer Interior
The Toyota Camry Hybrid was restyled for the 2015 model year, and now its Lexus ES 300h luxury sibling is getting a similar treatment. First seen at the 2015 Shanghai Motor Show, the 2016 Lexus ES 300h looks considerably different from its predecessor, but is mechanically unchanged.
China Built 25,000 Electric Cars & Plug-In Hybrids In June Alone
The Chinese vehicle market is now the world's largest, and has been for a few years now. And the country's government-industrial complex has ambitious plans to dominate global production of plug-in electric vehicles, both for reasons of competitiveness and as one effort to start to reduce its endemic and hazardous air pollution.
Second Tesla Gallery, Service Center Opening This Weekend In Houston
Tesla Motors may not be allowed to sell its electric cars directly to customers in Texas, but it can still put them on display. After failing to convince the Texas legislature to legalize direct sales (twice), the company is opening a second gallery in Houston this weekend.
___________________________________________