The Toyota RAV4 and Ford Escape are two of the long-standing pillars of the small-SUV segment. Both have been around for more than 15 years, each has grown with the segment and both were redesigned for 2013 and subsequently refreshed within the last year.
Which is the better pick? We rate the RAV4 a little higher thanks to its much better safety track record. The 2017 Ford Escape scores a 6.3 on our scale, and the 2017 Toyota RAV4 comes in at a 7.3. (Read more about how we rate cars.)
MORE: Read our review of the 2017 Ford Escape and 2017 Toyota RAV4
2017 Ford Escape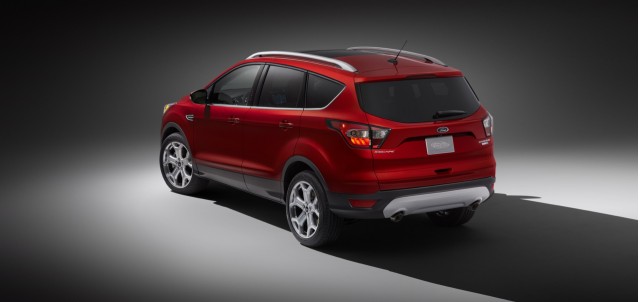 2017 Ford Escape
2017 Ford Escape
The current Ford Escape brought an attractive, athletic look and a vastly improved interior to a model previously known for its upright, SUV-like lines and utilitarian cabin. Now the Escape offers rakish angles and the stance of a hot hatchback, while the Toyota's more evolutionary styling direction—a few odd lines included—is tidy but lacking in charm. Both have high and somewhat busy front-end designs.
Behind the wheel, the Escape's combination of a rather low dash but upright driving position feels a little more carlike than the RAV4's tall, boxy cabin. The RAV4 now wears improved interior trim, though base models still have a rather rubbery plastic trim that's unappealing.
Both are among the roomier crossovers in the compact category, with room for four adults. We felt Ford's front seats were exceptionally good, although Toyota's are comfortably firm with thinner padding, avoiding the couch-cushion effect. As for general cabin refinement, both are good, with each maker delivering significant gains over the prior generations. In the RAV4, you still hear the engine perhaps more than you should, and Ford's larger turbo engine can become raucous when pushed hard as well.
2016 Toyota RAV4 Hybrid
2016 Toyota RAV4 Hybrid
2016 Toyota RAV4 SE
The Toyota RAV4 offered only a single powertrain until last year, a 176-horsepower 2.5-liter 4-cylinder engine with a 6-speed automatic transmission. It works adequately, but it's not at all sporty. New for 2016, however, was a RAV4 Hybrid model that uses a similar powertrain to that of the Camry Hybrid—a 2.5-liter inline-4 combined with Toyota's Hybrid Synergy Drive system for a total of 194 hp. It's a surprise in that it feels quicker than the base engine, and with improved fuel economy, it's a more compelling pick than either the base RAV4 or the slightly stiffer, more sporty SE.
The Escape offers three different engines, two of them turbocharged inline-4. The top 245-hp 2.0-liter turbo-4 can hit 60 mph in under 8 seconds, even with only a 6-speed automatic transmission. The pair of less powerful engines are a base 2.5-liter four with 168 hp, found mostly in rental cars, and a turbocharged 1.5-liter inline-4 with 179 hp that's more likely to be the other choice for retail buyers.
Both vehicles offer a choice of front- or all-wheel drive, though both default to front-drive in light duty. Each AWD system serves its intended purpose of adding confidence on snowy driveways or through muddy trails. Optional all-wheel drive in the RAV4 Hybrid is provided not by a mechanical system, however, but an additional electric motor between the rear wheels.
The Escape offers a well-damped, taut ride and sportier roadholding than the pedestrian RAV4's softer, more compliant suspension and body roll in corners. It also suffers from Toyota's typically numb electric power steering, whereas the Escape provides adequate (simulated) feedback through the wheel. RAV4s in SE trim are firmer and steer better, but are no quicker.
The two are tied on fuel economy ratings in gas-only trim, with the best Escape equaling the RAV4 model at 26 mpg combined. Both non-hybrid are far below standouts like the Mazda CX-5, which can go as high as 29 mpg combined in FWD form, but the RAV4 Hybrid manages 32 mpg combined—although it's predictably more expensive. The AWD version of the most powerful Ford with the 2.0-liter turbo engine, however, falls to 23 mpg—though it can tow up to 3,500 pounds.
Safety scores for these SUVs have been all over the map, but for 2017, the RAV4 earned five stars overall from the NHTSA, and a Top Safety Pick+ award from the IIHS. And the RAV4 now comes standard with automatic emergency braking, adaptive cruise control, and a lane departure warning system—big features. 
The Ford Escape, however, remains only "Acceptable" in the IIHS small-overlap frontal crash test, which is a mild improvement over previous years.
The Toyota RAV4 offers a little more value for the money than the Escape, going down the feature lists, but we found the Escape felt like a higher-quality vehicle. It reads as if it's in a class above, if you shop by feature lists, including options for leather, a panoramic sunroof, MyFord Touch's voice-command controls, even a hands-free tailgate that opens or closes with the wave of a foot. The best value in the RAV4 line are the higher-level trims, priced somewhat below comparable Ford models, which can rise quickly above $30,000 with a heavy hand on the options list.
In the end, these are two different approaches to a compact crossover utility vehicle. The Ford is more stylish, has nicer-quality interior finishes, and drives and handles with a sportier and more pleasurable feel. It's let down only by questionable real-world gas mileage and the high prices of its top models. The Toyota is a safe choice that's likely to be reliable, durable, and predictable, but doesn't excel in any single area—save for the Hybrid's excellent gas mileage. If you don't care much about driving and the design appeals to you, the Toyota may be a better value and its safety record is far superior—but the Ford is a nicer vehicle to drive.
___________________________________________