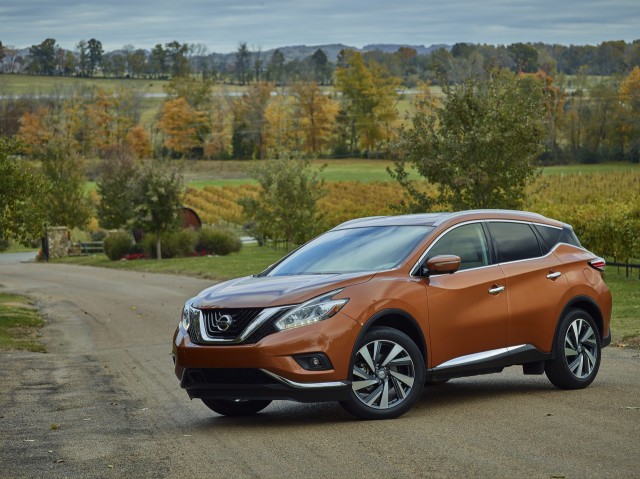 2015 Nissan Murano
From The Car Connection: 2015 Nissan Murano Review The 2015 Nissan Murano mid-size crossover is at once a charming outlier and a carefully designed inside job that, whichever way you see it, breaks out of the crossover mold in meaningful ways.
Yikes: July 4 Weekend To Be The Deadliest In Years
Millions of Americans are planning road trips for the upcoming holiday weekend. If history is any guide, though, hundreds of those travelers won't return home alive -- and the situation could be especially tragic this year. The National Safety Council projects that the U.S. will see more traffic fatalities this holiday weekend than at any time in the past seven years.
Toyota, Nissan, Honda To Spend $48 Million On Hydrogen Infrastructure: Will It Sell Fuel Cells?
Back in February, we reported that Honda, Nissan, and Toyota had joined forces to create a hydrogen fueling infrastructure in Japan. At the time, we had no details about what the three might do or how much they might spend on such endeavors.
BMW i8 hydrogen fuel cell concept
From Motor Authority: BMW Shows Off Fuel Cell-Powered i8 And 5-Series GT
In late 2011, BMW signed a memorandum of understanding with Toyota for collaboration on a number of projects, one of which was development of a new sports car platform to spawn a replacement for the Z4 as well as a spiritual successor to the Supra. Another crucial area for collaboration was hydrogen fuel cell technology.
Mercedes-AMG Teases Something Fast In New Video
We all know that pretty much everything from Mercedes-AMG is fast, so the caption in this latest teaser video from the official Mercedes tuner doesn't really give much away. But look beyond the mere words and perceive what else the video is telling us.
Grand Cherokee Redesign May Be Delayed Until 2019, Says Jeep CEO
In late May, Fiat Chrysler Automobiles let slip that the redesigned Jeep Grand Cherokee may be delayed beyond the 2017 launch promised in the automaker's five-year strategy announcement made a year ago. Now, Jeep CEO Mike Manley has revealed that the delay may see the redesigned Grand Cherokee introduced as late as 2019.
2016 Land Rover Range Rover and Range Rover Sport HSE Td6 diesel models, 2015 Detroit Auto Show
From Green Car Reports: New West Coast Oil Refinery Proposed To Meet Clean-Fuel Demand
Along the Columbia River in Washington state, developers are planning the first new oil refinery on the West Coast in 25 years. Paradoxically, the goal of the project is to meet new clean-fuel standards.
HyperSolar Nears Voltage Needed For Solar Hydrogen Production
What's so magical about 1.5 volts, you may ask? It turns out that it's the practical voltage required to produce hydrogen gas from water using artificial photosynthesis, powered only by solar energy, at commercial scale.
Ford Applies Cylinder Deactivation Even To 3-Cylinder Engines For Fuel Efficiency
Cylinder deactivation can help boost the fuel economy of a car or truck by shutting down some of its engine's cylinders under light loads. But what happens when engineers try to add that feature to an engine that doesn't have that many cylinders to start with?
___________________________________________