If you're in charge of the carpool and looking for something new, a three-row crossover SUV should be among the top vehicles on your shopping list.
Few of these big wagons have the heritage and name recognition of the Ford Explorer. But when it comes to carrying big families in the smoothest, most refined way possible, is the Explorer a better choice than the 2017 Honda Pilot?
The Pilot handily outpaces the Explorer, in our view. (Read more about how we rate cars.)
MORE: Read our reviews of the 2017 Ford Explorer and 2017 Honda Pilot
2016 Honda Pilot
2016 Honda Pilot
2016 Honda Pilot
First, some history. The Pilot started life in 2003 as a mildly styled all-weather machine, a perfect follow-up to the late, lamented Accord Wagon. Then the story changed in 2009, when the Pilot was replaced by a new version that looked uncannily like...a Ford Explorer. With a lackluster interior and performance not much improved, the Pilot fell in our estimation behind the reinvented Explorer, which emerged in 2011. Ford had smartly moved the Explorer to a car-related chassis, giving it great handling and a plusher interior, and more tech features than any other crossover SUV.
Now, there's a reinvigorated Pilot, and it's Honda's best effort at this kind of vehicle yet. It starts with styling: the Pilot has a fresh, pretty look that divorces itself entirely from the box-like lines of the previous edition. Even if the shape's not exactly innovative, the Pilot is handsome, with an interior that's more luxurious than ever, especially in its upper trim levels. The Explorer? It's more finely finished with a new mesh grille and LED lighting. In profile, the Explorer hits a sweet spot of angular looks and sophisticated details that makes it one of the more fashion-forward crossovers you can buy. On styling, we call it a draw.
When it comes to performance, there's a sharp split between the turbocharged, engaging road manners of the Explorer versus the creamy, refined ride and handling of the Pilot. The Pilot comes only with a 280-horsepower 3.5-liter V-6, but some trims have a 6-speed automatic and others, a new 9-speed, either with a choice of front- or all-wheel drive. With either drivetrain, it's an energetic performer with a sweetly refined sound. The Pilot rides with a real maturity, and steers swiftly—maybe a little too swiftly with its trick all-wheel-drive system, which adjusts rear-wheel torque to help it turn into corners more quickly.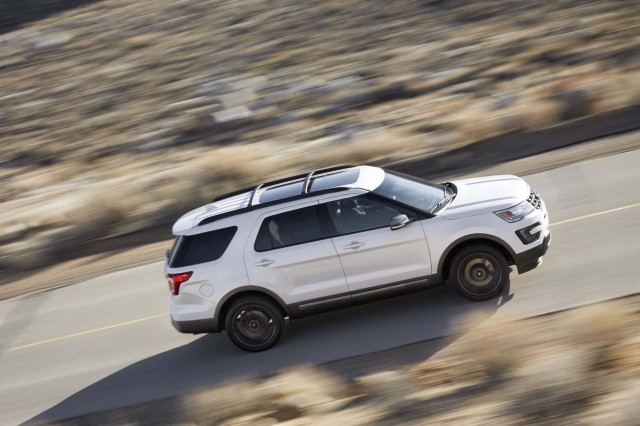 2017 Ford Explorer XLT Sport Appearance Package
2017 Ford Explorer XLT Sport Appearance Package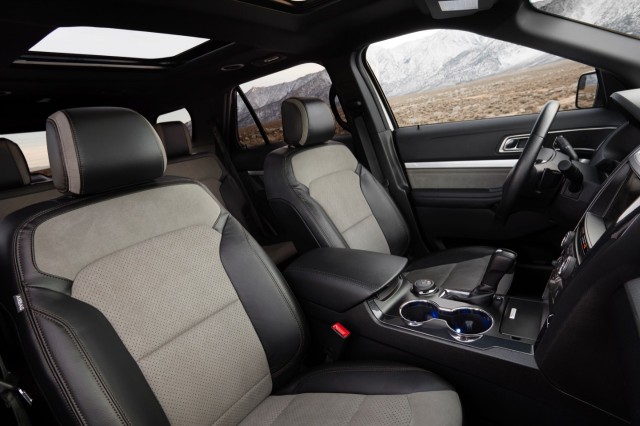 2017 Ford Explorer XLT Sport Appearance Package
The Explorer's turbo-4, V-6, and turbo-6 drivetrains emit more throaty noises; the turbo V-6 has sport-sedan levels of straight-line performance, and in general, the Explorer's quick steering and very firmly tuned ride give it the enthusiastic edge. Both vehicles can tow up to 5,000 pounds. We give the edge here to the Pilot, though its 9-speed automatic has the occasional shift burps common to every 9-speed automatic we've driven so far. Its demeanor just seems more appropriate to vehicles that can ferry an entire blended family.
The Pilot wins in accommodations, too. It can seat up to eight passengers, and not only does its interior sport a better level of materials and finishes, it's more comfortable from the middle seat on back. The Explorer's second-row bench is flat and tips forward at the front; the Pilot's is commodious and cozy. So is the Honda's third-row seat, a rare wayback bench where even 6-footers will fit. The Explorer's third row is more for kids and occasional use. (The bigger Flex three-row SUV is in some ways a better rival for the Pilot here, but it doesn't sell nearly as well as the Explorer.) The Pilot also has a flat cargo floor with a deep well that can hold an amazing amount of family detritus; the Explorer's storage behind the third-row seat is slimmer.
On the safety scale, the Pilot is an IIHS Top Safety Pick+. The Explorer's been a strong performer, but the new IIHS test rates it "Marginal," knocking it down to an average score. Both offer blind-spot monitors, adaptive cruise control, forward-collision warnings with automatic emergency braking, and rearview cameras.
In the features category, we give the Explorer a slight nod. Both vehicles now come in range-topping versions that push the $50,000 price limit, but the Ford lets buyers mix and match features and powertrains to their taste better than the Honda. You have to buy a Pilot Elite to get blind-spot monitors, for example—which deletes the nifty LaneWatch side camera. And who can pass up digital gauges and "Nirvana" leather in the Explorer?
It's a tough call, but we think we could, and would. The Pilot is our current favorite among the biggest family-focused crossover SUVs. It can seat up to eight, has a smartly upgraded powertrain and luxury features—and it doesn't hurt that it's completely walked away from faux-off-road looks and has focused on its core strengths. Both are better than ever, but we're betting the new ratings scale and better crash test scores will nudge the Pilot's scores to the top of Honda's ratings here at The Car Connection.