Design excitement is a rarity in the mid-size sedan arena. However, two models in particular bring some much-needed flair to the segment. They are the Ford Fusion and Mazda 6.
Both of these sedans have far more panache and subtlety in their designs, as well as more behind-the-wheel driving enjoyment, than you'll find in most other mid-size sedans.
Our reviews show that we like both of these cars, and the ratings reflect that. Let's look behind the numbers, though, to see which is best for you.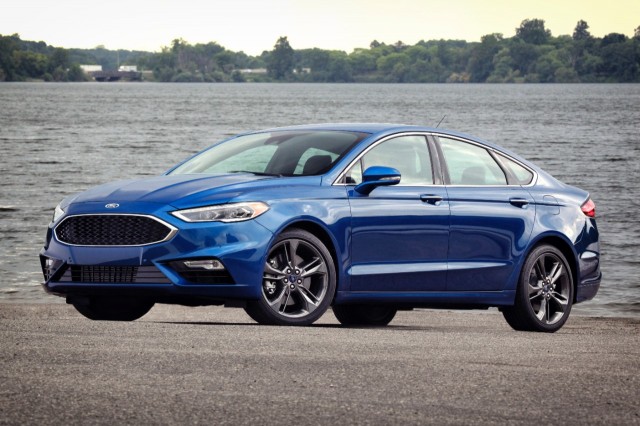 2017 Ford Fusion Sport
2017 Ford Fusion Sport
2017 Ford Fusion Sport
Styling and Performance
In styling, the Ford Fusion manages to maintain a delicate balance with a daring profile that's simultaneously handsome and athletic. Even five years after its groundbreaking redesign, the Fusion still looks fresh. That said, so does the Mazda 6. If we had to choose a single mid-size sedan that's the most finely detailed, voluptuous, and sexy, the Mazda 6 would be it. In profile, it could be mistaken for a rear-wheel-drive sport sedan, and it's hard to find a bad angle on this four-door.
Inside, the Mazda's isn't quite as seductive, but it is practical in all respects, with tastefully coordinated trims, vibrant use of color, and soft-touch materials wherever they should be. The Ford has a somewhat formal and well-detailed Euro-influenced look, balanced with a tablet-like center console.
These two models address performance and powertrain lineups quite differently, even though they're both among the most engaging affordable sedans.
Both models offer a refined, well-tuned ride-and-handling balance that fully lives up to that standards of much more expensive European sedans. If anything it's the Mazda that drives in an engaging way no matter what, with steering that's quick and well-weighted, while it's the Fusion that holds a slight ride-quality advantage.
Choice is the operative word for the Ford Fusion lineup, as it offers an array of engines, ranging from a 178-horsepower 2.5-liter 4-cylinder. to 1.5-liter or 2.0-liter turbocharged fours, all the way up to a 325-horsepower twin-turbocharged 2.7-liter V-6. And those aiming for top fuel-efficiency can choose from Fusion Hybrid or Fusion Energi (plug-in hybrid) models. There's also all-wheel drive on offer on some of the lineup. On the other hand, the Mazda 6 is only offered with a 184-hp, 2.5-liter 4-cylinder, and a choice between 6-speed manual or 6-speed automatic transmissions—and only with front-wheel drive. Choice and power are a clear win for the Fusion.
The Mazda's limited engine lineup does give it one strength, however: fuel economy. The Mazda 6 is rated at 27 mpg city, 35 highway, and 30 combined with the automatic transmission. The Fusion's most comparable engine, the 1.5-liter turbo, is rated considerable lower at 23/34/27. However, Fusion buyers can opt for the hybrid or plug-in hybrid if efficiency is at the top of the want list.
Interiors, Safety, and Features
In interior space, these two models are very close. We think the Mazda 6 might have a slight advantage in real-world cubes, and its flip-forward rear seatbacks provide a little more versatility than you might expect. In both of these models the rear-seat positions are a little bit short on headroom—the consequence of curvy rooflines. Trunk space is big-car sized, and front seats in both are superb. At the base level, we'd single out the perches in the Mazda 6 Sport, as they offer up great lateral support.
2017 Mazda 6
2017 Mazda 6
2017 Mazda 6
The Fusion is one of the more safety-minded picks in its class; with great crash-test ratings, items like front knee airbags, and a long list of available active-safety features. You can even opt to get Ford's inflatable rear seatbelt system. The Mazda 6 is a strong performer, too, with five stars overall from the federal government as well as IIHS Top Safety Pick+ status. We also commend the Mazda for having a Smart City Brake Support system that might help prevent collisions due to driver inattention at low speeds.
Both cars also come very well equipped. The Fusion has a decent feature set on the base model, yet you can load it up almost to the level of a German sport sedan if you're willing to pay extra for it—with full leather upholstery, navigation, upgraded audio, parking sensors, those active-safety features, and even that premium twin-turbo V-6 engine. On the other hand, the Mazda 6 meets the Fusion with just as strong of a game at the base model, and it has a simple lineup that offers a lot of value. 
In sum, you really can't go wrong with either of these models; while the Ford Fusion is offered in many more variants, including versions with more power and electrification, the Mazda 6 has a lot of charm, and manages to feel athletic and fun-to-drive despite how lean and frugal it is. At the low-priced end of the lineups, all else the same, we'd pick the Mazda. However, lineup to lineup, Ford offers more lavish and advanced variants, giving the Fusion more ways to win you over.