There's no shortage of new coupe models on the market this year. With the recent arrival of new two-doors like the BMW 4-Series, Lexus RC, and Mercedes-Benz S-Class Coupe, and the anticipated arrival of the Infiniti Q60 later this year, it's tempting to declare that coupes in general are on an upswing—and that the traditional heart of the coupe market, the personal-luxury coupe, is headed for a comeback, too.
The short answer is no, it's definitely not—and you shouldn't expect any comeback for affordable mid-market personal-luxury coupes—even 'heritage' models like the Thunderbird, Monte Carlo, or Cordoba.
Here's why: While those who expect to sacrifice some practicality have embraced the recent resurgence of muscle cars like the Ford Mustang, Chevrolet Camaro, and Dodge Challenger, mainstream shoppers have come to expect multi-function vehicles. And they aren't as willing as they were in the past to compromise, or to get multiple vehicles to meet all their needs.
"Consumers in mainstream segments tend to need their vehicles to wear many hats," said Ed Kim, vice president for industry analysis at the market intelligence firm AutoPacific. "That's why crossovers continue to gain share...for a mainstream consumer's hard-earned money, a coupe just doesn't offer a lot of bang for the buck."
ALSO SEE: Best SUVs For Tall Drivers
Baby Boomers skipping coupes
Also, says Kim, empty-nesters of the Baby Boomer generation place a lot of emphasis on the ability to carry adult passengers—to go for a double-date, for instance. While previous generations might have gone to comfort-oriented coupes when the kids grow up, that's no longer the case today.
And that's where some two-row crossover models like the latest Nissan Murano and Ford Edge fit in—as vehicles that definitely take a sportier, stylish, more flamboyant tack, while checking off all those practicality boxes as well.
Yet higher-priced luxury coupes, such as the ones mentioned at first from BMW, Lexus, Infiniti, or Mercedes-Benz, are by no means headed toward the same fate. That's because they appeal to a dramatically different buyer—the kind that's likely to have multiple vehicles in the garage.
CHECK OUT: The Lowest-Rated Cars Of 2015
A different story on the luxury side
"Typically, luxury coupes exist within a household fleet; and the more expensive the coupe, the more vehicles it's likely to share climate-controlled garage space with," said Kim. "If the M4 doesn't have enough space for the trip to Costco or to the cabin, take the GL550 instead."
As for the models that are somewhere in the middle, it's tougher to say. There's been a long line of premium and so-called 'near luxury' models with lackluster sales. Even Volkswagen has hesitated to replace its moderately successful Eos, while Volvo has put its C70 replacement on the back burner (it's still on the way, though). For now, the Buick Cascada is the lone new entry in this segment that's otherwise dwindling.
It's likely that change of expectations has led to the discontinuation of a number of mid-size sporty or comfort-oriented coupes that skirted the bargain end of personal luxury. Nissan gave its Altima coupe the axe after 2013, and the Toyota Camry Solara hasn't been around since 2009. While the Honda Accord is most likely the best-seller among mainstream coupes today, Honda doesn't release a sales breakdown between coupe and sedan.
Click over to the next page to see six of the best-selling personal-luxury coupes from the 1990s and 2000s—and what we see as their crossover equivalent in today's market.
2003 Ford Thunderbird 007 Edition
Yesterday's coupe: Ford Thunderbird
Today's crossover: Ford Edge
The Ford Thunderbird was a pop-culture icon in the 1950s and '60s; and after a dark period in the '70s Ford found its thunder again by packaging the T-bird as more of a performance-oriented touring car. The automaker again lost its way with the 'Bird in the 1990s market. When the Thunderbird most recently returned in 2002, it arrived as a convertible, aimed at nostalgic Baby Boomers; yet the heavy-handed retro styling didn't age well, and space and versatility felt like an afterthought.
2015 Ford Edge
The all-new 2015 Ford Edge, particularly in Sport guise with the new twin-turbocharged V-6, has the athleticism of a sporty sedan or touring coupe. And while the Edge hasn't been offered in convertible form, it does offer a pretty impressive panoramic Vista Roof option.
2006 Chevrolet Monte Carlo LS
Yesterday's coupe: Chevrolet Monte Carlo
Today's crossover: Chevrolet Equinox
The Monte Carlo stepped off strong in 1970, with a jet-setting nameplate, big V-8 engines, and "coke bottle styling," plus options that brought a lot of sportiness and luxury, relatively speaking. There were some bloated years, but the Monte Carlo definitely found its way again in the 1980s with the performance-oriented SS and the reintroduction of T-top models. The Monte went front-wheel-drive in the 1990s and became essentially a swoopier two-door version of the Lumina (sedan), although sales remained strong, buoyed by NASCAR. The 2005 Monte Carlo SS got a V-8 under the hood of this front-wheel-drive coupe; but Chevy had done little to update the cramped interior and sales plunged up to 2007, when it was unceremoniously dumped from the lineup.
2015 Chevrolet Equinox
Many of those Monte Carlo shoppers today are likely to go two directions: to the Chevrolet Camaro if it's sharper-edged performance and muscle-car heritage they're after, or to the 2015 Chevrolet Equinox if they need more practicality and comfort. Although we think the 2015 Chevrolet Equinox is a pretty impressive vehicle in one of its lower-cost trims with the four-cylinder engine, those thinking of the Equinox as an everything-goes touring vehicle may want to splurge on the smooth, strong V-6.
2008 Toyota Solara
Yesterday's coupe: Toyota Solara
Today's crossover: Toyota Venza
Back in the 1990s, Toyota pushed coupe (and convertible) versions of the Toyota Camry off as a new badge, the Solara, and gave them a sportier look and feel, with more features to boot. Throughout its model run, the Solara became an almost-Lexus of sorts, and a personal luxury coupe for the budget-minded—until 2009, when this model line was fully discontinued.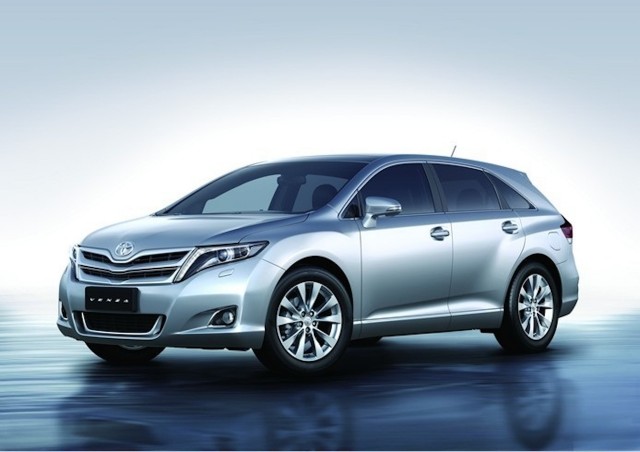 2015 Toyota Venza
Among Toyota's crossovers, the best four-door coupe alternative for couples today is probably the 2015 Toyota Venza, one of our long-term favorites because it actually takes some of the best attributes of hatchbacks and sport wagons and blends them into a neat-looking, functional piece. Although the Venza has found a lot of fans, it's perhaps a little surprising that Toyota has no plans to replace this model, which goes out of production this year.
2010 Nissan Altima Coupe
Yesterday's coupe: Nissan Altima
Today's crossover: Nissan Murano
Nissan's Altima Coupe, which was discontinued after the 2013 model year, served a somewhat different purpose than the Camry Solara; with a shorter wheelbase than the Altima Sedan and various performance-oriented chassis and suspension differences, it took a sportier tack than the sedan.
2015 Nissan Murano
Today, the 2015 Nissan Murano, with its dramatic, swoopy styling, makes a compelling substitute for coupes—and it gives couples two comfortable back-seat spaces for double dates, or travel for four adults, without excuses. Meanwhile, younger budget-minded shoppers who might have been drawn to the Altima Coupe for its sportier side are likely to see the Nissan Juke as a more practical yet still sporty alternative.
2013 Honda Accord Coupe
Yesterday's coupe: Honda Accord Coupe
Today's crossover: Honda Accord Crosstour
We're listing the Honda Accord Coupe last, because it's the only mainstream-brand (midsize or larger) coupe left on the market, not counting muscle cars like the Mustang, Camaro, or Challenger. For those who really only do need two doors, the Accord Coupe is a great, comfortable touring machine, with either the base four-cylinder engine or, even better, a smooth, strong V-6 that can actually be paired with a six-speed manual gearbox. As great as the 2015 Honda Accord Coupe is, we'd be very surprised if Honda's planning to carry the Accord Coupe over for another generation; in today's market, it's a unicorn.
2015 Honda Crosstour
What's Honda's more versatile coupe alternative? The Accord Crosstour may have been intended for that, but it's a weak entry—and it's now been officially discontinued. With the new Honda Pilot headed in a more conventional, practical three-row direction, that leaves a gap in Honda's lineup for a swoopier two-row crossover. Will Honda fill that gap with a larger, more rakish sibling to the HR-V? That's yet to be announced, but it would make a lot of sense.
___________________________________________