2015 BMW X5 M
Not all vehicles with the same shape and exterior measurements are created equally—or built with the same accommodations inside.
If you're exceptionally tall, it's quite likely you can cite vehicles from your past (or ones you've recently test-driven) for which this was painfully true.
Sport-utility vehicles and crossovers, as much as they put the emphasis on utility and versatility, are good examples of just how much the interior packaging can vary. From our collective editorial experience and seat time in hundreds of different models over the years, big and boxy doesn't always mean spacious and comfortable, while lower-set and sleek isn't always a recipe for cramped accommodations.
ALSO SEE: Jeep Renegade Vs. Jeep Cherokee: How Do They Size Up?
First things first: Don't shop numbers
First off, if you're new to this and thinking you can find a 'best' model for tall people based on legroom, hip room, and headroom numbers, and other 'official' measurements, please stop right now. It's potentially crazy-making.
As a tall, long-legged driver, I look at some of the lists that rival publications have put together and ponder whether they've given it much thought (or actually put tall drivers into these vehicles) beyond ordering official numbers on a spreadsheet.
The harsh reality is that, in terms of being able to cross-shop by the numbers, some of the numbers—especially legroom—are mostly meaningless.
SAE guidelines merely require automakers to come up with a set of measurements for legroom that adds up to a cohesive sum for that specific model. But within each measurement—based on designated points, like the 'hip point' of occupants—the automaker may make different decisions.
Some might say that these are 'gamed,' but in most cases automakers are simply following guidelines. What's likely is that legroom numbers for two vehicles from different automakers, if they're in the vicinity of each other, don't necessarily say anything about relative legroom merits of those two vehicles at the outer edge of seat travel.
While the net sum of legroom measurements might give you a good idea of how spacious a vehicle is, there's no substitute for simply 'getting butts in seats.'
2016 Acura MDX
DON'T MISS: The Lowest-Rated Cars Of 2015

Give it the tall test drive, use it as you would
In short [sorry], try every vehicle out, and take a lengthy test-drive in any vehicle that's in serious contention. Put your kids in the back seat if they're going to be riding back there. Those front seats that might feel the best when you're sitting still might not be as supportive once you've spent even a half hour driving in traffic; likewise seats that feel overly firm at first test may end up giving tall folks the right kind of posture support at the back or hips.
This past week, as part of an annual roundup of SUVs and crossovers by the Northwest Automotive Press Association (NWAPA), we had a chance to jump directly from one model to the next, finding some supportive tall-driver favorites as well as others that were a bit disappointing.
Keep in mind that these are based on the observations of this one editor—6'-6" and long-legged (36 inseam), yet average in the torso and with a slim build. You can find the official headroom, legroom, and hip room measurements—as well as overall interior room—in our specs panels for each respective full review—but again, don't rely on them too much.
From those direct impressions, and out of the 27 vehicles entered in the event, here are ten models that we think most tall drivers will find accommodating.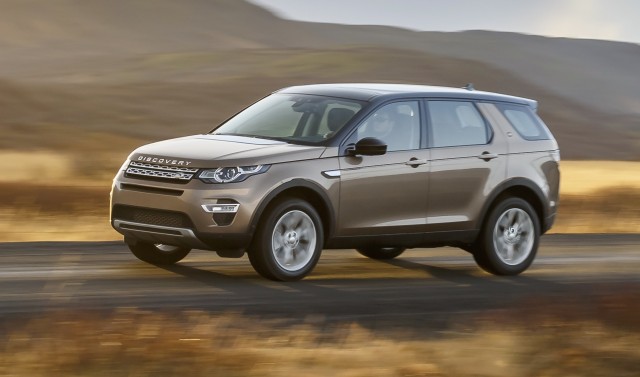 2016 Land Rover Discovery Sport
Land Rover Discovery Sport
The seats are firm yet soft enough, fully supportive, and quite upright; yet there's plenty of headroom and the seat track goes rearward more than any other vehicle we can think of in this class. At a long-legged 6'-6", I didn't even need to slide the seat back all the way.
Volvo V60 Cross Country
The headroom could be a little tight for those who are especially tall in the torso, and some long-legged drivers (like this one) will find that their knees are up against hard barriers. The XC90, which is arriving soon, offers even more long-legged space, by the way. As with the Discovery Sport, the passenger-side front cushions tilt and adjust the same way as those for the driver's seat.
BMW X5M and X6M
These are phenomenally good sport seats. And with extendable thigh bolsters and a rather high back, they have support in all the ways that some seats are lacking. Footwells feel long, headroom is abundant, and the front-seat area in general feels spacious. This is tall-guy heaven.
2015 Jeep Renegade Trailhawk
Jeep Renegade
The Jeep Renegade isn't large, by any means, from the outside. Yet its packaging is very impressive—especially for taller, long-legged drivers, as the front seat's lower cushion can tilt back to allow good thigh and leg support. There's abundant headroom, too, and a great driving position.
Jeep Cherokee
The Cherokee, like the Renegade, has front seats that have supportive lower cushions as well as good back support, and that goes a long way in long-distance comfort for taller drivers. Just keep in mind that there's a little less usable headroom here versus in the Renegade.
Acura MDX
The Acura MDX has seats that are especially comfortable for tall drivers, we think; and the front accommodations are configured in a way in which you're not banging knees against the console. The driving position really is great for a wide range of body types.
2015 Ford Edge
Ford Edge
The new 2015 Ford Edge joins the ranks of the Ford Explorer and Flex crossovers in offering supportive front seats, long bolstering and plenty of legroom for drivers who need it.
Cadillac Escalade
Getting in and out of the Escalade is a little more involved for most drivers, but taller guys won't have issue with it and the seats themselves feel positioned just right for longer legs and a fuller build. What's so remarkable about the Escalade was how we observed drivers who were much shorter than average also get very comfortable in the Escalade.
Nissan Murano
I can't fully explain what makes these seats so great, but they are. Nissan calls them Zero Gravity seats, and their plush cushioning and long cushions seem to soak up any concerns that there aren't extendable thigh bolsters or that legroom might not be class-leading.
Buick Encore
We can understand why you might be surprised to see the Encore make this list. And yes, the front-seat cushions in it are small-car short. But we had to throw the Encore into this bunch for the way that it somehow packs usable, comfortable space for those well over six feet tall into a vehicle that's barely 14 feet long.
___________________________________________