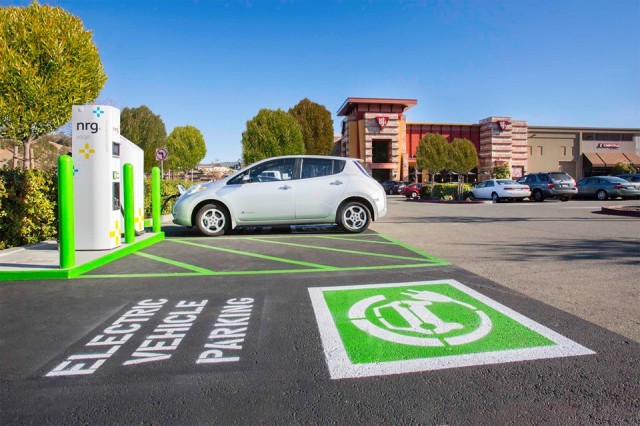 NRG eVgo electric-car charging station
Electric cars have operating costs far lower than those of gasoline vehicles. And even considering the point-of-source emissions of power plants that make the grid power EVs are plugged into, they're cleaner, more energy-efficient picks for the future—especially if they can meet your needs as a second car for everyday commuting.
Yet especially at the entry end of the market—even in states that are seen as extremely electric-vehicle receptive, like Oregon—the prices of EVs can be prohibitive. That's due largely to the high cost of current lithium-ion and lithium-polymer battery technology.
ALSO SEE: In 2013, Google Almost Bought Tesla For $11 Billion
To some degree it's been offset by a $7,500 federal income-tax credit; but state incentives are what have really sparked EV sales in a few places—like Georgia, which pulled the plug (effective in July) on its $5,000 income-tax credit while adding a $200 fee for electric vehicles.
In Oregon, where electric-vehicle infrastructure is among the best in the nation, per capita, a bill under consideration could significantly ramp up sales, offering a $3,000 point-of-sale, "cash-on-the-hood" credit—beginning as soon as this fall—for about six years, until some industry estimates put longer-range electric cars about on par with gasoline models, cost-wise.
A point-of-sale rebate that would get plug-in sales moving
"A rebate can be rolled right into the financing of the vehicle and basically pay the down payment," said Jeff Allen, the executive director of Drive Oregon, an advocacy group for the electric-vehicle industry. "So you can take a $3,000 down-payment, $200 a month lease and basically turn it into a zero-down, $200-a-month lease—and these vehicles become incredibly affordable."
"That was one of the really powerful things about the Georgia credit—the way that they were able to roll those into leases," said Allen.
While Oregon has subsidized an infrastructure first, Georgia arguably went a very different path, opting to subsidizing the cars long before the infrastructure was all that built-up in Atlanta and other larger cities. It's helped create an impressive network of public charging and fast chargers around Atlanta and throughout the northern end of the state especially.
Advocates argue that Oregon has built the infrastructure and now they need the vehicles to take advantage of it. The bill, which has currently moved to consideration by the state's Revenue Committee, may be up for a vote before the end of this legislative session, in July.
National Drive Electric Week 2014: Atlanta. Photo by Michael Beinenson.
Meanwhile, about three quarters of U.S. states have some kind of additional state-level incentive for 'green' vehicles. California, for example, has a $2,500 rebate that applies to electric cars and plug-in hybrids.
About 95 percent of the electric cars registered in Oregon have an MSRP of $35,000 or less, according to Allen. "We can tell you that most of the people who are going to benefit from this are going to be middle-class families," he said. "It's probably the most beneficial incentive of any that are out there for clean energy."
EVs could save families money, boost state economy
The transportation sector accounts for about two thirds of Oregon's carbon emissions, and according to the Union of Concerned Scientists each battery-electric EV charged in the state is comparable to a gas-powered vehicle getting 75 mpg. Furthermore the group is focusing on some of the economic benefits of EV ownership, and noting that driving 100 miles in an EV will cost you $3.41 on average, as opposed to $12.16 in a gasoline-powered vehicle.
General Motors and the Auto Alliance have testified for the bill; and advocates of the bill cite an analysis and report out earlier this month by Keybridge, a D.C. economic research firm, on behalf of two organizations that advocate for electric vehicles, the incentive could boost Oregon's GDP by $83 million over a 16-year period, while it would be a $153 million net positive over that many years for drivers, based on anticipated gasoline savings versus electricity costs.
Under the Oregon bill, plug-in hybrids would be eligible for the $1,500 incentive and hydrogen-powered (fuel-cell) vehicles would be eligible for $3,000.
Oregon is one of the eight so-called Clean Car States—also including California, Massachusetts, Connecticut, Maryland, Rhode Island, New York, and Vermont—that add up to nearly a quarter of national auto sales and aim to put 3.3 million zero-emission vehicles on the roads by 2025.
___________________________________________