Which cars are beautiful? Plenty of vehicles are undeniably handsome, or good-looking, or at least styled well.
And then there are those that deserve a pile-on of adjectives: timeless, crushworthy, gorgeous.
Those cars merit some special attention--and at The Car Connection they merit the highest rating we give in our styling category. As we review more than 250 new vehicles every year, we rate them all across six categories. Among those new and continuing models, we give only a handful a perfect score of 10 for styling.
ALSO SEE: The Safest Vehicles Of 2015
That perfect 10 represents a peerless look, among all cars or among vehicles in a certain class. It can also represent a purity of form that's as close to ideal as possible, given the chosen duty--the essence of form-follows-function philosophy.
This year, the vehicles that have earned our highest styling score include some of the most desirable new vehicles on the road--including everything from Aston Martins and Lamborghinis to a fantastic new Nissan. Beautiful? Each one earns the tag, even if some shapes aren't as hormonal or as naturally elegant as other body styles.
According to our editors, these are most beautiful vehicles of 2015:
The 4C began life as a concept car at the Geneva Motor Show in 2011, and it's translated almost perfectly to reality. It's low-slung and outrageously sexy.
2015 Aston Martin Rapide S
Stunningly styled, breathtakingly fast, and oozing British refinement, the 2015 Aston Martin Rapide S is a truly remarkable sedan.
2015 Audi A7
The Audi A7 is a stunning hatchback, with a cockpit that you'll want to wrap yourself in.
2015 Audi R8 V10
Audi's inaugural effort at supercars still looks fresh, years down the road.
BMW i8 Concours d'Elegance Edition
The classic sports coupe shape of the 2015 BMW i8 is drop-dead gorgeous; it attracts crowds, photos, and awe.
2015 Dodge Viper SRT
The 2015 Dodge Viper is aggressive, bold, and in-your-face--not everyone will like it, but some will love it.
2014 Ferrari 458 Italia
The Italia is one of the most accessible yet capable high-performance cars to ever be produced by the Italian sports-car maker. And it's one of the sexiest, wrapping the best of Ferrari's mid-engine, poster-car heritage with just the right gloss and gleam to flaunt all the modern, F1-derived wizardry within.
2015 Jaguar F-Type Coupe
The Jaguar F-Type gives credit to its past, but makes bank on a sharply detailed silhouette all its own.
2015 Jaguar XKR
It may be off the market, but we can't help to notice the XK still--it has a sleek and sexy shell, and offers a uniquely British experience.
Lamborghini Aventador LP 750-4 SuperVeloce
The Aventador is, and will remain, a hyper-exotic design icon for leagues of fans including the young and the young at heart.
2015 Lamborghini Huracan
Sleek, smooth, and aerospace-inspired exterior lines pair with angular, aggressive vents and scoops to yield a look that's at once futuristic and reminiscent of the legendary Countach's wedge shape.
Maserati GranTurismo Convertible Centennial edition
The GranTurismo's one of the most stunning, curvaceous vehicles on the market--as measured in the sweep of its suggestive hips, its come-hither-look front end, and its gloriously decadent interior.
2015 MINI Cooper Hardtop 4 Door
The 2015 MINI Cooper hardtop has a longer nose, but otherwise it's recognizably a MINI--and at last the interior lives up to the shape.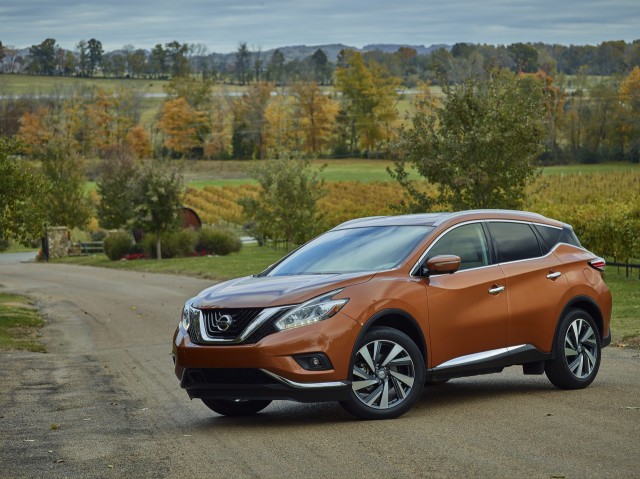 2015 Nissan Murano
The 2015 Nissan Murano breaks out of the look-alike crossover mold with an exterior that's beautiful, elegant, and radically different.
2015 Porsche 911 GT3 RS
It's much bigger these days, but the Porsche 911's outline still carries the charm of the original.
2015 Porsche 918 Spyder
Styled in the vein of the Carrera GT supercar, the 918 Spyder draws on the best of Porsche's heritage, while keeping both eyes firmly on the present and future.
2015 Porsche Boxster GTS
The Boxster is the quintessential Porsche sports car, with lovely echoes of classic Spyders.
2016 Porsche Cayman GT4
We think the Cayman's luscious lines are even more appealing than those on the iconic 911.
___________________________________________